A second Rhythm Of The Pacific record due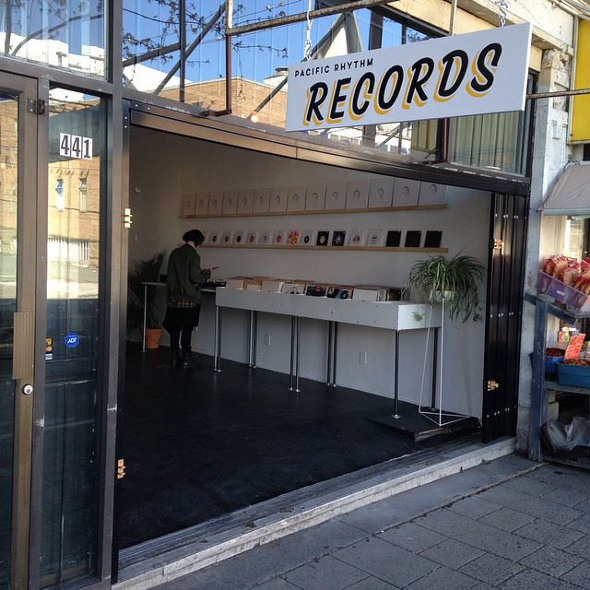 More talent from Vancouver is on display on the forthcoming release from Pacific Rhythm.
Along with Mood Hut and 1080p, the natural growth and development of Pacific Rhythm can be viewed as a shining example of the current health of Vancouver's underground music scene. Founded as online hub for North American collectors and selectors to purchase vinyl without the heavy shipping costs from Europe, Pacific Rhythm now operates as a fully-fledged physical store (as depicted above) as well as a host of irregular parties in the city with an in-house record label to boot.
The eponymous label was inaugurated in October last year by Rhythms Of The Pacific Volume 1, the first in a series of 12″ releases highlighting some of the production talent within Vancouver with Lnrdcroy, Cloudface and Hashman Deejay all featuring. A second volume is now on the way and looks to cast the net beyond the more familiar names now associated with the city for another "critical sampling of Vancouver's evergreen dance music community". Due out in early September, the 12″ houses "two lost Canadian Classics from Neo Image" on the A-side whilst the flip is split between tracks from upcoming All Caps artist Florist and 1080p artist D. Tiffany. Previews of all four tracks can be heard below.
Pacific Rhythm will release Rhythms Of The Pacific Volume 2 in early September.
Tracklisting:
A1. Neo Image – So
A2. Neo Image – JR East
B1. Florist – 112712
B2. D.Tiffany – Orange Crush (Plush Managements Mix)
Pacific Rhythm on Juno