Separate Mind: Panzerkreuz – Stuck to its Guns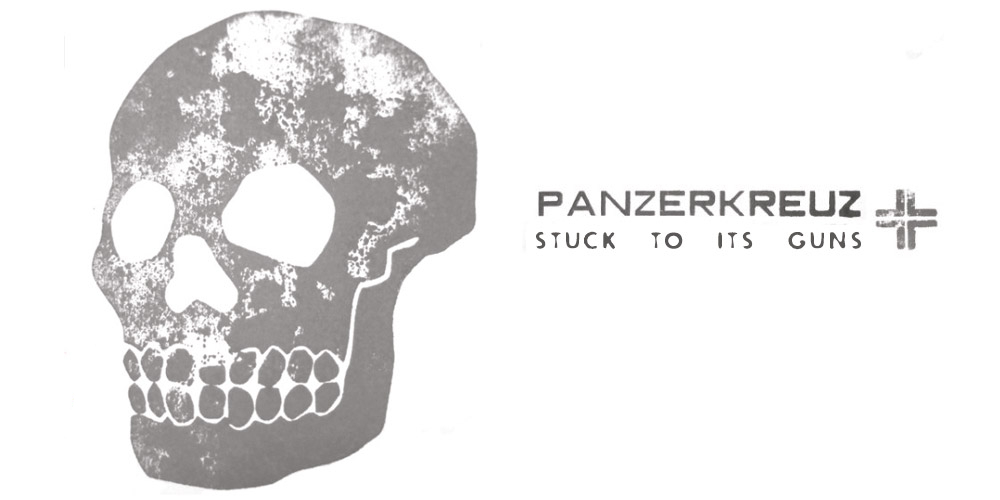 For his latest Separate Mind column, Richard Brophy profiles Bunker Records association Panzerkreuz, speaking with artists like Alessandro Cortini and Ekman along the way.
If Panzerkreuz didn't exist it would be impossible to invent. The brainchild of Guy Tavares, the former member of '90s techno collective Unit Moebius and founder of the seminal Bunker label, Panzerkreuz provides the listener with a taste of what goes through his mind. And it's usually a strange, and terrifying but undeniably wonderful experience. Established in 2010, the label has chalked up 29 vinyl releases that all bear the label's logo, a skull with the distinctive Bunker cross stamped on its forehead.
The label's name, directly translated from German is 'tank cross'. If Panzerkreuz belonged to anyone else, its name could be seen as a nod to the darkest chapter in that country's recent past (especially as the Bunker logo on the skull looks ominously like the Iron Cross). Seeing as it was conjured up by the same person who released the single Hitler was a Speedfreak by an act called Johnny Cohen and the New Age Nazis, this writer is willing to give him the benefit of the doubt.
Musically, Panzerkreuz sounds more indebted to the grimy acid techno and bleak electro of the parent label Bunker than that of Tavares' other label venture, Motorwolf, which specialises in psychedelic rock and squat punk, and which is home to the aforementioned New Age Nazis.
Not only does Panzerkreuz dip in and out of its parent label's signature styles, it also releases material by some of the same artists. That's not to suggest, however, Panzerkreuz is just a continuation of Bunker – if anything, it is home to some of the most extreme releases in the Tavares empire. The label's approach to packaging and aesthetics is also notable, although arguably it could also be seen as an afterthought. Each release is pressed in limited quantities – 100 to 200 copies maximum – and is released mainly in white label format, although in some cases artwork is provided as part of the inlay.
It's unlikely Tavares, whom Juno Plus tried to track down through a number of the label associates but ultimately proved elusive, had any idea at the time when he set up Panzerkreuz there was a concurrent trend in techno towards anonymous, hand-stamped white labels. In any event, the first two releases on the label by Sendex and the brilliantly-named Toner High Cinderella, had little to do with linear techno. Sander Mayer, aka Sendex, had previously featured on Bunker and his 1000 double pack moves from serene ambience into ferocious, high-paced electro tracks.
By contrast, Toner High Cinderella's And The Slipper Fit Perfectly has more in common with the Motorwolf sound. Ranging from the operatic vocals and dirge stomp of "Scolded By Stepsisters En Stepmother, Housework At The Cinders. Psychosis In C", to the woozy, glam rock-on-Quaaludes crunch that comprises "The Balls. Party In D", it was a bizarre way to follow the Sendex record. It meant after just two releases, Panzerkreuz had already marked out its territory as a champion of the weird and wonderful.
The label's reputation also grew with a series of brooding ambient and soundtrack releases. Ignoring the seeming incompatibility between the vinyl format and music that could only work in a club where the audience has been frozen in a state of suspended animation, Panzerkreuz ploughed ahead, first with the dark ambience of AU's Zero – think Scorn meets early Biosphere – and then Ian Martin's wonderfully cinematic but eerie and chilling Sleepwalker and Swamp Modulator mini-albums (the hypnotic grey-lit drones of the latter is this writer's personal favourite).
Rounding off Panzerkreuz's run of soundtrack releases is the label's vinyl issue of Legowelt's The Rise and Fall of Manuel Noriega. Originally released on Danny Wolfers own Strange Life label in 2008 on CD-R, the 2011 and then 2014 vinyl versions on Panzerkreuz were the latest chapter in a long relationship between Tavares and Wolfers, which had started in 2000 with the release of Pimpshifter on Bunker.
The Rise and Fall of Manuel Noriega sees our favourite intrepid geek delve deeper than before to create his own version of a Carpenter soundtrack. Tracks like "Vampire Bat Ops" and "Sepecat" are wonderfully over the top, shlock-horror compositions that have inspired labels like Giallo Disco and which Wolfers himself only equaled on Night of the Illuminati (as Squadra Blanco).
As befits a label that was spawned from Bunker, acid and electro also feature prominently in the Panzerkreuz canon. Wolfers' Badass Rhythm Trax – another vinyl pressing of a Strange Life digital release – as Westside Box Savants sees the Dutch artist at his most primal and reduced. Other notable 303-heavy releases have come from Andreas Gehm's Elec Pt. 1 project, the Acid Mercenaries and the electro and hard techno-influenced Cancerdog vs Starkid Untitled album.
Then there's Penik Ettek, a live act that comprised Albert van Abbe and Paul van Gent, which has been responsible for just one release on the label, the brilliantly titled 2012 album, Black Catalogue Ritual Acid. Veering at times close to gabba territory thanks to its distorted, high paced drums, it has the same intensity as early Woody McBride.
On the electro side, Panzerkreuz recruited occasional Bunker contributor The Exaltics for 2013's Great Escape, as well as bringing Ekman to the world's attention. The pseudonym of Dutch artist Roel Dijcks. Fusing punishing subs with steely drums and layers of grimy acid, Ekman put out his debut 12 on the label, Untitled, in 2012. Since then, his distinctive, punishing sound has been championed by The Trilogy Tapes, Berceuse Heroique and Shipwrec.
Despite appearing on high-profile labels, Dijcks returned to Panzerkreuz last year for the follow up release, the cold electro and searing acid of Untitled which, perhaps to avoid confusion, is commonly referred to as Panzerkreuz 1015. He explains that getting signed to the label was a long process.
"I sent some demos over the course of five years, with the last demo I sent him in 2011 he finally contacted me with the good news that he wanted to release it on Panzerkreuz," Roel says, adding he doesn't distinguish between the label and Tavares' initial venture, which he was a fan of. "I have been following Bunker since I found out about it in 2004. For me there is little to no difference between Bunker and Panzerkreuz. For me, it continues where Bunker left it. I couldn't name a single favourite release, I like most of the catalogue."
What does he make of the claim that Tavares is a visionary for the way he runs Bunker and now Panzerkreuz? "I really like what he does, and admire the way he does it, but all these superlatives are just bullshit, empty words for people that don't really understand," he states boldly. "If you do what you feel and need to do, you do it for yourself. I think this applies more to Guy than 'visionary'."
In between the release of the two Ekman records, one of the label's long-time DJ champions Helena Hauff began to become known on the international stage. The German DJ has since put out two excellent EPs on the label, her solo record Return to Disorder, followed in quick succession by the distorted, teased out industrial techno of the Black Sites record with fellow Golden Pudel regular F#x, backed with more of the same on the flip by newcomer Ghetto Gem.
It's hard to imagine Panzerkreuz will ever become a flavour of the month hip label – in fact, it would be safe to assume Tavares would do everything in his power to prevent this from happening. Despite this, he had no trouble recruiting sometime Nine Inch Nails touring band member and Buchla expert Alessandro Cortini to release Mono Acidic, an EP worth of hard industrial techno as Slumberman.
"It's a mutual and organic relationship. The material they offer to the label is great on its own, but when it's stamped I feel it assumes a new level of approval," Cortini says of Hauff's support for the label and in turn Panzrekreuz's decision to release music by the German DJ and to champion Ekman.
"Guy has a very unique aesthetic vision for his labels and I feel it really speaks to me," Cortini adds. The tracks for the Slumberman release were handed to Tavares after a Nine Inch Nails show in Amsterdam in 2014.
"He came over to see the show and we got a chance to hang out after the concert. I gave him a copy of what became the release on his label," Cortini explains, adding that, "I was a fan already. Thanks to the nice people at the Mount Analog store in Los Angeles I had a chance to dig deep into the Panzerkreuz catalogue and realised I pretty much liked all of it. "One of the things that Cortini says attracted him to the label was the fact it appeared not to have a musical agenda and its schedule and approach were unplanned, almost random. Despite the rise in popularity of hand-stamped techno labels, he feels any association Panzerkreuz has with this trend is a coincidence.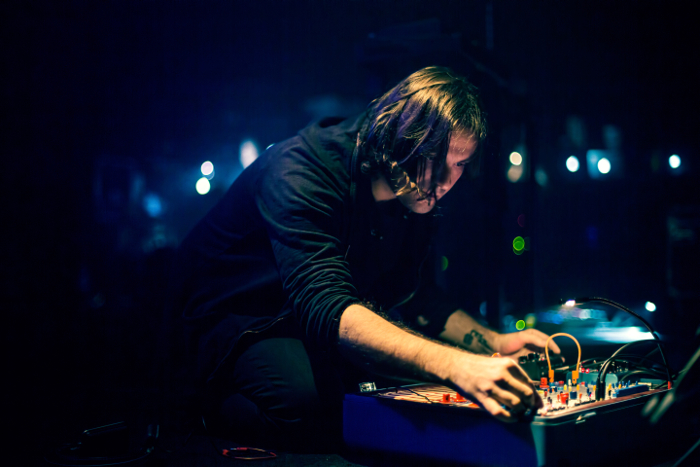 "You see, his attitude and modus operandi sprouts out of necessity and it's situational. I don't think it's as planned or orchestrated as other labels might be adopting it now. That's what makes it so appealing to me," Cortini says. Of the label's approach to releasing music, Dijcks agrees it arose out of necessity rather than Panzerkreuz trying to set a trend. "I think it comes more from a necessity than a design statement or trying to set a precedent. It makes releasing vinyl easier and cheaper. Probably that's also why people started copying it. Punk is dead and DIY is the only way to get things done," he believes.
Cortini feels the fact Panzerkreuz doesn't have a common musical theme is "a clear statement of the love for the music he releases and the effort to release it, even if it's to a limited audience."
Meanwhile, Dijcks points out that the releases are linked by an attitude rather than a common sound. "It's the only label where I can buy almost every record without hearing it and knowing I will like it," he says. "It's not necessarily the genres, it's more the freak mindset that links the releases." He is also grateful to Panzerkreuz for providing him with a platform to release on, after which he received offers from other labels.
"It all took off with my first PK release," Dijcks believes. Like many of the artists that release on Panzerkreuz and Bunker, Cortini also says he wants to continue to work with Tavares. "I'd be more than happy to, I love Guy," he says effusively. "I haven't met anyone nearly as purely in love with the art as he is. I respect him a lot and I hope we'll continue our relationship one way or another." Irrespective of what Panzerkreuz does next, it's certain to stick to its guns.
Richard Brophy
Alessandro Cortini photo courtesy of Rob Sheridan
Panzerkreuz on Juno