Marco Rodrigues finds Korg's Kaossilator 2S playful as a mini-sketch book.
Korg's Kaossilator 2S family can be viewed a toy. However, simply labelling it one doesn't say much of the creative potential it offers, and it's one of the most fun, entry-level musical gadgets out there right now. The 2S is a revamp of the Kaossilator 2, a minuscule sound-generating machine that's coupled with the effects unit Kaoss Pad 2. Essentially it's a loop-generating machine which allows you to simultaneously add layers of sounds from different sources, things like synthesizer-presets, drum hits and an integrated microphone. The resulting audio can be saved into a memory card and tinkered with later on in your chosen DAW, and conveniently the 2S comes with a free copy of Ableton Live 9 Lite.
Looking at the 2S sitting in the palm of my hand with its yellow and grey plastic shell made me think of those waterproof Sports edition Sony Walkmans from the '90s. It's unpretentious fun, and because it weighs little means you can take it anywhere as a diary for musical ideas. The raw sounds to choose from have an EDM-quality to them, and they all sound sharp and punchy, and can be drenched in interesting effects and expressive touches. There's a clear focus on immediacy here too; it's all about creating rough drafts quickly, on the go, that you can later work with or arrange.
Programming melodies and beats using the sound banks is done through manipulating a touch pad right in the middle of the front panel. This is one of the least deliberate ways of making music I've ever encountered. Without any guides, the pad maps out notes closely together in a scale of your choosing – this can be changed in the settings via the 'fnc' button – and by moving through it you can stumble into melodies that are very hard to replicate when you think you've found something worthy of recording. With beat-making this seems to be less of a problem, although you'll need a great sense of rhythm to take advantage of the kits, unless you're using the 2S' pre-programmed rhythms.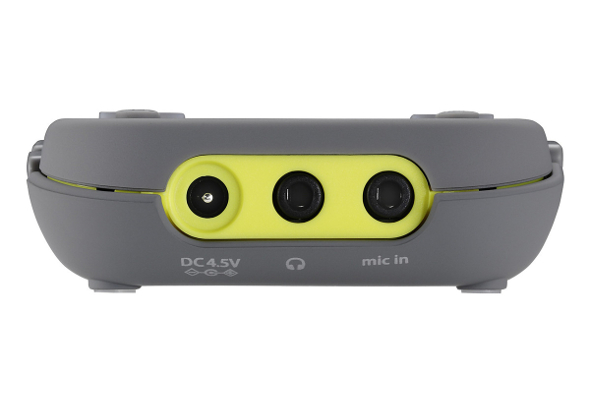 Choosing a drum pattern, 'deep house' for example, will load a few variations of the same pattern on to the pad, such as a drum kick running 4/4 rhythm to the complete groove or fills only. These variations can be recorded into loops, and layered with other drum patterns, such as acoustic funk and disco-themed beats, creating some really fun patterns, albeit not the most original.
The integrated microphone – with a line in you can use with an external mic – offers the possibility to layer things like humming rhythms and finger clicking on the 2S, and I was even able to get experimental with feedback from my speakers. This is where it can get really organic but also more deliberate, especially with the melodies, as it's not something generated in a quasi-random manner, fighting the limitations of a difficult interface, but rather an actual musical gesture. This adds extra sense the 2S feeling like a diary; how many of us have lost great melody lines and rhythms that came to mind momentarily while away from the studio with no means of recording it? The Kaossilator 2S allows you to do a complete sketch of your idea, be it bassline, beats and melody, or whatever else, and that's gold.
Besides this being the digital moleskin it is, the 2S could be used by more daring performers looking to punch in something quickly during a performance as a backing track, or as a tool to capture small clips of interesting sounds on the street. Ideally the 2S is a perfect starting point for someone with an interest in music production that wants to delve into something more tangible, or a great way to spend a few hours with musical-minded friends, throwing ideas into the mix. The level of playfulness and limited control can also bring an interesting element of uncertainty and spontaneity to producers that feel stuck to their habitual studio routines.
Marco Rodrigues
More info/buy