Nous – Something More To Say
Where does Berlin operation Nous fit into the current label landscape? A straight talking George Mavrikos sits down with Rose Mardit to discuss the label's emergence. 
Like a lot of label owners, George Mavrikos doesn't particularly want to listen to your demos. It's not because he regards his time as too valuable to be misspent on the offerings of unknown names, or because he holds any elitist convictions about the quality of unsolicited music. He does, in fact, listen to the demos that hopeful artists send his way. He even replies to most of them. But before the global community of bullish bedroom producers gets any ideas, take note: the man at the helm of Nous may be responsive, but only one release thus far has come out of a demo. That award goes to Moodcut's Tame Cats.
In general, George is more interested in poking around on SoundCloud and deepening relationships born out of interactions on YouTube. Some posit that it pays to be hungry in this industry, but he takes issue with those overly-confident artists who are hell-bent on making a career of their hobby. "Do you know how many people send me demos about that? 'I have this record that's made for you,'" he says, miming, the tone of their messages. "Everybody is convinced that they're going to make it. The thing is, most of the people I've found are really low-key. They're not expecting to make something."
On the surface, the origins of Nous are familiar; someone felt bored by the output of existing labels and decided to start his own. In reality, motivation for the label was considerably more inspired. For more than a decade, George worked in sound and production engineering at the Athens Planetarium, but it was a trip to Paris in 2005 which would be most significant. At this event, I:Cube was performing in a planetarium – the recording of which can be
heard in full on Versatile's Live At The Planetarium CD, and it is lovely. He may have been there for work, but the experience left a mark which prompted George to recreate something similar in Athens, five years later. He acted as curator of the event, which brought together the many moving parts of music, scenery, video editing, and graphics. Due to budgetary constraints, the project took more than seven months to realise, but once realised, it was a success.
He cites the event in Paris as inspiration for starting a label, and thanks to the success of George's own event in Athens, that formerly far-off ambition started to feel more workable. He quit his job at the planetarium after having been there nearly 12 years, so the moment Nous started, he had ample time to work on it – he was just waiting to find the right music before moving forward. It happened unexpectedly one night, when he was out and heard someone playing music which caught his ear. "I was like, 'Wow, what is this?' And someone said, 'Oh, it's this Greek guy.' Who now lives next door, and who is actually here, in that room, playing music now," he says, gesturing over his shoulder and down the hall. Though he had no prior experience in making a record, the 20-odd tracks which Miltiades offered up impressed George enough that he started looking into finding a pressing factory. Those 300 copies of Epk.x sold out in 15 days.
"For a distributor like Rush Hour to take me, with an unknown artist and an unknown label, for the first release… well, it's very hard to find that distribution. In that moment, labels like L.I.E.S. were really at the top. I was really excited that Rush Hour took me."
The second release came via Wes Gray (probably better known as Moon B) under his Vaib-R alias, whom George knew from YouTube. "I have a channel," he adds as a qualifier. "It's called JazzConbuzz." I'd seen the name pop up about as often as hurfyd or 000000, so was delighted to learn that George ran it – and surprised that I hadn't managed to put two and two together beforehand, considering he's the most prolific uploader of Nous tracks. "It was famous, kind of," George says of the channel, which was started in 2008, and proved to be an important point of contact with likeminded people.
Nous is definitely a collaborative project. This was arguably the idea from the outset, as evidenced by the catalogue number of that initial Miltiades 12" in 2013. The nomenclature feels almost like an Easter egg once definitions are explored, because not only does the word "nous" ("νους" in the Greek alphabet) mean "mind" or "intellect," but it's also a French word which translates to "we" or "us." With that in mind, the cataloguing of "us001" and subsequent releases takes on a new significance. A number of George's friends are involved, contributing in the areas of graphics, videos, and mastering for the label's output. This also extends to the artists he works with; if he didn't know them personally beforehand, they were people with whom, at the very least, he developed a connection and then met after.
George speaks fondly of Will Bankhead and The Trilogy Tapes, and also mentions Latency as one of "a few" labels releasing music which he finds exciting, but on this topic, he does sound a little blasé. "It's a clear point that everybody who doesn't get a record deal makes a label – or his three friends, they make a label." That's the story nowadays, according to George, and "everybody is making a label where the first one, maybe, is really good. The second one goes nowhere. The third has no reason for existence." It's tough criticism, sure, but speaks to the problems he sees as symptomatic of an over-saturated and increasingly bland market, and also sheds some light on why, besides his unmistakable love of music, George is in this game at all.
So where does Nous fit into a landscape supposedly dominated by sameness? The goal has apparently always been to present music which is more innovative than the norm, and to find artists who have "something more to say." And it does seem to bring something new, or at least intriguing, to the table. The Nous aesthetic, if one can be pinpointed, is characterised by thick, somnolent takes on varying shades of house. Aside from obvious differences in the material from one record to the next, the releases are unified by a distinct sound thanks to their similar mastering concept, which has been brought to life by Jose Rico on each entry into the Nous catalogue thus far. That's why the Call Super 12", for example, has such a different sonic texture from anything he has released on labels like Houndstooth or The Trilogy Tapes.
While it might not be the most well-known label to crop up in the last couple of years, the strength and consistency of the Nous releases seem to have been matched by the enthusiasm of its steadfast supporters. It helps that the releases are limited, with a no-repress policy that has been in place since early on – the exception being Epk.x, which was in fact repressed twice – and has inspired the sort of predatory price gouging on Discogs which is typical for limited pressings. Especially so in the case of the Ethos Series. Even if the intention of music is for it to be shared, as George claims, he isn't interested in offering more copies at the time of release. With an academic background in business and statistics, he understands the importance of evaluating risk – and he also doesn't see the point in repressing a record later on when that capitol could be invested in a different or new artist, who is equally deserving of a chance for recognition.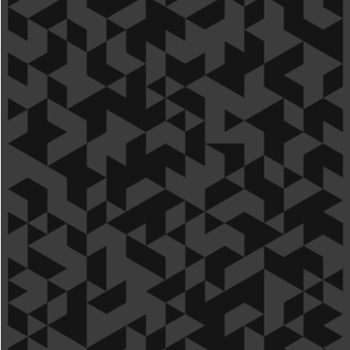 While Discogs lists the label's origins as Greece, George actually relocated to Berlin about a year and a half ago. When asked whether the austerity measures in his home country influenced his decision to leave, the answer is an unequivocal yes. In a period of three years, his take-home pay was reduced by nearly half: €150 every month for the unemployed, another €50 there, cuts to his salary at the planetarium. "You see your life degraded, though it took some time. In the end, I was wondering, 'Why am I here?' I couldn't live like a proper human. What's the reason, when life is so short, to be in such sorrow, in such a state?"
With a sort of melancholy, he recalls vacationing with his family on a beach in Greece – and his frustrating interactions with other holiday makers who spoke ad nauseam about the country's troubles. "I wanted to get my mind off of this bullshit," he continues. "That's the difference here, for me – to not be surrounded by the constant misery of other people. Here, there is no stress in the society, no obvious stress that affects you, because the economy is healthy." Despite the excitement exhibited by many progressives outside of Greece when a certain member of the radical left Syriza party was elected in January of this year, George was less optimistic. "I was in my county for five days after the election, and that week was hell for me. I was seeing all these people who were waiting for something to happen, and nothing was happening. It's sad, actually… In theory, everything is very easy, but being practical, you cannot just say, 'Hey, yes, we owe you €200 billion, but we're not giving you the €200 billion.' This is not going to work."
Although he describes having been "totally isolated" in Athens, where the scene is comparatively paltry, his decision to move to Germany, and to Berlin specifically, had nothing to do with the label, and much more to do with quality of life. Perhaps counter-intuitively, relocating has not made running Nous any easier, and in fact, the amount of unwanted input he has received while in Berlin sounds like more of a nuisance. In order to "keep the vibe as it had been in the first place," a need has arisen to insulate himself from the outside influence of well-meaning but ultimately uninvolved parties – which, quite honestly, sounds like solid advice for any record label with a few sought-after releases under its belt.
Despite the creative contributions of a few key individuals, George still has his hands full. He is the one hunting down the music; talking with artists; arranging the details of the releases; even packaging and shipping the records. "I don't want it to be, like, a label." He clarifies, explaining that Nous exists as a passion project rather than as a business endeavour, and he wants to keep it that way. "If you want to make money off of this, you have to be a really messed up person. You have to be crazy." When asked if I'd be allowed to include that choice quote in this published piece, he hesitates. "Well, I don't want people to hate me!"
There's a reason that he has been referred to as 'George' throughout this interview, and it's because he is a hard person to hate. To call him by his last name alone would feel detached and overly formal. It just wouldn't be fitting for someone who invites you to chat at his kitchen table for three hours while you nurse a cold and sip the "mountain herb tea" which he thoughtfully prepares after swearing by its panacean qualities.
At multiple points during our conversation, he describes others with the qualification, "he's a good person" or "she's a good person." It's a charming tendency. After all, the music industry is rife with talk of "bad" or "sketchy" deals, opportunism, and people screwing each other over. Even if this in in the context of an interview, I don't get the sense that he is being disingenuous in an effort to make a positive impression. Which is not to say that he doesn't also dole out criticism every now and then, but to encounter someone who seems not to harbour any ill will towards others is refreshing.
Out of genuine modesty, he'd likely balk at any suggestion that he falls in the same category as those "good people" he so readily describes. When assessing the calibre of a label's releases, the moral fibre of its owner, and the artistically- rather than financially-motivated goals, are hardly relevant, but not acknowledging his warm and self-effacing nature would feel like a hapless omission. He isn't at all self-promoting, because he doesn't have to be. "If I'm in ten magazines, maybe another 100 or 200 people are going to buy the record. It's not going to make a difference for me, you know?" George is happy to be putting out music that he likes, and the appreciation demonstrated by the people he interacts with on Discogs or Facebook is reason enough to keep at it.
So what's next? Karen Gwyer's Bouloman EP is imminent, and after that, the third and final volume in the Ethos Series. He also has some material from another artist, which he describes as "space-jazzy electronic stuff," and would like to release via a sub-label or even on a new label, due to its more abstract quality. Lastly, he muses aloud on the idea of doing a CD compilation, but adds quickly, "I don't know, we'll see. I'm taking my time, actually. I'm not rushing anything. It's just happening, and it being unpredictable, that is the nice thing."
Interview by Rose Mardit
Nous on Juno