Shapednoise and Black Rain prepare for Apophis
The Italian techno artist links with the Ike Yard veteran for the second release on Cosmo Rhythmatic.
Nino Pedone has made quite an impact in five years of operations as Shapednoise. In an increasingly busy marketplace for dirty distorted techno abstractions his particular style has stood out through albums on Hospital Productions and Opal Tapes and singles on Russian Torrent Versions as well as his own Repitch label. Operated alongside D. Carbone and Ascion, Repitch has served as a key entry point for those looking to get a handle on the uncompromising sound that Pedone unleashes, although last year the three deemed it necessary to start a new venture more explicitly tailored to the "abstract, noisy and organic" side of the label. Cosmo Rhythmatic kicked off with a single from Franck Vigroux in November, but since then things have been relatively quiet on the Shapednoise front besides a single from Stave on Repitch earlier in the year.
In terms of kindred spirits, Stuart Argabright certainly has provenance in the murky world of distorted noise and electronics, being a foundational member of Ike Yard as well as many other projects. Black Rain, his collaborative venture with Shinichi Shimokawa, has been in operation since the early '90s and has more recently been spotted on Blackest Ever Black, so you can be sure that a joint effort with Pedone has the potential to be rather raucous. The Apophis single, considered a vague tribute to the possible apocalypse-mongering asteroid, is due out next month and doesn't disappoint. The three original tracks are laden with high frequency rubble and low end doom, and to add to the fracas Miles Whittaker was invited in to deliver a remix. Suffice it to say the Demdike Stare man sounds equally at home in the oppressive surroundings.
Cosmo Rhythmatic will release Apophis by Black Rain & Shapednoise on August 20.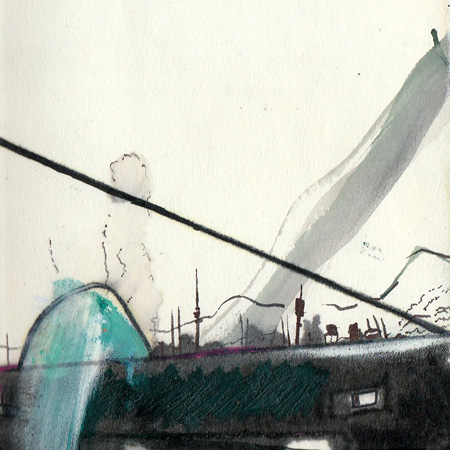 Tracklisting:
A1. Metal Home
A2. Autonomous Lethality
B1. Interceptor (Miles Ramen Reshape)
B2. Interceptor