Rewind Records reanimates with Lord Of The D
Todd Osborn and Tadd Mullinix's jungle revivalist label awakes after an eleven-year slumber.
For anyone who was locked into the early '00s rush of hardcore, jungle and breakcore dalliances that rippled through the electronica community, Rewind Records should twang a nostalgic heartstring. Planet Mu was reaching to the likes of Hellfish & Producer, Aphex was flying at 180 bpm and upwards, and Squarepusher's mutant jungle was at its most virulent. In 2003 a compilation surfaced on Rephlex that brought together the shenanigans of Soundmurderer & SK-1 and their Rewind Records label, whose authentic, ragga-tinged jungle sound hailed from the unlikely climes of Detroit. At that time Todd Osborn (Soundmurderer) was just coming to light with his stripped down techno tones on Spectral Sound, while Tadd Mullinix (SK-1) was edging into the spotlight with glitchy hip hop beats as Dabrye and gnarly acid as James T Cotton, but Rewind Records was an entirely separate concern that seemed to exist in its own Akai-time-stretched continuum.
As Resident Advisor report, after eleven years Rewind Records has come back to life, only this time it's not Osborn and Mullinix on the buttons. Jodey Kendrick makes for a logical fit on Rewind being closely tied to Rephlex through work under his own name and a host of aliases, most of which came to light on the Electric Dance Music label. Lord Of The D is the mantle Kendrick is assuming for the Dunstable Trax EP, and it carries on the Rewind tradition of rough, abrasive break mangling with an authenticity that could almost be beamed directly from the '90s.
According to a quote from Kendrick on the WATMM forum, three of the tracks contain field recordings he and some friends captured of drunken altercations recorded on the streets of Dunstable one weekend. "We were going to hire a lorry with a sound system on the back and play the field recordings from a distance back into the town for a laugh," he explains. The only other artist aside from Osborn and Mullinix to appear on Rewind was Luke Vibert with a Plug 12" in 2006, so it should be interesting to see what direction the label will take from here. Considering the climate for old-skool jungle at present, it seems like a prescient time for the label to be back in action. You can get a sneak preview of the tracks over at the FIT Distribution page.
Rewind Records will release Dunstable Trax EP by Lord Of The D in July 2015.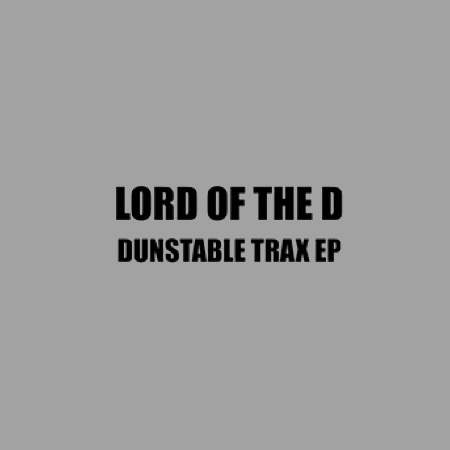 Tracklisting:
A1. Lord Of The D
A2. Asdar
B1. Jamie Let Go
B2. Street Fighter