Best reissues and archival releases: May
This month's best picks head through downtown New York circa '83 to admire the earliest Editions Mego offerings, highlights the latest Dark Entries discovery, peeks into the shadows of the American underground and celebrates troubadours for the age of surveillance.
Vito Ricci – I Was Crossing a Bridge (Music from Memory)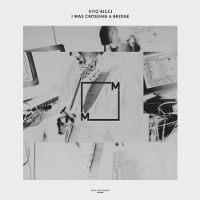 Now, we've certainly had our fill of those 1970s and 1980s downtown New York oh weren't we all so much fun and so pioneering mythologies, but it is, I have to admit, an archive that keeps on giving. If like me you've tired a little of the whole no wave punk-jazz messiness that scene so often churns up, then the tracks assembled here by Abel Nagengast, Jamie Tiller and Tako Reyenga from experimentalist Vito Ricci will serve as a happy reminder of all the other things the scene was able to engender. Ricci's releases are mostly on tape and composed largely for performances and dance productions from equally inspired and experimental New Yorkers – and as such much of the music chronicled here carries a kind of spectacular, atmospheric edge which somehow makes it travel well though time.
As Matt Anniss put it here on Juno Plus, what shines through on I Was Crossing a Bridge is Ricci's enormous creativity. The tracks range from long, heart-wrenching ambient symphonies to twinkling, broken guitar pieces, passing by proto dub-funk, melancholy minimal synth and clean metropolitan stuff that sounds like it's written for a science documentary. I was Crossing a Bridge is a sensual, extremely varied sonic and emotional journey, but it's also interesting as an archival object in itself. Ricci's pieces assembled here tell us not of a one-off genius but of an inspired, expert, a very fluid player in a scene, allowing us to once again take that scene's temperature, measure it against our own music, our own sensibility, our own time.
Listen/buy vinyl
General Magic and Pita – Fridge Trax Plus ( Editions Mego)
With so many archival releases chronicling a world inherited but long gone by, it's strange to realise that 20 years have passed since General Magic and Pita's Fridge albums, records which in many ways still colour the sonic world we inhabit today. It's a refreshing, rewarding and much needed realisation; the anniversary of a renaissance. Fridge Trax Plus compiles the visionary sonic efforts of Peter Rehberg, Andreas Pieper and Ramon Bauer in a lovely double LP which assembles all of the tracks made from placing microphones inside fridges during the mid-'90s. Many-headed, and amazingly unconventional, the tracks move from the airy grandeur of "Spring Fridge", to the borderline industrial, threatening soundscape of "Ding Fridge", to the cerebral crispiness of "Thaw Fridge", to the superb rough textures and elegant glitch of "Final Fridge".
While of course it's historically important to note this reissue revisits a pivotal moment in the relationship between experimental electronics and dance music, the record is also an engaging, satisfying listen that still sounds alive and inspired. The issue of Fridge Trax Plus also marks twenty years since the birth of Editions Mego, which has kept endorsing a curious approach to electronic music since day one. In the period since these fridge records were first released, people have been born, started buying records, begun making music, even started record labels. The past isn't so past after all, and the future, thankfully, might still be present.
Listen/buy vinyl
Oppenheimer Analysis – New Mexico: The Complete Collection (Minimal Wave)
Similarly to the Fridge Trax Plus reissue featured above, Minimal Wave's New Mexico celebrates another birthday, and also marks the anniversary of a renaissance. In 2005, the label's brilliant Oppenheimer Analysis 12'' was one of the scintillas that sparked the minimal and cold wave resurgence, to the point that Oppenheimer themselves went from obscure tape band to underground superstars, and a load of new bands appeared inspired by the English duo's work. When it comes to these genres, Veronica Vasicka has since become a household name and the words 'minimal wave' now denote a genre. This complete collection is a fitting way to fete the event: the label, its work and followers have changed and grown enormously since. It's appropriate to return to the roots, and to also raise a glass to the sorely missed Martin Lloyd, who passed away in 2013.
The Complete Collection contains "New Mexico" as it was 1982 when it was self-released on tape, minus the less inspired "Security Risk", but plus the lean "You Won't Forget Me". The tracks sound just as they did some 30 years ago; crisp, playful, icy, performative, smart, ironic. This time they are presented in glorious 'deluxe nuclear-style black and white vinyl'. While most aficionados of 1980s synth music will know this material off by heart, many will also feel a particular kind of shiver that accompanies the experience of giving these songs a deep listen. A kind of amazement arises at the pop perfection of the music and crystalline clairvoyance of the lyrics, and the serrated, cutting rhythms, round melodies and deeply paranoid, intellectual lyrics. Glacial dance experience par excellence, Oppenheimer Analysis sound more political, powerful and prophetic every time they come around. Troubadours for the age of surveillance.
Listen/buy vinyl
Max Guld – For Enden Af Corridoren (Dark Entries)
San Francisco's Dark Entries is undoubtedly going through a period of bright-eyed and bushy-tailedness, and the reissue of Max Guld's For Enden Af Corridoren is really no exception. This album is a solitary enterprise, recorded between 1984 and '85 in a flat on the outskirts of Copenhagen, which, we imagine, was at the end of a corridor. And what a corridor it must have been! Guld's record is an illustrious example of concentrated home-synth, and joins the ranks of what's almost a genre of serious and passionate and Scandinavian solo male works, up there with Lars Falk's Through, Glenn Winter's Bruna Hundars Död or Daily Fauli's Fauli Til Dauli.
Released on tape at only 100 copies and relatively under-celebrated since its release, the record is 40-odd minutes of sparse synthesiser pieces that are both unpretentious and clever; each is a little world of its own, punctuated here and there by mechanic voices, luscious guitars and discreet and delicate rhythmic patterns. The tone is most nobly 'minimal', winking equally to a certain soft post-punk mal de vivre and quasi-muzaky atmospheres of a cold, plasticky Kosmische. There are plenty of childish melodies and almost folky progressions here, treated with interesting sounds, delicate when you expect hard, harsh when you've let down your guard. For Enden af Corridoren will enter that golden hall of intimate, quiet, cheaply but inventively made synthwave which makes for the best kind of private listening.
Listen/buy vinyl
Will by Hunting Lodge is many things. Not only is this album an invitation to explore the edgier shores of the American underground, it's also a pitch-black, pull-me-apart-and-feed-me-to-the-dogs listen that contains the first seed of what went on to become the label, concept and hub known as S/M Operations. Most of all this reissue through Dais is the first chance we've been given to hear it as it was meant to be. The original Will is awash with white noise and skew whiff levels of mixing as Hunting Lodge's young Lon C. Diehl and Richard Skott naively, but uncompromisingly, took to the mastering process themselves in 1983.
But refusals to compromise always pay back, sooner or later. Hunting Lodge's third opus is a threatening, ice-cold masterpiece of radical industrial music which still has a few lessons to teach and a lot of pleasure to give. A tidal wave of impossibly jagged rhythms, metallic throaty drones, bangs and clangs in abandoned factories and distorted voices from afar, Will is a perfect synthesis of the various veins that run through Diehl and Skott's brief but intense and industrious musical career. Some three decades on Will sounds like a very accomplished monument to the brutal yet melancholy side of American industrial. The album is noisy in a haunting way, rabid and unrelentlessly bleak, but it is also thoughtful. Listening to this loud and not in the company of others has been one of the best evenings May has granted us.
Listen/buy vinyl
Flora Pitrolo