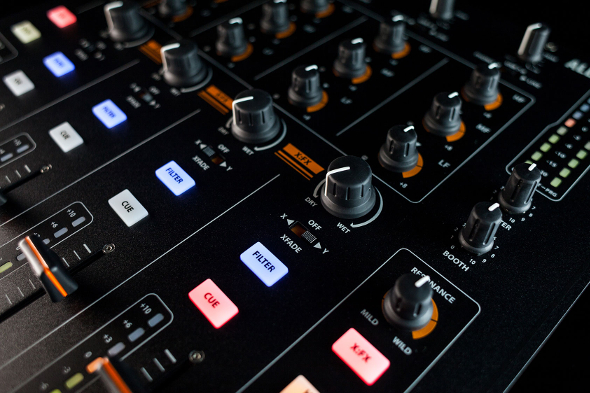 Marco Rodrigues finds it hard to pull himself away from the British manufacturer's latest Xone mixer.
With the constant debate around the role of a 'real DJ' in an era of endless possibilities for real-time sound manipulation, there's certainly something to be said about designing new DJ equipment with the idea of returning to basics. While, for some, the full range of integrated effects, looping options and other sonic tricks currently available in a lot of new DJ mixers aimed at expanding the creative possibilities of a live DJ performance – often pushing it close to what could be considered real-time remixing – there are many who prefer to rely on classic methods of delivery: two decks and a simple, intuitive and (if they can get it) great-sounding mixer.
The latest offering from Allen & Heath's series of Xone DJ mixers clearly seems designed with simplicity in mind, retaining a sense of consistency with previous models. From the start, I'm seduced by how clean, elementary and well-built the Xone:43 looks; the four channel layout is elegant and ready, with a clever hierarchy of functions placed over a matte black panel with great, unobtrusive guides. And as I check the connections and find my way around the 43's knobs and faders – preparing myself for a test-drive, with a turntable and a CDJ plugged in – it feels great.
Quickly into the first mix I can't help but notice how everything is placed on deck, and it feels less involved, but equally capable, than previous models like the Xone:42. The size and feel of the knobs in the EQ section are great, and they're split into customary, three frequency spectrums; bands high, mid and low. All are capable of total frequency kill, which is a must for playful, equalised and long mixes.
Volume faders slide with strong, stabilised resistance which aids smooth increments of volume. Disciples of Derrick May's cutting style may need some time getting used to this mixers feel. The cross-fader moves in a predictably lighter motion, with three different fading modes to choose from, while Phono/line switches are built into the panel in a way that prevents the odd disaster of inadvertently switching between the two.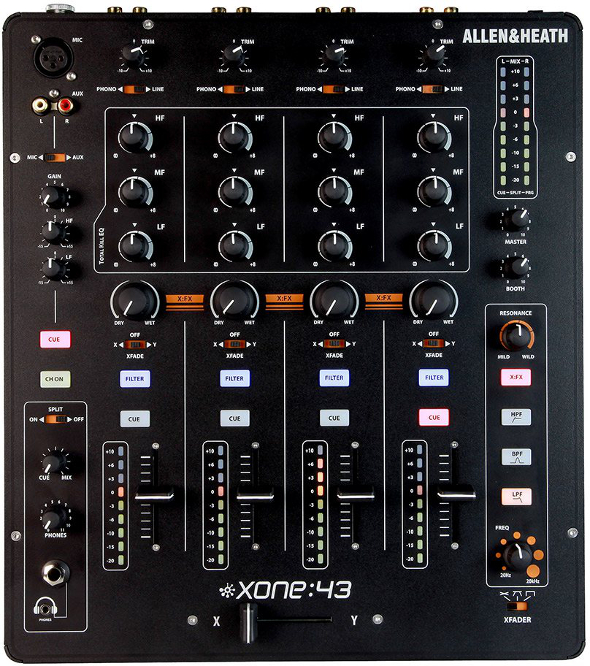 While belonging to the larger family of industry-standard compact mixers designed to shift between professional – or semi-professional – and personal use, the Xone:43 certainly offers a generous and uncluttered placing of its main functions that seem to borrow from larger analogue DJ mixers that don't normally venture outside of the club context.
The filter, as in many other Allen & Heath DJ mixers, is one of the most addictive features of the Xone:43, combining the usual high-quality analogue sweep, and its overall playful character, with new routing possibilities too. It's now conceivable to add a filtered signal to the mix by making use, in an integrated way, of the send/return channels available for open-ended use of effects and other real-time sound processing units.
Another aspect of the Xone:43 that bears some resemblance to higher-grade analogue DJ mixers is the quality of sound it delivers; dry, clean and analogue with a woody or transparent character. I played around with this mixer for far longer than I needed to in order to complete this review, as was always going to be the case, which is proof the Xone:43 is a must for DJs looking for something robust and compact, but moreover: enjoyable.
Through intuitive design the Xone:43 provides professional sound quality with features not completely aimed at repurposing and transforming tracks, but rather offering great blending possibilities and the opportunity to lose one's self in the mix.
More info/buy
Marco Rodrigues