Berceuse Heroique – Finding The Edge
Berceuse Heroique founder Gizmo opens up about his past, influences and the freedom of running a small label.
In the black and white intro sequence to gritty '90s NBC drama Homicide: Life on the Streets, an angry dog chases a panning camera across its garden patch, provoked into confrontation. Interviewing Gizmo, founder of the Berceuse Heroique label, can at times fell like you are dealing with such a snarling canine; when prompted, Gizmo can quite happily go on expletive-filled rants. "Dance music is fucking dead," is as good a soundbite a writer could want from their interviewee, and Gizmo is every bit as willing to dish out contentious statements in person as his provocative and cantankerous online persona would suggest. In the various times we meet in advance of this feature, the Berceuse Heroique man lets loose on journalists, glum looking DJs who have forgotten how to have fun, minor producers with managers, and "how nice everyone is these days."
You should know Berceuse Heroique for bringing artists like Ekman, Koehler, and MGUN to wider acclaim; for upsetting the dubstep applecart by deeming his label 'worthy' of releasing some rare dubs from the Loefah archives; for putting out disco edits from Jamal Moss; for filling their social network channels with politically loaded and sometimes upsetting imagery; for holding grudges against writers that don't agree with them. Yet there is little known about the man who started the label (aside from a passion for carrot cake) and the chance to interview Gizmo is too good to pass up. There was some reticence on his part to do this in person as opposed to the email exchange he initially suggested. Perhaps sometimes even Gizmo is afraid of the repercussions of what he'll say?
There were several false starts involved in the period prior to publication. We originally meet in a café in early January, with Gizmo still noticeably irritated by the fall out of that Loefah record, and the hour or so we spoke is consigned to memory as a newly purchased voice recorder fails to capture the conversation. (Note: always read the instructions mate.) One of the most revealing facts gleaned from that undocumented conversation; Gizmo's passion for carrot cake has been supplanted by a new found delight in scones and clotted cream.
A "messy night at FWD" put paid to the next mooted meet up, and then Gizmo was gone for several weeks, escaping London to return to Athens to play with Helena Hauff and NGLY, and recuperate with friends. We next meet on a Tuesday evening at a north London pub in late February. Gizmo is fresh from his time away and seems less riled by life in general, whilst I'm fully read up on the intricacies of voice recorder instructions.
How was the gig in Athens? "It was a little bit weird playing in Athens, haven't played there for at least five years and I never play big places, you know…" Gizmo answers, sipping quietly at his rum and coke, adding that the success of his label means people expect something different from him. How does he deal with such expectations then? "I did the same thing that I was doing all these years, played some fucking old records, played some new records, and I survived."
These instincts are needed sometimes. Berceuse Heroique garnered a lot of attention, mostly negative, earlier this year due to that 12" of rescued rare Loefah dubs, and Gizmo is all too happy to regale some of the more outrageous emails he fielded from complete strangers in the fall out. Outright racism and hopeful wishing for cancer are both apparently appropriate responses to missing out on this 12". For his own part, Gizmo seems irate that not one person actually emailed him to say thank you. Dig around the internet and you'll find a 35 page thread dedicated to the Midnight/Woman 12" and the conspiracy theories surrounding its release.
The truth? It was the end result of a relationship between artist and label that dates back a decade when Loefah was booked to play a party in Athens organised by Gizmo and several friends. "The gig was amazing, people are still talking about that gig," he recounts, adding Loefah played several times more, establishing a relationship that was later repaid in kindness when Gizmo moved to London in 2012. "He was one of the first guys that called me, welcomed me to London, invited me around for food and drinks, he was really friendly with me."
Loefah would later warm to the idea of working with Berceuse Heroique, having been impressed by the Horsepower Productions and Cousin Cockroach reissues the label did last year. Gizmo explains how the release took shape over a simple phone conversation, a joking suggestion to put out a 12" with "Woman" on it. "Loefah was like OK I am down for it," he continues as a look of implied incredulity forms on his face. "I didn't even believe it, it was like he's having fun with me. He goes, 'do you mind if we put "Midnight" on the B-side?' and I was smoking a ciggie and it fell out of my hand." How does he feel about the reaction? "Of course the expectations for that 12″ were huge but I don't fucking care about that." So far, so Gizmo.
There were, however, other motivations behind this release beyond riling the online dubstep loving community. On a personal level, Gizmo simply wanted the opportunity to play the Loefah dubs on vinyl, a motivating factor behind the label's decision to reissue "Tom & Jerry" by Cousin Cockroach and the Horsepower Productions remix of "Return To E" by Re-Animator. He freely acknowledges you can find the latter on vinyl cheaply already, but the poor mastering job lead him to seek out Benny Ill in order to reissue the track. "In my stupid mind, I just wanted that tune to be properly on vinyl, for the first time. So basically I spent all this money to make a proper release of that tune."
Additionally, the way these tracks disseminated to producers and DJs from different demographics and newly introduced them to old sounds is something Gizmo feels truly proud of, he says. "With these kind of releases, because we have a strong following from house, techno, electro; suddenly these people are finding out about other kinds of music that they wouldn't know." As a result Max D and the Mood Hut guys were dropping the Horsepower Productions track in their sets and Philadelphia pair _moonraker were introduced to Loefah. "These guys sent me an email saying, 'I didn't know anything about dubstep but that Loefah 12″ is amazing!'" Gizmo explains, adding excitedly, "from Philadelphia all the way to Croydon. Isn't it a little bit funny, and also very good, that's our main goal isn't it?"
That first time we spoke, Gizmo also seemed riled about underground producers with managers and I didn't feel like I should prompt him further about whether it was one person in particular. It is a subject he's still willing to discuss in the pub however. "I don't understand why a 22-year-old underground dance producer needs a manager. You just release 12″s and do gigs," Gizmo begins, before the conversation develops into what he feels is a wider malaise affecting the underground.
"Let's be honest about it, dance music is fucking dead," he proclaims loudly as some after-work drinkers peek over, alerted by another expletive. "Everyone is trying to get more gigs because it's the only way to make some money, but they forgot the essence of the whole thing… the party!" Gizmo goes on to amusingly compare the current state of affairs to that classic scene from Fear & Loathing In Las Vegas where Depp's Hunter S. Thompson enters a casino bar high on acid and the patrons turn into an orgy of lizards eating each other.
"I'm not saying I'm better, I'm making the same mistakes everyone is, you know?" Gizmo counters, adding, "even if you want to be underground there are people that are not going to allow it," citing the example of Burial being hounded for a photo by The Sun a few years back. Notions of underground are however debatable for Gizmo, "to tell the truth there was never underground or mainstream for me, it was always people that did good music and people that did bad music."
In order to lift the conversation, I choose to switch the emphasis to Gizmo's formative years. When quizzed, there are certain things he is willing to discuss about his past, and others he'd rather not. I ask him about his introduction to music, and luckily Gizmo is willing to divulge. Three albums shaped his musical education as a teenager; Black Flag's Damaged, It Takes A Nation of Millions by Public Enemy and NWA's Straight Outta Compton. It's easy to see where the confrontational side to Gizmo developed. His older cousin gave these albums to a 14-year-old Gizmo whose previous music interests stretched no further than rock music. I ask if he can still remember his initial reaction to these albums.
"I still remember believe me, I didn't understand the struggle of Henry Rollins because I was 14, and of course I didn't understand anything about the politics of Public Enemy but I liked the fucking rush that the music gave you, that edginess". It's this musical unease that has appealed to Gizmo ever since and it's a defining factor of what gets released on Berceuse Heroique. "We have disco releases OK, and we are going to have a beautiful Detroit-y Carl Craig tune by Marco Bernardi. We can do this kind of stuff, but each and every time I hear these tunes that I want to pick, I need to find the edge," Gizmo explains.
It was never the intention of Berceuse Heroique to simply release "raw or noisy techno", their remit was always intended to be a lot broader than that. At the time of publication, Berceuse Heroique was on the cusp of issuing a double vinyl LP edition of The Age Of Candy, an album from Danny Wolfers as Smackos, originally released in CDr format on Strange Life back in 2004. Gizmo tells me this was one of the first things he wanted to release through Berceuse Heroique but a message sent to Danny Wolfers was never answered. He tells me a recent exchange on Facebook with Wolfers lead to a breakthrough, with the Dutchman slightly perplexed but happy at a label willing to commit his Smackos material to vinyl.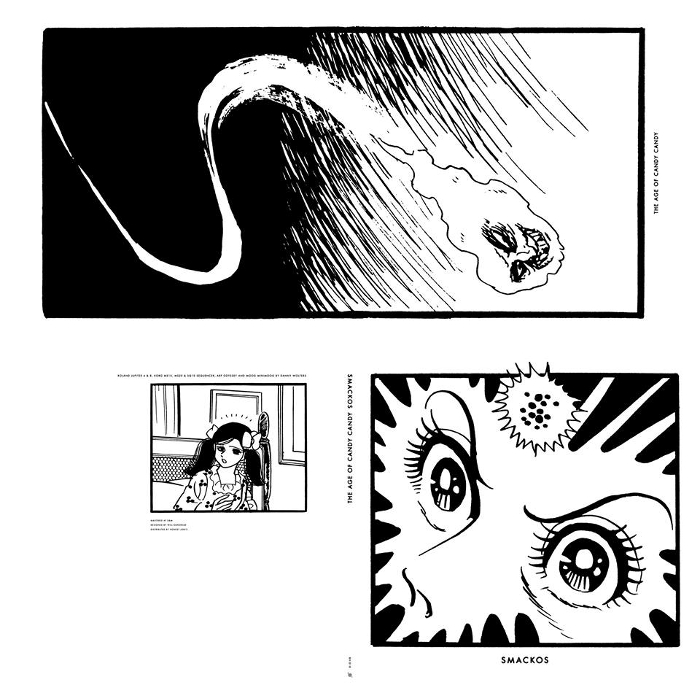 Before Berceuse Heroique and London, Gizmo embellishes further on his time in Athens. As previously mentioned, he ran parties in the Greek capital with friends. Bizzy B was their first guest and DJ Stingray the last, and even back then, the idea of owning a record label was forming in his mind. "I was asking a lot of the artists about this, especially if it was someone that ran a label," Gizmo says. One high profile label boss and DJ who he prefers "not to name drop" stressed the need to have several releases in the bag in order to gain proper distribution.
Another individual crucial to advising him at this point was Vasilis Charalampidis, founder of the Bios cultural centre in Athens where Gizmo worked. "He was the one that told me don't try to be something else that you are not," adding, "an English guy can sell English music better than you because he's English. An American guy can sell US music better than you because he's American. He was essentially saying don't try to be something else, be yourself."
How does this tally up with Ancient Monarchy, the label Gizmo founded for some 'raw UK shit'? "Ancient Monarchy is my way, my view of a UK sound," Gizmo explains, adding inspiration comes from '90s crews Reinforced and Metalheadz. "The thing that I loved was it wasn't like a label, it was a crew. A crew of people. You didn't sell only the music, you gave away an attitude, and you sold an image you know?"
Although he mentions this in reference to Ancient Monarchy, image has been integral to Berceuse Heroique too, either visually through the DIY printed inserts that come with each 12" or the irate, yet quite amusing Facebook updates that have become the label's regular form of communication. It would be easy to interpret these inserts as politically loaded, but to Gizmo they've been an outlet to express his frustration at life in the UK. "Those inserts started as a reaction to my experience being in a different country which is very hostile to other cultures (during) the last few years", he tells me, adding the hostility is all the stronger when you don't come from a very "cool country".
When Gizmo moved to London at some point in 2012, he had a clear plan for how his labels should take shape and the next year was spent "working in the city" whilst laying the foundations of Berceuse Heroique and KEMAΛ. Whilst I try to mentally picture Gizmo in a suit working in the city, he surprises me by revealing one of the first nights he went to in London was the Juno Plus party with Ron Morelli and Will Bankhead in October that year. I can't help but ask what he thought? "Oh it was fucking amazing, but it was really hard for me being there alone so that's why I kept a low profile for the first year."
The first two releases for both Berceuse Heroique and KEMAΛ were up on SoundCloud, available to hear in full for anyone that stumbled upon them, and I still recall the excitement at discovering the Sotofett Vibe mix of Ekman and JD Twitch's Optimo Espookio Version of "Lopsided" by Charles Hayward. Three years into Berceuse Heroique's existence and it's still just Gizmo doing it all from his laptop with the distribution assistance of Honest Jon's, impressive given how consistently music from across the board seems to be pouring out of the label right now. Marco Bernardi, Mark Forshaw, Don't DJ, Jordan GCZ, Jamal Moss, Beneath, Hodge, Specter and Itinerant Dubs are amongst the artists scheduled to appear on both Berceuse and Ancient Monarchy in the coming months.
Ties have been made with other like-minded operations too. Will Bankhead and PAN boss Bill Kouligas are both important figures in shaping how Gizmo has approached Berceuse Heroique from the very beginning. "They helped me in the early days of the label with their advice and their amazing artwork. I will always be grateful to them," Gizmo reveals, whilst he's has gone on to form links with other labels. Berceuse Heroique is one of the labels involved in Crème's Valley of the Shadows series, has issued a joint 12" with Nous Disques and is planning a collaborative record with Happy Skull. The track pencilled in for that 12" will apparently see Berceuse Heroique doing "sexy".
In the times we talk, Gizmo speaks frequently about the freedom he has with pressing up 300 records at a time, confident the label's reputation and following will ensure they sell. But he seems to be at a crossroad in terms of Berceuse Heroique's development. On the morning of Record Store Day, the label had two new releases for sale and Gizmo had spent the previous days alone furiously slipping inserts into 600 record sleeves. Some assistance could of course help, but he wants to be in a position to pay for it and selling just 300 copies of a record won't enable that to happen. Clearly something has to give.
Whilst Berceuse Heroique has grown exponentially in the past three years, KEMAΛ has proved to be a less successful endeavour for Gizmo and will soon be put to bed. "Nobody cares about KEMAΛ and nobody gave a fuck about that label." Gizmo states, adding a debut album from Vereker will be the final release. "It's "recession time" and that means I have to do some cuts so I can survive," he says. "No money for vanity projects except if someone from London wants to lend me his trust fund."
Interview by Tony Poland
Berceuse Heroique on Juno