RüF Dug sets sail for his Island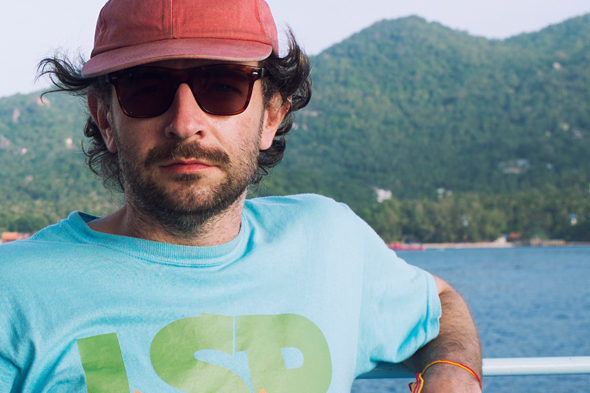 The Mancunian selector and producer will deliver his debut album to Music For Dreams in June.
Through his Ruf Kutz label, a swelling discography and a proven track record on the 1's and 2's, RüF Dug has gone far in just a few years. His limited runs of self-released singles mix edit ingenuity with a fervent passion for all manner of 80s-derived sounds, providing a sturdy platform for the Manchester-based producer to flesh out his ideas with singles on Porn Wax and Süd Electronic amongst others. Last year found Mr. Dug facing down Samrai on Unknown To The Unknown, while already in 2015 the Monkey Island-baiting Guybrush & Joanna EP has dropped on Cosmic Pint Glass as well as other scattered appearances. Outside the studio, you can find the seasoned spinner heating up events such as his own Wet Play and Dancers Wanted, parties that align him with such like-minded diggers as Wolf Müller and Jack J. Romantic.
In step with the cohesive world of woozy synths and dusty drum machines that RüF Dug immerses himself in, the story behind his debut album simply emphasises the time-warp mythology. Any lover of 1980s studio pomp and splendour should get a shiver of adopted nostalgia when hearing the words, "seizing the opportunity to live out his own Compass Point fantasy," not least when the results will be cruising out on Kenneth Bager's Music For Dreams label. The distinctly Balearic Danish label is a perfect home for recordings that were made in a three month sabbatical on French-Caribbean idyll Guadeloupe, winding up as a nine-track trip through sunkissed tones that make for the natural long-playing successor to everything Ruf Dug has conjured up thus far.
Music For Dreams will release Island by Ruf Dug on June 15.
Tracklisting:
A1. Tendacayou
A2. Speedboat
B1. Dominica
B2. Mangrove Dub
B3. Mosquito
C1. Shoreline
C2. Rasta Beach
D1. Le Rayon Vert
D2. Thank You Wally