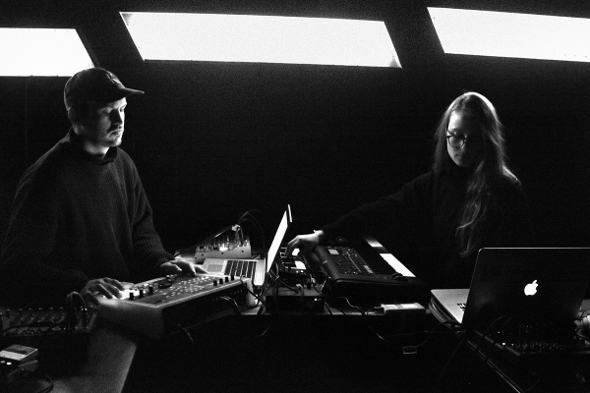 The Mexican label introduce a fresh collaboration between Kara-Lis Coverdale and LXV.
It was only a matter of time before the searching eyes of Juno Plus would land firmly on the practices of Mexican label Umor Rex. Founded by Daniel Castrejón in 2006, the label, as Emma Tucker describes in her recent feature, "has been putting out faultlessly designed releases for the last eight years on both cassette and vinyl, pairing clean typography and geometric compositions alongside striking black and white photography." The first release that caught our attention was Brad Rose's Local Agent album made under his Charlatan alias, and since then we've enjoyed the music and artworks Umor Rex has produced from the likes of M. Geddes Gengras, Aux Field and James Place.
Umor Rex has never depended on high profile names when releasing music and the label's next title comes from the unfamiliar Kara-Lis Coverdale, a Canadian artist whose previous music can be found deep within the enclaves of the experimental tape scene and has worked with Tim Hecker. She's teamed up with the even more obscure LXV (real name David Sutton) who has the one release on Monorail Trespassing, an experimental cassette label that's previously put out music by Dominick Fernow's Prurient alias and Students Of Decay artists Marble Sky. Together Kara-Lis Coverdale and LXV present an eight-track album called Sirens that's said to be a combination of "sample-manipulation, signal processing, and sound orchestration of both acoustic and digital origin," which the label have further described as "harmonically rich electronic music with narrative and spectral intrigue." Preview the final track of the LP, "Informant", below.
Umor Rex will release Sirens by Kara-Lis Coverdale and LXV on May 19.
Tracklisting:
1. Tunnel Vision
2. Territory Of Subtle Entries
3. Disney
4. Grigori In Jakarta
5. Buffering Landscape
6. Subfall (to)
7. Borrowed Memory (from)
8. Informant