Wichelroede: A Romantic Democracy Of Interests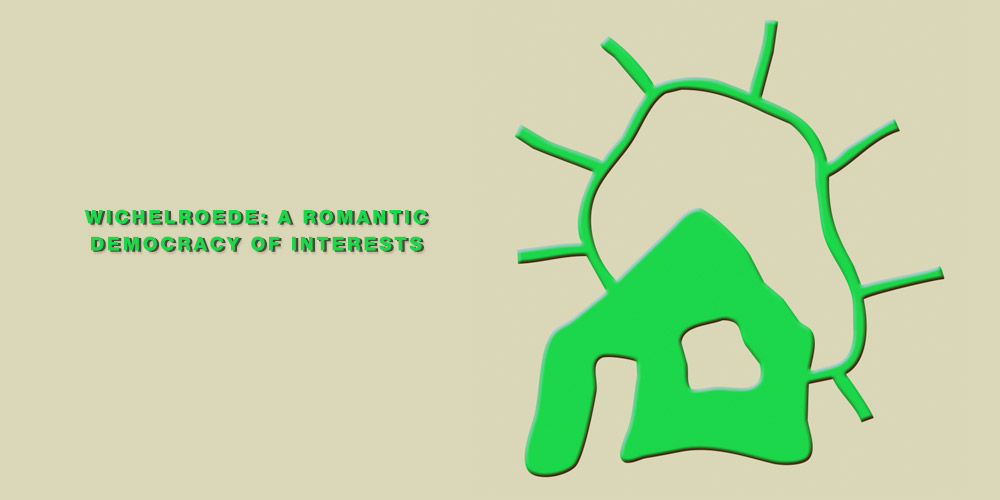 Acquaint yourself with Wichelroede, an online platform helping breathe contemporary life into the long standing musical heritage of The Hague.
Spaces dedicated to underground dance music have transferred online and proliferated, but there's still this feeling of an underlying and purveying focus on the vinyl record and the physical product. Entirely digitally released music from artists or labels tends to prove the exception rather than the rule. An .mp3 release is generally issued parallel to a record, or emerging as a shadowy rip on an internet forum or file-sharing network, to being streamed on a platform like SoundCloud. These are familiar and comfortable associations, but not ones we put too much thought into (or at least, not much beyond 'oh good, SoundCloud is down again').
Projects like Wichelroede are a result of this generation of cross-pollination and crossed-interest in ways of making and showing work, physically and digitally. From their base in Den Haag, Wichelroede founders Fallon and Gerben have created a small online platform where records are distributed, locally and internationally, through their own home-brewed web shop, while it's also a creative place where mixtapes from artists are restlessly combined with other visual and cultural elements. Accessing the Wichelroede site is akin to working with some kind of digital collage, the project having fluidly evolved over its lifespan to now embody several creative divisions in one space, clearly reflecting the couple's investment in providing alternative and contemporary manners in which to access music and art.
'Democratic' seems a fair summary of the intention behind Wichelroede, equal measure afforded each element of the online portal. Hear some beats; scroll through a Tumblr-like waterfall of images, art, iconography; find access to an artist you've not heard from before. Fallon tells me it's just a natural response to wanting to consolidate their tastes and interests into one environment.
"We started Wichelroede because it felt like we needed to merge our online life just like we started to share our 'real' life together." says Fallon. "We're both quite romantic, so it had to be done."
The couple each has their own strengths. Fallon studies Graphic Design and invests in the visual portion of the project; blogging, drawing and building the site. Gerben drives the musical aspects, picking and organizing mixes from a fairly diverse selection of artists.
"When we first started out two years ago with Wichelroede, online mixes and podcasts were pretty much done by everyone already." Gerben tells me. "But giving the fact that all we do on the website is based on our personal viewpoint and taste, we thought we could actually do it a little different than the occasional RA and XLR8R mixes for example."
Gerben admits the first year was "very club-orientated" with lots of house and techno mixes, but their rule from the off that artists should be completely free to decide what is included did lead to the odd gem, "Matrixxman did a disco mix for us that was really special." A move towards a broader sense of music genres was natural, "as I myself have been listening to more non-dancefloor music" Gerben adds.
That sense of the 'personal' has quickly developed, and an interesting dynamic has begun to take shape where the global, de-centralised appeal of an online program has been jacked to promote like-minded artists, as well as a burgeoning selection of artists to which Gerben and Fallon are directly allied to. Having started out contacting parties online, sending a message on SoundCloud and getting to know them, they've now come to depend more on this close-contact approach. It's meant a growing number of artists from The Hague feature, and an overall increased sense of community. Gerben's background working at Godspill and Crème Organization has meant he's plugged into a richer history of electro, house and techno music at a local level, but selections for the Den Haag arm of the mix series have focused as much on up-and-coming artists like BAKK's Still Serious Nic and Garoeda as scene stalwarts.
"Right now we find it really important that there's this connection between an artist and ourselves," Gerben says. "Sometimes this happens afterwards as most of the time we stay in touch with the artist, but recently all our mixes have been from people we personally met through real life or who are already close friends."
Seeing all this contact and interaction, it's surprising to learn they've only been in the city a year and a half or so. Gerben says, "it's always interesting when people move or engage in something they are not familiar with and try to add or change something," and it's clear the couple have been making as much progress offline as on.
"I get the idea a lot of people from outside the Netherlands have this mythical dreamscape fantasy about The Hague," says Gerben when I ask for his impression of the city. "That there is still as lively and underground scene as there used to be 20 years ago with the Acid Planet / Unit Moebius / I-F years, but unfortunately (or maybe fortunately because change can also be a good thing) it's not the case right now." The city is currently experiencing a dearth of viable spaces, Gerben explains, "beach-clubs are getting closed lately because of drug-use, so there are not a lot of opportunities for people to throw good events."
He goes on to talk about Hoop, the one place in Den Haag that is keeping the underground scene alive. "It feels like some kind of old dungeon in the city's centre, which are trying their best with cool line-ups every week but also experience a lot of problems with night club licenses over the past year. So sometimes we're lucky, sometimes we're not. It's pretty unstable at the moment but it can only get better in the future."
Wichelroede has dabbled in putting on shows, and though Gerben and Fallon have hosted and played shows in the past that have had limited success (in part due to a promoters' lack of interest in taking risks) its something they're still interested in. Gerben reckons it's easier now to find the audience for it, and with dwindling opportunities there's more drive to start something fresh. They're planning to take over a room at Rewire Festival in Den Haag in early May, with Cloudface and local act Garoeda performing. Fallon tells me she's hoping for a "very warm, open and positive night".
Positivity seems to flow through The Hague in general. "The younger and older generations who like electronic music in The Hague seem to work really well together and we feel lucky that we got accepted quite easily into this group of people." says Gerben. "I can't imagine if we lived in Amsterdam it would have been easy to get along with different parties but in The Hague there really is this sense of people appreciating each other and trying to work together, giving each other opportunities." He goes on to explain the influence being around this positivity has had on them. "We got to learn a lot of people that inspired us and we are now taking our chance to take part of this newer generation, as there are definitely a few talented kids that need to get their music out there." In order to highlight this, they've started the aforementioned Den Haag series concurrent to their regular mix series, naturally focusing on local artists only. "Up until now we only had Sameer who's done two 100 per cent original material sets for us under his alias Garoeda, and we'll continue working with him in the future, and also introducing other kids along the way. It's nice to be able to push new artists from this city and give them a voice."
The Hague has always seemed tight in terms of relationships and it's a neat little phenomenon, but it also seems to connect with precedents set elsewhere recently. Vancouver artists allied under the Mood Hut umbrella seem to increase in number and reputation on a daily basis, and likewise for crews from Public Possession and Redlight Radio/Records. It's been nice to see these inward-facing circles creatively pushing one another forward, and somehow the pressure of hype and the cycles of the music machine seem to fall less heavily on such outfits. Gerben talks of how initially chasing 'new talent' for Wichelroede eventually drove them to begin to work in this manner, there being "too much happening" and it being "impossible to ask someone to do a mix for you, since most of the time there are 10 other websites who are already asking the up-and-coming artist."
The development of the Wichelroede web shop is a major new branch in the project, a more experimental endeavour considering the risks inherent in investing in physical stock as a relatively small and homebrew outfit. The idea emerged from the closing of Godspill's mail-order delivery service last year, with a little encouragement from Mehdi Rouchiche (Godspill) and Crème founder DJ TLR who Gerben had been working with there. Since Gerben and Fallon had been "looking for a way to go offline" with Wichelroede for a while, the opportunity was hard to pass up.
"We've been in the air for almost six months now and I can safely say we're doing pretty well for a new shop." says Gerben when I ask how it's going. "Its super fun to run as the office is in our home so I don't have to leave the house every day and I can just pack things and they get picked up from our doorstep. We didn't expect it to go this smoothly but I guess we kind of inherited Godspill's soul and gave it a fresh update with our Wichelroede feeling."
Gerben suggests Godspill sometimes felt a bit out of touch with the current online climate, "but now I make all the decisions together with Fallon I feel like we're onto something and don't have to comprise and just buy and sell whatever we feel like and somehow up until now it 100% works."
Indeed, the project seems to have struck up an interesting balance where stock is always pretty fresh, the couple carefully selecting records that appeal to their specific tastes and which also sell relatively quickly and reimburse them sufficiently to buy new records again, creating a cycle in which Wichelroede is purveying a nice selection of contemporary and up to the minute sounds. "I'm still figuring out our formula," Gerben says, "but it seems that there's an audience who are gladly returning a few times a month and really like the selection we're putting on." He acknowledges Wichelroede is not as big as other online stores, but suggests this works in their favour. "It seems people are attracted by the fact that we're small and have this personal layer attached. It's also fun to see how the website and shop work together, people discover our mixes through the shop and the other way around."
"It is a bit of a gamble, what to buy or not buy, but I'm not selling records that would probably sell out very quickly," he says, "I also like to take some risks by stocking relatively unknown things, but that's part of who we are, and I'm happy to see that our crowd isn't ignoring those things."
The ideal situation here is to provide locals access to music unavailable elsewhere; cutting down on global shipping costs and glass ceilings between a record and its audience within The Hague. Distribution via the web shop also means an interest from further afield that helps keep things afloat.
"We got some hardcore Crème and Godspill people who basically order everything they put out," says Gerben, since Wichelroede is now a primary distribution point for those labels. "The biggest part is people who just seem to like exactly what we offer and order all kinds of different things. It's fun to ship a box with 15 records to a distant location which contains a lot of different artists and sounds, that's basically what we're trying to create."
Another, perhaps smaller, nicety is that a shop offers the chance to dig in deeper with artists; sweetening the deal by offering the space to sell their records at the same time as hosting a mixtape. "Just one click and you can check out someone's physical releases and continue that exploration towards new music."
They've plans to diversify their stock now the shop is beginning to settle into a rhythm, introducing magazines and zines in the next couple of weeks – followed by some international independent comics. It's intended to bring attention back to other aspects of creative practice, redeveloping that notion of Wichelroede as a platform for arts, culture and music at an equilibrium. Musically they're branching out too, Gerben's changing taste reiterated by an increased focus on stocking "new age, jazz, kraut, new wave, weird electronics". He hints at ambitions for a physical store, but tempers this idea as more of a "mega future plan" and a "big dream".
Fallon also makes it clear that they want the project to embrace a wider and more diverse community, facilitating opportunities for female artists and minority groups in particular.
"I have an Indo-European background," Fallon tells me. "A lot of Dutch people have Indonesian, Antillean, Moluccan and/or Surinam roots because these countries were colonized by The Netherlands," she explains. "The racism that has been established by a colonizing nation is still alive," Fallon adds. It seems to be a subject the Wichelroede founder could talk about for hours, "but what's important," she says, "is that I feel an urgency to communicate a more inclusive voice through Wichelroede by having mixes made by not just white people."
With plans to strengthen their existing channels, I ask them both if there's any new format or project they've thought about introducing. Gerben brings up the idea of developing Wichelroede into a physical record label, but only to shoot down the possibility for now. Sheer quantity of work already available elsewhere puts him off the idea, no doubt backed up by experience wading through new releases for nuggets to feature in the web-shop. With a glut of current labels often spreading around work from a smaller pool of artists there's no incentive to toss their hat in the ring, and he believes they're not in a place to offer something different and valuable yet, though the circumstance could still arise.
"There are some local guys who are producing right now and I have a lot of contact with, and yes I would love to see a collab between us happening and it will probably happen in the future," Gerben says, "but right now it's not the right time." He adds, "we both need to continue developing what we are doing and at some point it'll all go right and we'll nail it."
What Gerben does envision happening soon is a physical conception of the Wichelroede web series, hosting mixes and offering cassette tape versions in the shop. It's a neat example of how the project is still driven by experience rather than the pressures of the market, and how one of their practices will tend to inform the other, or as Gerben says, "from URL to IRL."
Interview by Matthew Kent 
All images courtesy of Fallon Does
Wichelroede on the net
Wichelroede will be hosting a night as part of The Hague's Rewire Festival, with Cloudface, Garoeda and Gerben performing. Tickets available from the festival site.