More Varg material unleashed on Northern Electronics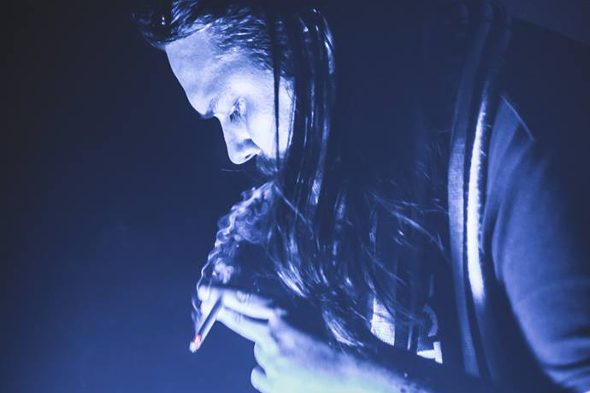 Ursviken is the latest slice of Swedish techno from the ever-prolific Jonas Rönnberg.
In our last bit of Varg-related news we were already equally lamenting and celebrating the fact that it's hard to keep up with the sheer volume of material Jonas Rönnberg is sharing with the world. Whether it be the collaborative projects D.A.R.F.D.H.S, Ulwhednar and Född Död, or just plain old Varg, it becomes increasingly apparent with time that the man must have a ultrasonic work rate. Although Rönnberg regularly reaches to Northern Electronics for much of his output, he hasn't issued a Varg record through the label since 2013's breakthrough Misantropen album, instead opting to appear on Periferin and Semantica amongst others.
A new Varg release looms as Northern Electronics prepare to release Ursviken. Spread across two records (for the lucky 100 who move quickly enough to score a copy of the translucent marbled vinyl) or as a digital release, the ten tracks were all recorded in the Northern Swedish enclave of Ursviken between 2012 and 2014. Although unconfirmed, it would seem this small town holds some significance in the back-story of Varg as he hinted 2013 when announcing a forthcoming gig with a good friend. Northern Electronics boss Abdulla Rashim is credited with curating the final selection – one can only wonder just how many tracks he had to wade through to reach this end product – and you can preorder Ursviken at the Northern Electronics Bandcamp page ahead of its release later this month. Listen to "Agngatan 24" off the album from the SoundCloud player below.
Northern Electronics will release Ursviken by Varg on April 20.
Tracklisting:
1. Ursviken
2. Skaeliptom
3. Asocial 46
4. Vitberget
5. Jámikasuolu
6. Scharins söner
7. Raggarsvin
8. Guldstaen
9. Öhn
10. Agngatan 24