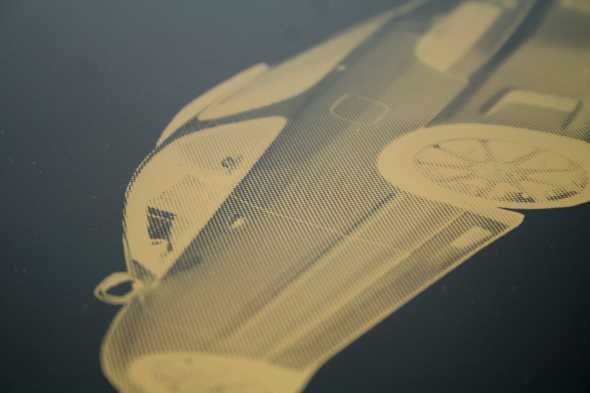 It may be in not be officially affiliated with the WT Records release itself, but this simple YouTube video for Entro Senestre's "Rosegold" captures the essence of the track more perfectly than any review could; a looped Bart Simpson, eyes closed and dancing, lost in the moment as that dreamy piano plays out. There is nothing especially new to this track within the context of current trends in house music, but the way it is executed is truly memorable. Recent Terekke productions, but with some of haze wafted away, is a good way to describe "Rosegold" and the more I listen to it, the more it becomes clear it's a track that will never tire.
We were first introduced to Senestre by WT Records back in 2010 with the La Caccia 12" and the producer (real name John Beall) has obviously developed a kinship with label founder William Burnett, collaborating numerous times on the krauty Daywalker + CF project. The simply titled ES finds Beall back on WT for his first 12" as Entro Senestre in a while – prolific is not a word you would use to describe him – and it's also his most diverse and accomplished yet. The one element that binds all four tracks here is their capacity to evoke certain moods and emotions in the listener and dancer.
"DOHC" matches "Rosegold" in terms of clear melodic musicality and dancefloor deployment. A supple acid line that pulses with almost blinding resonance at times is the one delightfully unpredictable element here, as Senestre's loose drums and driving chords set the production on its forward momentum. If the A-side is geared for those moments of reckless dancefloor abandon, the two tracks on the flip offer a more introspective contrast and present deviations into lesser known territory for this artist.
"Tristate" pulls the classic trick of lulling you into assuming it's a moment of calm before some slaloming breakbeats arrive to aggravate those glacial, billowing ambient tones. To my knowledge, Beall hasn't experimented all that much with ambient drum and bass on previous records, but "Tristate" doesn't feel like a miss-step in any way. Instead it introduces a sense of calm that seeps into closing track "SB Dauntless" which applies a similar sort of production trick but replaces the breakbeats with swung syncopation reminiscent of 2-step Garage. This may sound odd on paper, or screen to be more specific, but the production itself is faultless and so easy to get lost in.
Tony Poland
Tracklisting:
A1. Rosegold
A2. DOHC
B1. Tristate
B2. SB Dauntless