Pev & Kowton – Signal 3/Low Strobe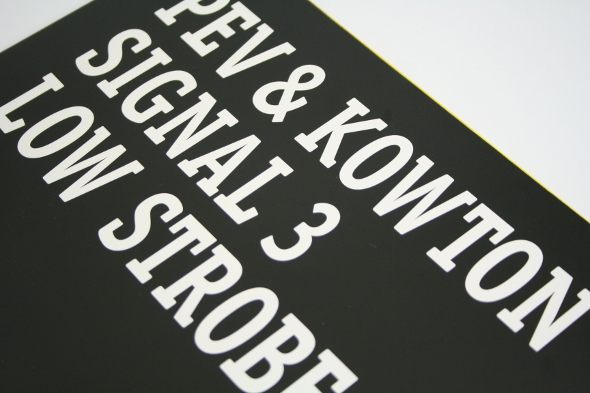 It feels like 2015 is the start of a new chapter for Livity Sound. Following that initial rip-roaring salvo of releases from Pev, Kowton and Asusu, last year was given over to the equally worthwhile remix series. Great though it was, not to mention stuffed to the brim with finely curated artists from outside of the Bristolian bubble, the Livity release schedule of 2014 felt like a pause while we waited for more of the original material to emerge. With an almost clinical level of organization the new year begins with the first of what promises to be a fresh salvo of material from the Livity camp, and it's Pev and Kowton at the reins for two collaborative cuts that should satisfy anyone with a predilection for good electronic music. If that sounds like something of a critical cop out then so be it, but there is an interesting universality that lurks in these two new offerings.
As "Signal 3" comes to life on a teasing intro of sci-fi cinema sound design, it already feels like there's a little more space for esotericism where so many Livity tracks have been about bare essentials. It's actually a magnificent intro, so often the overlooked part of a track in a hurry to get to the meat. Here it almost feels like that suspended anti-gravity moment could easily stand as its own track for triple the running time. It also blurs smoothly into the emergence of a rhythm, as a staggered kick brings a pleasing rush of familiarity in amongst a wonderfully infinite delay feedback. This is a dense, full-bodied experience rich in texture, from the clanking high-end percussion to the distant whiplash of reverbed snares, and just as that feedback melts away and the track looks set to get dark and stark, that spellbinding intro comes back in for another round. Of course there is still space for a spartan throwdown, and so the track winds down with the kind of raw beat workout that has become a Livity calling card of sorts.
"Low Strobe" brings its own kind of unique proposition, as a bizarrely exotic sounding central motif twists and contorts through a subtle amount of processing with the kind of brazen presence that exudes creativity and snaps heads around in a 'what the hell was that?' kind of way. Around this looming beast the construction of the beat is kept simple, the bloated kick providing more than enough bottom end, but there's plenty of space for another shock turn. As the track unexpectedly opens up with a swooping jungle pad it feels like the first light of day piercing a weathered warehouse as the revelers start leaving. Such nostalgia-soaked rave euphoria is of course intrinsic to the Livity concept; it's always been about soundsystem music after all. It's just that here the approach feels less primal and more spiritual, perhaps even playful.
It's not that the first run of Livity 12"s were some monochromatic industro-fest by any stretch, and equally it might be easy to infer too much from the distinctive art direction, but it does feel like this new offering from Pev & Kowton has a distinctive splash of colour about it. It's still very much true to the grounding principles, as that low-end rumble still feels granite-heavy and the drums snap with a pointed rasp, but within this 12" lies an exciting suggestion that the latest evolution of the label will yield yet more delights for ardent followers, rather than just more of the same.
Oli Warwick 
Tracklisting:
A1. Signal 3
B1. Low Strobe