Rrose reinterprets Having Never Written a Note for Percussion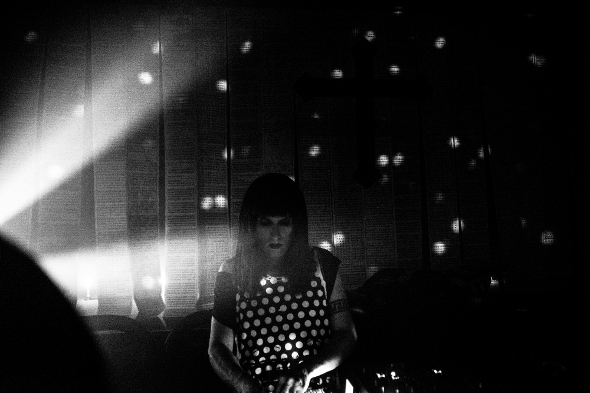 The American techno artist has revised a solo percussionist routine by the late minimalist composer James Tenney on a new album for Further Records.
James Tenney was an American composer and music theorist who whose body of work is held in similar regard to classical music's experimental vanguard of Steve Reich, Philip Glass, La Monte Young and John Cage. The original 1971 composition, Having Never Written a Note for Percussion, is a gruelling piece of repetition made for a solo percussionist to perform, with the player's single rolling note designed to give emphasis to the subtle nuances of a percussive instrument's overtones and resonances through a single, extended routine played from its quietest point to the loudest and back again, otherwise known as pianissimo and fortissimo form. In 2012, Rrose performed an improvised version of the piece in Washington, D.C., and news has now surfaced the Seattle-based Further Records will commit that recording to vinyl, along with a separately recorded studio version.
Rrose is said to have found inspiration to tackle the demanding composition while touring a disused light rail network beneath downtown D.C. where "the possibilities of 'seemingly endless and unpredictable reverberations' seemed like the perfect environment for Tenney's composition." Rrose takes the original eight minute performance (for a better idea of the piece watch Brad Meyer's rendition) and extends it to 30-minutes which is said to be "a powerful study not only in minimalist composition but the importance of the room and environment that a performance, or just pure sound, takes place in." You can stream both of Rrose's versions in full below, and for more information about the Having Never Written a Note for Percussion project, visit Further Records's Bandcamp.
Further Records will release Having Never Written a Note for Percussion by Rrose on April 13.
Tracklisting:
1. Having Never Written a Note for Percussion (Studio Version)
2. Having Never Written a Note for Percussion (Live at Dupont Underground)