The 49th edition of !K7's flagship mix series comes from the Werkdiscs man and will arrive in May.
This year marks the 20th anniversary of DJ-Kicks, a mix series from German label Studio !K7 which was inaugurated by R&S artist CJ Bolland and has gone on to draw from a wide canvas of artists involved in electronic music. Early contributions from Carl Craig and Kruder & Dorfmeister helped establish the series and contributions from Trevor Jackson, Motor City Drum Ensemble, Kode9, and John Talabot rank among our personal favourites in the DJ-Kicks canon. Following the recent release of Nina Kraviz's entrance into the series, Studio !K7 have revealed the 49th edition will come courtesy of another high profile name in Actress.
Due for release in May, the hour long 20 track selection represents the first commercially released mix from Actress, aka Werkdiscs main man Darren Cunningham, who describes the forthcoming set as an attempt to fuse "traditional functionality with dance music's cutting edge". Contemporary names like Breaker 1 2, Lorenzo Senni, Beneath, Mark Fell, and Moon B sit alongside productions from Gherkin Jerks, Reel To Real, and Chez n Trent, whilst a new Actress production recorded in the post-Ghettoville era pops up towards the end. "I've tried to keep space between tracks, allowing them to speak," Cunningham reveals on how the mix will sound in a press release, adding "I tried not to force BPM shifts and to let the programming remain choppy and quick."
!K7 will release Actress – DJ Kicks in both CD and 2LP formats on May 4.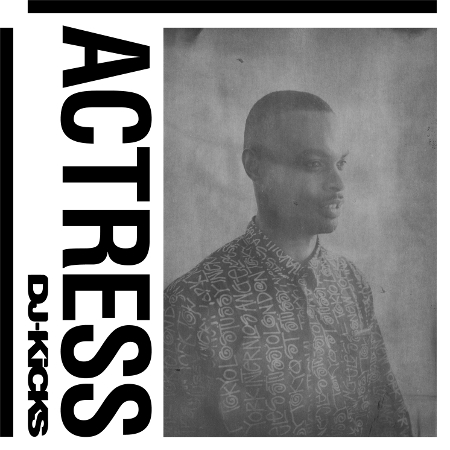 CD Tracklisting:
1. Breaker 1 2 – 2
2. Lorenzo Senni – Elegant, and Never Tiring
3. Reel by Real – Look At Me
4. Autechre – Pen Expers
5. Chameleon – Thought 2
6. Beneath – Stress 1
7. Simbiosi – Impari
8. Zennor – Tin
9. John Beltran – Anticipation
10. Moon B – Those Moments
11. STL – Psychelicious
12. Snakepiss – Toil
13. Shit and Shine – Pearl Drop
14. Chez n Trent – Windy City Club
15. Mark Fell – Section 1-7
16. GNESIS – Pear
17. Shxcxchcxsh – LDWGWTT
18. Hank Jackson – Track 3
19. Actress – Bird Matrix (DJ-Kicks)
20. Gherkin Jerks – Red Planet
LP Tracklisting:
A1. Lorenzo Senni – Elegant, and Never Tiring
A2. Reel by Real – Look At Me
A3. Simbiosi – Impari
B1. John Beltran – Anticipation
B2. Shit and Shine – Pearl Drop
C1. Chez n Trent – Windy City Club
C2. Mark Fell – Section 1-7
D1. Actress – Bird Matrix (DJ-Kicks)
D2. Gherkin Jerks – Red Planet