Auntie Flo and Esa Williams start Highlife World Series

The first in an ongoing series of internationally flavoured releases from the pair focuses on Cuba.
Inaugurated back in 2013, Highlife has grown into a platform for Auntie Flo and his global cadre of Huntleys & Palmers associates to issue edits informed by the international ethos of the long-running club night of the same name. The most recent edition from Basel collective Alma Negra just dropped, clearing the way for a change in stylistic tack over the course of the next few months. Hinted at briefly in the recent feature with Auntie Flo posted on this site, the Highlife World Series takes the shape of a trilogy of vinyl (and expanded digital) releases from the producer and studio partner Esa Williams featuring original music recorded with musicians from across the globe.
The series will cover Cuba, Kenya, and Uganda with the debut release due next month featuring productions recorded whilst Auntie Flo and Esa were in Havana last year to perform at the inaugural Havana World Music Festival. Inspired by Mala's Brownswood album Mala In Cuba, the pair worked with vocalist Eric Alejandro, trumpeteer Julio Rigal, and percussionist Yissy on a series of tracks which can be previewed below. It's worth clicking through to the SoundCloud page itself to get a detailed backstory on how events unfurled for the pair in Havana.
The label reveal all proceeds from each release "will be sent back to the respective countries in order to fund further musical production costs in years to come", whilst making efforts to distribute the music in each country so it's freely available for the musicians to use at home.
Highlife will release Highlife World Series: Cuba by Auntie Flo and Esa Williams on March 9.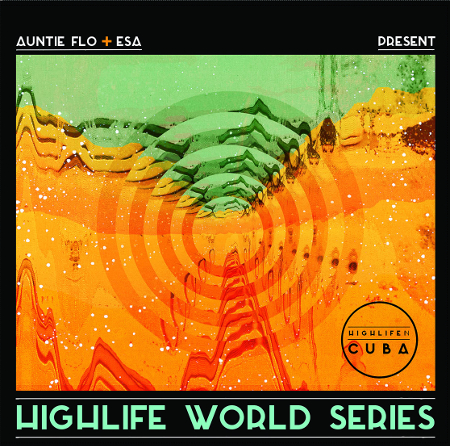 Vinyl Tracklisting:
A1. Auntie Flo – Die Bailando (Feat Eric Alejendro)
B2. Esa – Sabela De Cuba (Afro Synth Mix)
Digital Tracklisting:
1. Auntie Flo – Die Bailando (Feat Eric Alejandro)
2. Esa – Sabela De Cuba (Afro Synth Mix)
3. Esa – Vitrales
4. Auntie Flo – Mother Teresa
5. Auntie Flo – Die Bailando (Radio Edit)