Vercetti Technicolor – Black September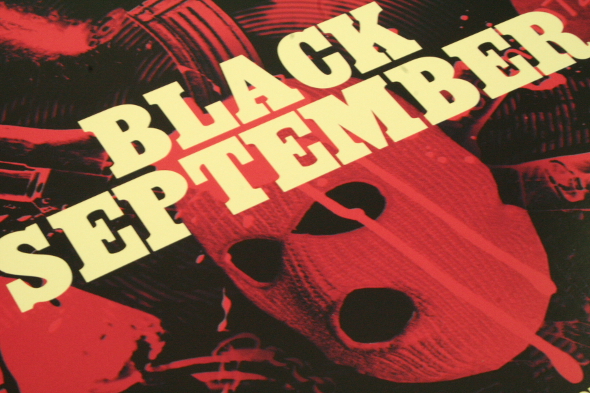 Putting out disco records that are inspired by cult movies is one thing, but providing a soundtrack that is meant to accompany cinematic portrayals of a real-life atrocity is another matter entirely. This is the challenge that Giallo Disco co-founder Vercetti Technicolor set himself when he decided to compose Black September. Named after the Palestinian terrorist group that took 11 members of the Israeli Olympics team hostage and subsequently killed them during the 1972 Games in Munich, this work aims to soundtrack both the 1999 documentary and Spielberg's subsequent dramatization, Munich, about the massacre.
Irrespective of your political leanings, there can be no debate that this was anything other than an atrocious act, and the Giallo boss deserves credit for taking on this task and the respectful manner in which he realises it. There is an eerie, haunting feeling and a sense of dread throughout Black September. These sensibilities are audible on "Operation Munich" and "Ambassadors of Death", where murky, pulsating basslines throb through the aura of gloom conjured up by the producer's soupy synth lines and the disconnected vocal chants. Are these voices from another plane seeking to warn the victims of the impending threat?
We'll never know for sure, but by the time the plodding groove of "Olympic Village Hotel" lumbers into earshot it's too late and the dubbed out drums that cut through the sombre synths of "Chariots of Gunfire" sound like bullets ricocheting around the athletes' quarters. The whirring helicopter blades and electronic frequencies of "The GSG9 Theme" provide some relief.  The title is a reference to the policing unit set up in the wake of the massacre to deal with such incidents after the unprepared German enforcement authorities on the ground in Munich failed to free the hostages.
A greater curiosity is the At Les-like melodies and tight drums of "The Bank Heist Finale", which seem to have little bearing or relation to the event. It's the only diversion in a release that treads on sensitive ground but which does so with the utmost sensitivity. Vercetti Technicolor must be highly commended for handling this contentious subject with such artistic integrity.
Richard Brophy
Tracklisting:
A1. Operation Munich
A2. Ambassadors Of Death
A3. Olympic Village Hotel
A4. Chariots Of Gunfire
A5. The Gsg9 Theme
B1. The Bank Heist Finale
B2. Operation Munich (Extended Mix)
B3. Operation Munich (Playtonto Remix)
B4. Operation Munich (Francesco Clemente Remix)