Gary Gritness – The Adventures of Gary Gritness Chapter 1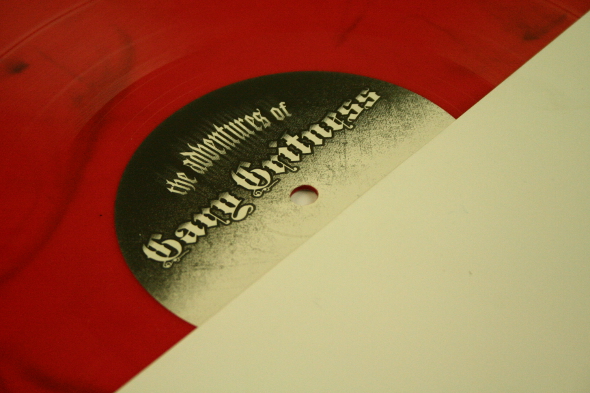 Gary Gritness is probably an unfamiliar name to most, even if its creator, French instrumentalist Tim Becharand, is something of an unsung hero of dance music. Under the more familiar – though still little-known – Slikk Tim alias, he's worked as a bass player, arranger and composer for an impressive list of producers, including Louie Vega, Orlando Voorn, Dam-Funk, and British house/garage veteran Grant Nelson. For the most part, though, those productions were a little different to the sound he wishes to pursue under the Gary Gritness moniker, if this surprise 12″ for Clone's occasional Crown Ltd series – the first of two in quick succession – is anything to go by.
According to Clone, the tracks that make up The Adventures of Gary Gritness Chapter 1, and its' second companion 12", which will drop in a few weeks, came to them via Underground Resistance's Mad Mike. The Detroit veteran was particularly enthused by Becharand's vision of 21st century electronic funk, and told Serge and company to pay close attention. It's good that they did, because there's much here to enjoy. Listening through, it's unsurprising that Mad Mike is a fan; the four tracks here are undisputedly influenced by Detroit's P-funk and electro past, but with an added rawness and rhythmic intensity that suggests Becharand has also been listening to plenty of juke and ghetto-tech. There are, of course, shades of the European style electro promoted so well by Clone over the last 17 years, though Becharand's obvious musical skills mean that there's a expansive feel to the melodies and composition that can't be matched by, say, Dexter or Alden Tyrell.
That said, the most striking track here, "The Fifth Dome", is the most akin to Clone's traditional output. It throbs and surges with foreboding electronic riffs, grandiose, sci-fi influenced chords, distorted drum machine grooves and intergalactic effects. It feels like an unreleased soundtrack to a devastating attack scene in a big budget Hollywood sci-fi movie, before slowing down to a more sedate pace in its' closing moments.
There's little elsewhere quite as shockingly forthright, but highlights are pleasingly plentiful. There's a delightful, "falling through space" feel about closer "Wrong Type Deal" – all skittering, double-speed, bright-eyed arpeggio melodies, throbbing sub and head-nodding hip-hop beats – while "Welcome To Trife City" is unflinchingly Utopian in outlook. With its sharp electrofunk synth melodies, fuzzy synth-bass, sparkling chords and raw beats, it comes on like an awe-struck tribute to a futuristic city yet to be built. The same could probably be said about the melodious and immersive "Ridin With Runner Joe", which comes on like a rush-inducing jam session between Funkadelic and Drexciya. It's unashamedly positive, despite the toughness of its beats, and arguably the stand out moment.
Matt Anniss
Tracklisting:
A1. Welcome 2 Trife City
A2. Ridin' With Runner Joe
B1. The Filth Dome
B2. Wrong Type Deal