James Manning travels to Birmingham to meet with Anthony Child in the company of his spiritual advisor Lady Starlight.
On Malvern Hill overlooking Birmingham and the greater West Midlands I sat next to Lady Starlight, Doris and Anthony Child. Led puffing up a lofty trail to a grassy vantage point that revealed a panoramic, 360 degree bird's eye view of the UK's 'second city' and a rolling Welsh countryside, I hung out with the Surgeons, drinking rooibos tea, eating biscuits and talking about techno.
The Child's drive an electric powered BMW with a reverse navigation system from the future, and winding up the summit to where this interview took place I mentioned the old Cadbury factory I saw somewhere near Bromsgrove. Still a good place for chocolate apparently. If we were all talking, names of surrounding neighbourhoods or unfortunate word placements of others were made to sound like sick fetish puns. I was told about mid-'90s record stores in Japan dedicating shelves to the music of Jeff Mills's Live In The Liquid Room CD, whom Surgeon featured, and besides the toilet humour it felt like a pretty clean way to get to the top.
Surgeon 'shocked' parts of the world only a week or two later by taking the stage in Paris to perform a live set of modular techno in support of Lady Gaga. Dressed casually in jeans, laced shoes and a worn Coil band t-shirt brandishing the phrase 'constant shallowness leads to evil', Child, introduced by Chew Fu collaborator Breedlove, entered the huge Bercy arena hooked in the arm of the bold red suit, make up and fringe of Lady Starlight.
Similar to Robert Hood giving his daughter time to play some of her favourite songs during his set at last year's Movement festival in Detroit, Martin Garrix's "Animals" included, Surgeon's trip above ground was something out of the ordinary. And in an unostentatious showing of bravura, a happy Surgeon, clearly enjoying knocking out a collaborative, uncompromising set of noodling techno to a brand new audience, sent sounds of a hardcore underground rocketing into the flamboyant mainstream of Ladies Starlight and Gaga's artRAVE.
Anthony Child has been releasing music for 20 years and his enthusiasm for techno comes across strong as ever. "I was talking to Lady Starlight about it last night," Child says, "it's like on this very basic level, being a DJ, I hear music that is exciting and I really want to share it with people." Child continues, "it's not about me being some stupid Muppet on stage or whatever, I'm just like, this is amazing, I want to share it with people…and blow their heads off."
Surgeon's bombastic productions and DJing style make Child the revered artist he is and for the UK he's as canonical to electronic music as what the likes of Robert Hood and Jeff Mills are to the US. He runs two labels set up almost entirely for his own output, Counterbalance and Dynamic Tension, formed British Murder Boys with Karl O'Connor, is Trade with Blawan, helped define '90s Tresor, and has and will be a constant source of inspiration for music makers and DJs everywhere.
For almost two years Child has held down his own radio show for London broadcaster Rinse FM and dedicates this new found platform to showcasing the fresh, unreleased and unsigned music that comes his way. "I've never done a regular radio show, barely any radio," Child says. "I've never really done anything where I've had to talk on the mic and announce and introduce, so it really came at a time when I was looking for something new."
Radio is a new route Child is exploring to breach his comfort zone and feels it's a new outlet to connect with music fans, and their feline friends. "This fun and really absurdist thing on the show is where people ask me to say hello to their cats, so I say hi to Mr Tibby in Stoke Newington or something like that," Child humours. "I also give posthumous shout outs to dead cats, it's another really nice way to connect, somehow."
"I'm pretty much mixing it end to end," Child explains of the way music is played on his show. "I'm not really hacking it to pieces like I would in a DJ set," he says, "it's about presenting." An inspiration and source of new music to Child, as it were for many British, is hugely influential BBC Radio DJ John Peel. "He's been a DJ on the radio pretty much since the start of rock 'n' roll," Child explains. "No one else has been connected to fresh music for as long as he was, and excited by it and pushing it and discovering new bands and supporting them," Child says. "That's where I first heard Underground Resistance and stuff like that, Belgian rave…"
Child jokes it's more likely Alan Partridge than Peel to inspire his first steps into radio, but it was Mick Harris, former drummer of metal band Napalm Death and industrial dub controller at Scorn, and various other darkly lit projects, that was key to the formative development of Surgeon. "I used to hang out with Mick because we had a similar taste in music and films and I'd go around his house," Child tells me. "He'd buy me a Miles Davis album and say 'you need this'." Child adds, "he's a huge techno fan, he had Basic Channel, Jeff Mills, Underground Resistance, Robert Hood; this is like early '90s and was a real high point for that kind of music."
The result of that session was Surgeon's debut record, Magneze, released on Karl O'Connor's Downwards in 1994. Late last year Child remastered, repackaged and rereleased that title for the first 12" in a six-part retrospective on a new label Child launched for the project called SRX. "Things are very different now with cutting engineers and the way that people understand techno," he says. "There's that story I wrote on the blog where I distinctly remember going somewhere to get a dubplate cut and the guy was like, 'is it supposed to sound like that?'" Child recounts, "he hated it so much that he started cutting it and didn't even want to be in the same room while the track was playing."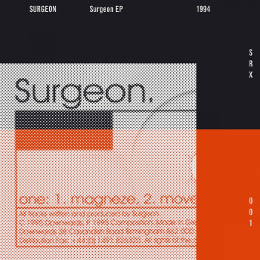 The inspiration to reissue an entire wad of his back catalogue, inclusive of other unreleased bits, was the familiar story of rediscovering older material, this time on DAT tape that sounded a lot better than he remembered. "Even though some of these early tracks had been repressed a lot they've always used the same mother plates to press them," Child explains. And with the help and expertise of long-trusted mastering engineer Christoph Grote-Beverbor of Dubplates and Mastering, Child makes known, "we really wanted to retain that old, rough vibe."
"Like that thing with George Lucas and Star Wars," Child starts. "He dubs all these extra effects over stuff, we didn't want to modernise it, we wanted to remain faithful but do a better job of transferring the music on to vinyl which hadn't really been done back then." It was Harris, "Birmingham's Godfather of techno", who introduced Child to O'Connor by sharing the music Surgeon recorded in his studio to make the connection that would eventuate into a life long friendship. "I'm really close with Karl because we've done this whole crazy journey together since the beginning and it's just insane, and it makes crazy people more crazy," he says. "It becomes more like siblings; you love each other, you hate each other, and you go through different phases of your relationship and there's a lot of love in whatever is going on."
Together, the two are best known for their decade-long tenure as British Murder Boys. Last year Downwards released Live In Tokyo, a visceral and historic recording of the group's final performance captured in 2013 that's soon to be released as a DVD. "It was basically the last British Murder Boys gig and we did this really indulgent, elaborate, basically performance art piece to people who thought they were going to a techno gig," Child remembers. "That was what our whole life was leading towards and once we'd done that we were like we can't do another British Murder Boys," Child says as if exasperated. "People ask us (to play again) and offer us huge amounts of money but we're like, we can't do it, that was the zenith."
So how did a young Surgeon happen to have his music played by Detroit techno eminence Jeff Mills? So the story goes, as told by Child with mirth: "I was speaking to someone on the phone, I'm not sure who it was, it might have been Mark Broom or someone, and he was like Jeff's playing your record, and I was like shut up." As Child remembers it, "Mills was like this monolith," a faceless presence of '90s techno. "At that time, bear in mind," Child adds, "no one knew what he looked like because he didn't do any press, it was only when he did the Liquid Room CD that anyone actually saw a picture of him."
Outside of Jeff Mills's own material on Live At The Liquid Room, "Magneze" and "Move" from Surgeon's debut record featured alongside music of Joey Beltram, Claude Young and The Advent, to DJ Skull, Ken Ishii and Derrick May's Rhythim Is Rhythim. As Child remembers, the first booking under his own steam, with O'Connor in tow, was Ultraschall, a now demolished and legendary Munich venue. "The original part is actually the kitchen's from the old Munich airport," Child explains before telling, "it was incredible, we met DJ Hell and we met Robert Görl from DAF and we were like 'oh my god you're a legend'."
In company of people like Richie Hawtin (aka Plastikman) and Dave Clarke, Child remembers meeting Mills, the man famously playing his music. "I was like 'what the fuck is going on?'" Child says recounting the experience, before reflecting, "I made this track and it went out in the world and I had no idea what it had done, I had no idea anyone had even heard it." Like Mills, Surgeon went on to help define Tresor by releasing records on the label and DJing at the club. Child was resident DJ there for three years and remembers being so anxious the night he first played at Tresor he was almost sick from nerves.
The latest development for Surgeon however is the improvisational use of his new found love for modular synthesis that he's been applying to DJ sets. It's a new form of expression Child says was spurred by Blawan and their collaboration, Trade. "Jamie (Blawan) really helped me start on that path of building a modular synthesiser and it's been such a huge inspiration and fun," he says. "It's tactile and so organic and random and crazy, it's like playing with a wild animal."
Trade was originally conceived as a Surgeon DJ set with Blawan live jamming his modular mechanics over the top, but as Child explains, things have evolved. "Now the computer has gone by the way side and it's just modular," he says, "that's something really special because there's nothing saved, there's no computer, there's not even a sampler, it's just totally pure, raw, electronic music."
"It's a bit more punk or something," he feels. "It's techno but we also want to have fucked up stuff in there as well, we have some crazy sections which sound more like Throbbing Gristle than any techno-techno," Child explains of Trade, amused by his own observations. "It's so exciting doing this live because it's like hanging onto a cliff by your finger tips," he says, "nothing is set or saved, it's seat of the pants, it's just like you just twiddle and bring it in and go ok that sounds cool we'll go with that."
"But you know what," Child continues, "I'm convinced, and I've seen this, the crowd can sense this, they can sense this danger and this element of danger, and it sends them crazy." Child then points out, "I've DJed with Ableton for about 11 years or something now, so it's a long time, and I felt as though I'd reached a point with that where it's like: this is too perfect." So how are you DJing now? I ask on Malvern Hill. "I use Ableton but I have it synced to the modular," Child answers. "Basically I play a track from Ableton and improvise live, so it's like playing a jazz record and playing a saxophone over the top."
"I mean you can hear how excited I am about it," Child says, animated. "I just wanted to throw my computer out the window, I had enough," he says of the time leading up to his modular expansion, but now, "it's just like, whoa, I haven't made music this fast for 15 years."
Each month for two solid decades Child has been running his party-come-institution House Of God, a Birmingham event etched into UK clubbing folklore as much as Steve Bicknell's London-based Lost. "I remember there was one year we did House Of God birthday and it got quite depressing because each year everyone just got a little bit older, the crowd and the people, and it felt like this dinosaur."
But, Child continues, "all of a sudden the next year there was this huge influx of new people." Why? Rather than pinning this renewed interest in the genre on the influential soundtrack, aesthetic and neo-liberalisms of a place like Berghain, Child believes it's the style of collectives like Hessle Audio and Livity Sound who are "approaching techno from a really different angle."
"It's great because it's fresh and new and not rehashing the same old shit that's not as good," Surgeon says of artists like Peverelist. "To have some kind of new angle and new energy into it has revitalized me and other people," Child says. Surgeon appeared on Livity Sound last year remixing Pev & Kowton's "Raw Code", while he's long supported the music of Hessle Audio, be it on the air or on tour. "I'm so hungry about music," Child says, "that's the thing, with the radio show and DJing, I'm still really hungry, I've still got a passion."
"I'm not really reminiscing, all misty-eyed about back in the day, to me that feels like yesterday," Child continues. "It's really important about being current." he believes. "Being a DJ, doing the radio, it's plugging in to what I'm doing right now," Child says, sensing his current role as a musician is to take in what he's learned from DJing and connect with music and people. So be it the bunkered concrete chambers of Berlin's strobe-lit Tresor, to the couture fashion, bright lights and stadium pop of that night at Paris Bercy, for Child, "it's now that's important, it's where we are."
Interview by James Manning
Photographs courtesy of Aron Klein and Daddy's Got Sweets via RA
Regis,James Ruskin, Richard Polson and Surgeon at House Of God in 1996 image courtesy of James Ruskin
Header image by Ilaria Pace
Surgeon will play alongside Regis at fabric in room two on February 28.