Nu Sound II Crew / Magnus II – Split EP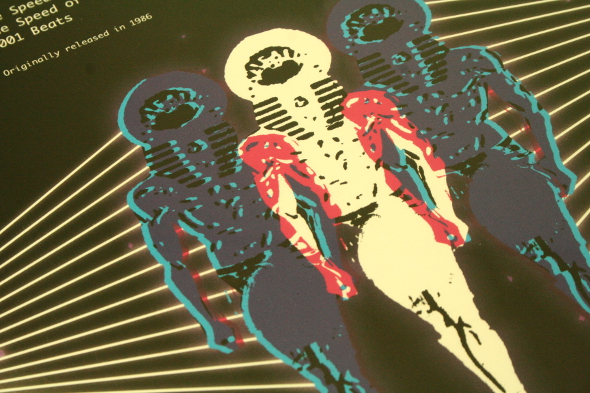 It appears that Dark Entries is on a mission. Having re-released a stack of obscure wave records, the San Fran label shifted its attention and spent much of last year reissuing Italo classics by Charlie, Big Ben Tribe and International Dancing System. Now it appears to have moved from European dance music of the late '70s and early '80s over to mid-'80s Detroit with the re-release of these electro tracks by Nu Sound II and Crew and Magnus II, aliases of DJ Maestro.
Like the Italo reissues, these tracks were originally released in limited editions and have been lovingly re-mastered by Dark Entries, accompanied by the original artwork. Of course loving sonic restoration and high-end packaging can only get you so far; the real question is whether the music was worth reissuing in the first place. "1001 Beats" does sound of its time and out of time, with a spidery guitar riff that veers into the Batman theme fused with a mock-serious vocoder.
However, the rest of the release is much more impressive. Magnus II's "Space Age" sees atmospheric synths and a more menacing use of the vocoder set to bass drones that would later serve as the source material for the hoover sound beloved of hardcore producers. Better still is "The Speed of Light". Although it appeared a few years after the Cybotron material – Juan Atkins' Metroplex distributed the original pressing of "Light" – it sounds like a definitive Detroit electro track.
Tight 808s and a rumbling bass provide the backing for eerie synths and a ponderous vocal discussing the archetypal electro/techno topics of space travel, escapism and the provenance of Maestro's crew (even though those of a more puerile disposition may snigger at the couplet "I can feel it in my bones, Saturn, Uranus we're almost home"). Crucially, it hasn't lost any of its futuristic sheen in the intervening three decades. The only remaining question is what period of electronic music's history will Dark Entries focus on next?
Richard Brophy
Tracklisting:
1. The Speed of Light
2. The Speed of Dub
3. 1001 Beats
4. Space Age
5. Space Age (Dub)
6. Space Age (Remix)