Power Vacuum explores further Vectors

A new round of artists are introduced on the second Vectors split release from the label in March.
We have Milo Smee and his Power Vacuum label to thank for bringing a wonderfully warped sense of humour to techno, a genre of music that takes itself too seriously by far. It was just under a year ago that Power Vacuum introduced Vectors, a split release featuring some talented label associates in Objekt, Lee 'An-I' Douglas, JoeFarr & J. Tijn, and Ukrainian Positive Merge. The results, as Oli Warwick eloquently suggested in his subsequent review, felt like all involved had been given instruction to "make a nosebleed banger". Evidently, Smee felt the reaction to Vectors merited further editions with the announcement of a new cast of contributors for a second volume of the series.
Due for release in March, Vectors 2 is the first Power Vacuum release of the year and pairs up contributions from veteran UK techno types Jerome Hill and Cylob with less familiar names in Vacated and Cornwallis. The immediately recognisable Anklepants also features on Vectors 2, whose track "Y.H.I.Y.P." appears in remixed by Bintus format. The typically amusing press release text from Power Vacuum highlights the Cornwallis contribution as "a charmingly rancid personal account to which the prancing oaf in each of us can surely relate".
Power Vacuum will release Vectors 2 on March 17.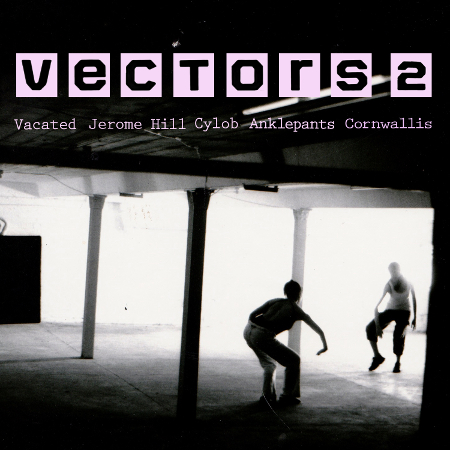 Tracklisting:
A1. Vacated – Quadrat
A2. Jerome Hill – Plastic Jam (Stripped Mix)
B1. Cylob – Spyworld
B2. Anklepants – Y.H.I.Y.P. (Bintus Rmx)
B2. Cornwallis – At The Disco