More Rezzett due on The Trilogy Tapes

A live cassette from the mystery production unit is out now and will be complemented by a new TTT 12″ next month.
Emerging from the soupy ether of the internet via a low-key YouTube account in early 2013, Rezzett's frazzled sonics were eventually granted a physical outlet when Will Bankhead issued three of their online highlights on the superb self-titled 12″ that was TTT012. At the time it was assumed Rezzett was the work of one person, with Lukid and Actress among the artists suspected to be behind the project, but it has since come to light Rezzett is the work of two individuals (pictured above). 2014 saw Rezzett score one of our favourite TTT releases in the powerful fusion of ambient chords and speaker-blowing hardcore that was Zootie, as well as playing live in locations as diverse as Moscow, Manchester, Tokyo and most recently London's Tate Britain.
With their identity still under wraps, it's now come to light that a second 12″ for The Trilogy Tapes is due for release early next month and will be preceded, excitedly, by a cassette release consisting of recordings of two 30-minute Rezzett live sets. The 12″ features two tracks that have been accruing excitable comments on Rezzett's YouTube account over the course of the past year in "Twizzta" and "Boiling Ds" – both of which appear in extended form – along with an all new track in "Goodness". The cassette is available now from TTT and features a recording of Rezzett's soundtrack for a Cav Empt show in Tokyo last October along with a further live recording whose origin is unknown. You can watch a video of the former performance below.
The Trilogy Tapes will release both TTT032 and Rezzett Live by Rezzett later this month.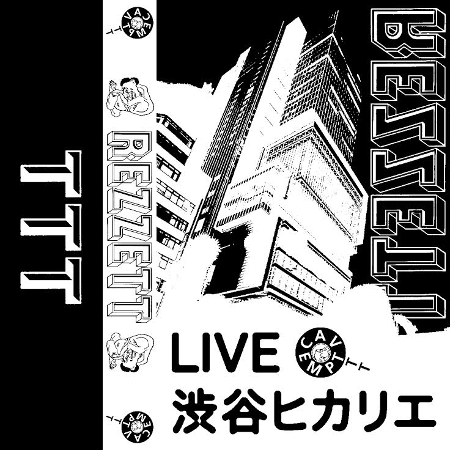 Rezzett Live Tracklisting:
A. C.E TOKYO 2014
B. ??????
TTT032 Tracklisting:
A1. Goodness
B1. Twizzta
B2. Boiling Ds