DVA DAMAS have a Wet Vision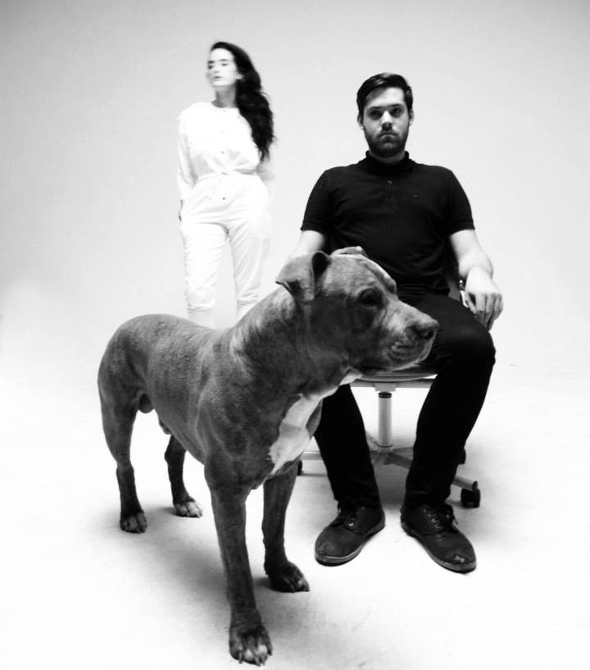 Downwards North America will issue a new record from the excellent LA duo in February.
Having debuted on Downwards back in 2010 with the excellent Brand New Head 10″ for the DO sub-label, the DVA DAMAS pairing of Taylor Burch and Joseph Cocherell (pictured above with a prime pooch) returned with distinction in 2013 with their excellent debut album Nightshade. Issued to inaugurate the Downwards North America operation curated by Silent Servant artist Juan Mendez, Nightshade was for us a highlight of the label's output in its 20th year and was a more than worthy inclusion in our 2013 end of year albums list.
The exciting idea of new DVA DAMAS material from Burch and Cocherell was first floated by Downwards last autumn, posting a brief statement on The Black Freighter Tumblr that a Wet Vision 12″ was due 'soon'. Some rampant repeat listens of Nightshade and the excellent podcast DVA DAMAS mixed for this site have kept us satisfied in the ensuing period, and thankfully the wait will soon be over. Wet Vision is due for release early next month and the four tracks apparently act as "a torchbearer for the lost and laviscious, renegade and rogue, forging way for the new breed of agent provacateurs". You can stream the opening title track below.
Downwards North America will release Wet Vision by DVA DAMAS on February 3.
Tracklisting:
A1. Wet Vision
A2. Theme For Silence
B1. Wet Vision Pt II
B2. On Your Heels