Juno Plus Podcast 103: Ishan Sound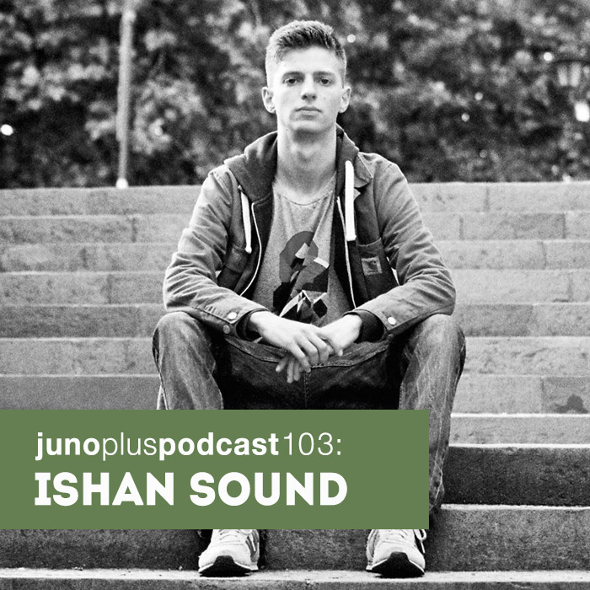 The Young Echo soundsystem enthusiast turns in a 46-minute set bursting with unreleased dubplates and collaborations.
The development of the various members of the Young Echo collective has provided some of the most interesting music to come out of Bristol over the past few years. Though the collective continues to grow in number, one artist who has been there since the beginning is Cris Ebdon, best known in the early days of Young Echo as one half of Zhou with Amos Childs. Together the pair released a number of standout 12"s on Punch Drunk, an EP on A Future Without and a collaborative cassette with Vessel on Astro:Dynamics, all of which fused the influence of classic dub with more ethereal textures, creating dark, complex dubstep-influenced music that felt like the logical continuation of the Skull Disco legacy.
Despite the pair being a core part of Young Echo's early identity, recent years have seen Ebdon begun to develop his solo project, Ishan Sound. Taking more direct inspiration from Bristol's rich soundsystem culture, and combining unsettling mystical melodies with strong bass pressure, Ebdon has been cutting his own solo dubplates since 2011, with the project's official debut appearing on the label arm of Stokes Croft party Peng Sound early in 2013. Teaming up with local soundsystem veteran Ras Addis, "Clash Of The Titans" proved a deadly steppers track, joined later that year by a similarly authentic 7"-shaped slice of dub on ZamZam Sounds. However, the project's breakthrough to wider recognition came last year, when Ebdon released the brilliant Namkha 12″ on Pinch's Tectonic label.
With each of Ebdon's solo releases offering some of the finest soundsystem music to come out of Bristol in recent years, we jumped at the chance to see in 2015 with an Ishan Sound podcast. The resulting 46 minutes sees Ebdon delve deep into his collection of unreleased dubplates for a mix that largely forgoes the music of other artists for unreleased solo tracks and vocal collaborations with fellow Young Echo members Rider Shafique and Jabu. Ebdon also took the time to answer a few questions about the project's background, the state of soundsystem culture in Bristol and the Ishan Sound live show that has been turning heads of late.
Hi Cris! How are things in Bristol?
All good here, lots of good things to look forward to in 2015.
You just played a live set at Take 5 over the weekend – how did it go?
It's always special when Peng Sound put on a party, and this one was no exception. Backed by Roots Radical Sound System, and with all Peng Sound crew in attendance, the place was rammed and vibes were high!
What exactly does an Ishan Sound live set involve?
In the same way that dubs or versions have been mixed since dub was pioneered in the mid 70s, I run individual stems into a mixing desk which is hooked up to spring reverbs, delays and other effects, so I'm able to build the arrangement and momentum by feeding off the energy of the crowd. Although every set is unique and no dub is ever quite the same, I'm always skanking hard. Where possible I also like to play in combination with Peng Sound boss Ossia running extra sirens, delays, a ring mod and a hammond spring tank, taking the dubwise up a notch!
There's a lot of your own material on the mix, including what looks like a healthy number of unreleased dubplates. Is this generally how you like to keep things when DJ out?
Absolutely.
Your sound has all the hallmarks of someone who's been immersed in soundsystem culture for a long time. How did you get into dub and what kind of nights and artists have helped to inspire you?
I arrived at it all quite late, but Teachings In Dub laid the foundations for my interest in this sound, and subsequently digging into the releases and back catalogues of Dubkasm, Aba Shanti, The Disciples and King Earthquake has solidified it.
From the outside it seems that soundsystem culture is really healthy in Bristol – as well as yourself there is Dubkasm and Gorgon Sound, while Peng Sound are instrumental in putting on events. Would you say things are in good health or is it a smaller thing than it seems from the outside?
Its certainly not going anywhere soon. Those names mentioned above are representing their styles around the world, as well as solidly pushing and upholding the sound within Bristol, which is why I would say it is strong from the inside as well as from outside.
How would you say the Zhou material differs from your approach as Ishan Sound?
I've always taken a more clinical approach. Zhou productions seem a lot less tidy to me.
Your highest profile release to date was last year's Namkha 12" on Tectonic. How long have you known Pinch and how did the release come about?
I first got "Namkha" cut back in November 2012 and collected it from Dubstudio on my way to The Exchange where Young Echo were booked to takeover the second room. Pinch and I were introduced that same night, and he showed an interest in the track so I sent it over to him the following week. We agreed to earmark it for Tectonic but never sorted the B-side. Pinch, Kahn and I had all been playing it on dub for over a year before "NN Special" and the Kahn remix came about. When they did, it all fell into place.
Young Echo has come a long way in the past few years. Now that you're all individually quite busy, do you still manage to find time to spend time and collaborate with each other?
There seem to be lots of ongoing and one-off collaborations between individual members, but previously we haven't all got together collectively with that same purpose. We are now working on a fully group project though, and also on another separate release intended to bring together all of those individual collaborations.
What do you have planned for the near future for Ishan Sound?
For now, I've got a double 12" EP coming out later this month on Peng Sound, theres another ZamZam 7" scheduled for later in the year, and I'm just finishing off another EP of less dubwise, more dancefloor bits like including one or two from the mix.
Tracklisting:
1. Ishan Sound – Higher Force
2. Ishan Sound – Saviour Dub
3. Alphadub – Warrior Style
4. Ishan Sound – Wickedness
5. Ishan Sound – Rivet
6. DJ 100 Mado – Killer Dope
7. Ishan Sound – E.O.D
8. E3 Meets Ishan Sound & Rider Shafique – Dub Mindset
9. Rider Shafique & Ishan Sound – Militant Mindset
10. Ishan Sound – Vengeance
11. Rider Shafique & Ishan Sound – Highest
12. Ishan Sound – Trojan (Gorgon Sound Dubplate Cut)
13. Ishan Sound – Rush On The Tonic
14. Ishan Sound & Jabu – Untitled Instrumental
Photo by Alex Digard