Best Record Sleeves: December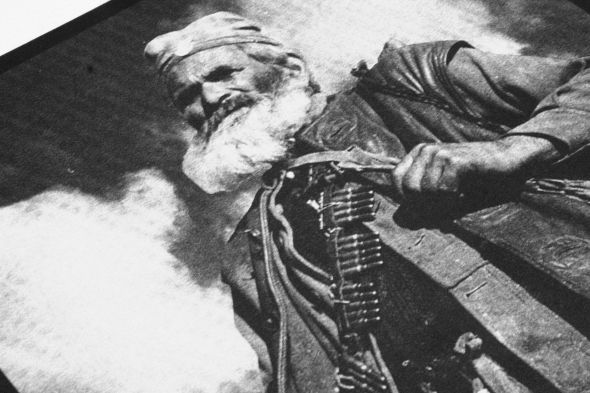 Records from Blackest Ever Black, Woe To The Septic Heart!, Dekmantel, Berceuse Heroique and more feature in the last rundown of 2014.
The final three records of the year from London's Berceuse Heroique saw a momentary deviation in the label's stylistic approach, eschewing the low budget plain black sleeves and politically confrontational photocopied inserts for full artwork. If you are going to do this, then do it in style. Ben Drury, Bill Kouligas, and Will Bankhead were commissioned by the label for these three records and each of these artists should need no prior introduction for anyone who retains an interest in the electronic underground.
As a result there is ample justification to include all three of these records in this month's column. The colours used by Will Bankhead for his bizarro Elmer Fudd paintings that adorned You Better Lie Down by Hodge have a similar heat-treated feel to the Bristolian's humid productions. Full Frontal by Manuel Gonzales highlighted Axel Drury's talent for capturing the everyday urban situation in a distinctive fashion, something matched by Ben Drury's simple monochrome design and Countdown-style font. However, it was the sleeve for the Healing Force Project record from PAN boss Bill Kouligas that will remain in this writer's memory the longest, not least for continual failed attempts to decipher the symbols on the front sleeve.
The role Amsterdam designer Orpheu De Jong has played in the rise of Dekmantel should not be underplayed at all, establishing a key visual theme early in the label's life that has allowed for an element of consistency around which his more creative impulses can be fully indulged. This has been reflected in De Jong's commissions for Dekmantel's album projects; the Vedomir, Joey Anderson and Juju & Jordash LPs all look quite distinct yet can be immediately identified as a Dekmantel record. It's no surprise then, that the latest album from Juju & Jordash also looks like it belongs on Dekmantel, even if De Jong's cover illustration is reminiscent of someone taking shears to the Google Chrome logo.
Shackleton will always be synonymous with visually stimulating sleeves thanks to the Skull Disco label he presided over and the many detailed illustrations Zeke Clough provided for their releases. Clough's partnership with Shackleton may have continued with the launch of the latter's Woe To The Septic Heart label in 2010, but it seems the Berlin-based producer has looked to another creative mind for more recent endeavours. The Deliverance Series has seen Shackleton turn to Jürgen 'Strawalde' Böttcher for some visual interpretation, building on a creative relationship that began back in 2010 when the veteran German painter and filmmaker "turned up at my studio on his 78th birthday and announced that he had a present for us both". The second volume of the series featured abstract painted figures that appear to be caught mid dance in blurred poses, suggesting Böttcher was inspired by visualising how the body moves to Shackleton's music in his head.
Speaking on Marco Shuttle's debut album Visione, Brendan Arnott suggested it was "guaranteed to redefine perceptions of how many permutations techno can traverse before we have to call it something else entirely". Undoubtedly it was one of the most ambitious and distinctive long players issued last year, and the cover art played it's part in shaping this sense of distinction. The surrealist imagery for Visione from Japanese artist Katsuya Urushizaki looked impressive enough when viewed as a flat image on a computer screen, but how it was then implemented as part of the overall sleeve design was even better. Printing the title, tracklisting and credits on the PVC sleeve was a simple, yet sublime design touch that left Urushizaki's strange visual contribution unfettered.
December saw Blackest Ever Black introduce its fanbase to Carla dal Forno and Tarquin Manek, an Australian duo who make surrealist pop music together under the name Tarcar. The six-track Mince Glace may have been one of the more obliquely named records of December, but it did arrive with an excellent layout from BEB's in-house graphic designer Oliver Smith, embellishing the woodcut artwork of Tarcar's own Carla dal Forno.
The month also saw the impressively busy Lobster Theremin issue its first album project, granting the 2012 self-titled cassette from Windy City native Chicago Jim a double vinyl release. Label boss Jimmy Asquith has been responsible for the art direction of all releases on Lobster Theremin thus far, and for Chicago Jim he worked in collaboration with the artist. The low budget artwork for the original Pretty All Right cassette was referenced here, with the landscape image being implemented as an insert, thus offering a sense of visual consistency. Furthermore, Jim's supplied imagery for the LP version was utilised in a manner befitting of the gatefold sleeve format.
Tony Poland
[nggallery id=49]