Powell – Club Music Remixes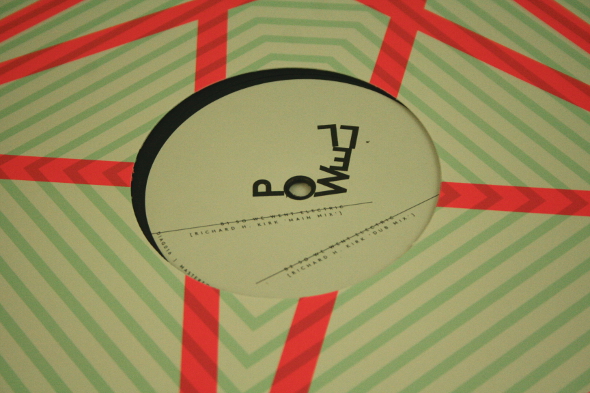 The UK label Diagonal rounds out a stellar year with remixes from one of its founders, Powell's Club Music release. Somehow the label has managed to persuade Ancient Methods and Cabaret Voltaire's Richard H Kirk to rework tracks from the record with predictably impressive results. Now just a solo act, it sounds like Ancient Methods is channeling the spirit and sound of 80s industrial and EBM on his two remixes which seemingly contain source elements of all three tracks from Powell's original record.
From the stomping, metronomic beats to the snippets of militaristic vocals barking orders, the punk-style snarls and screeches cut up adeptly, both remixes from German producer Michael 'Trias' Wollenhaupt are redolent of the pre-techno era. Of the two versions, the "Körpersäure '91" remix is closest in sound to acts like DAF, Ministry and Skinny Puppy. The rhythm is oppressively heavy, a squadron leader camply barks '1,2,3,4' and, in a nod to later times, the clanging industrial rhythm spirals into an acid-fuelled climax. The "Pogo Im Säurebad" version (loosely translated as 'pogo in an acid bath') is more similar to Ancient Methods' usual sound. Profoundly heavy broken beats, dense rhythms and a discordant bass all combine to hit the listener straight in the sternum, while indistinct orders are screeched at the audience. It makes for relentlessly functional body music.
By contrast, Kirk opts for a far more considered, abstract approach to remixing "So We Went Electric". The Sheffield producer's main mix is a teased out electronic rhythm, with a prowling bass and shredded percussive elements housing a series of abstract sounds and effects. It's far less intense and frenetic than the Ancient Methods remixes, but it still has a semblance of a groove. The same can not be said of Kirk's dub take on the same track. It merely consists of abstract, textured noise that ebbs and flows, cuts in and out, before eventually fading away to nothing. It's an inauspicious end to a record that further consolidates Diagonal's reputation as an emerging force in electronic music.
Richard Brophy
Tracklisting:
A1. Club Music (Ancient Methods 'Körpersäure 91′ Remix)
A2. Club Music (Ancient Methods 'Pogo Im Säurebad' Remix)
B1. So We Went Electric (Richard H Kirk 'Main Mix')
B2. So We Went Electric (Richard H Kirk 'Dub Mix')