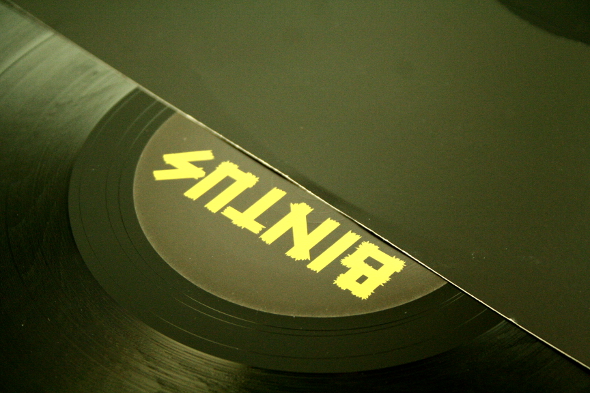 There's something stirring in the dark and troubled underbelly of techno, which can only mean that Power Vacuum is firing up its cauldrons and concocting another heathen's broth of deviant dancefloor depravity. It doesn't feel like an overstretch to talk about the music of Bintus and his label in such terms, for his is muscular machine music that revels in such gutter-dwelling sonics and makes a fine art out of it. Quite how one can be so disgusting and so gripping in the same bar is the great conundrum of one of Britain's finest current techno exports. There's nothing to shock or confuse about Lightnin if you're already hip to the Bintus game, but equally there's no sense of repetition or over-familiarity here. For starters the title track is a great intro that borrows its amelodic arpeggio twirls from the soundtrack to the original Terminator movie.
"Looking In Your Fridge" strides in purposefully after this cascade of unsettling notes with the kind of grotty, bloated kick drum that would get refused entry to its own strip club after one too many Buckfasts, and it provides a fulsome cushion upon which further sharp and rasping rhythms can fall. The distortion is the key here, not least when the track switches up a notch with some choice whip crack sounds that accent the raw beat perfectly, edging in that tone of expression needed to lift the track beyond a forgettable drum workout. In something of a playful contrast to the riotous sounds within, there's actually a very measured progression to the structure of the track, sliding into a more limber breakbeat fuelled section in the latter half without chopping and changing too erratically.
"Reflections On Brown" is the real gem of the EP, channeling Rotters Golf Club electro and infecting it with the weighty clout of the Bintus signal chain. There's a strong current of melodic percussion chimes that clang their way through the track, adding a certain sparkling quality while the salacious bass moans and groans underneath. The icing on the cake though must surely be the displaced vocal of an undeterminable origin, which in the context and with some wavering pitch choices takes on a seriously unhinged tone perfect for such a jam. It's dark, it's nasty, and it's damn brilliant.
There's a more classic feel to "Warwick Castle Meltdown" with its scuzzy 303 mantra and straight up box beats. It's an acid cut, plain and simple, with the sections marked out by different filter positions, and it doesn't fail in its purpose even if it's hardly a track to write home about. And that's just it with Bintus; the recognisable elements are all there to see, from tough techno to gnarly electro to sleazy acid, and it's not like he's the only one making grubby analogue productions at present.
However there's that extra twist lurking in the wings, a unique Britishness that harks back to when house music first landed on these shores and mutated in the dilated rush of the rave scene. It's part sense of humour and part inventiveness that can make the end result far greater than the sum of its parts. Long may Bintus and Power Vacuum continue to act with such non-conformist attitude. It's what has made the UK electronic legacy so great up to this point.
Oli Warwick
Tracklisting:
A1. Reflections On Brown
A2. Lightnin
B1. Warwick Castle Meltdown
B2. Looking In Your Fridge