Full details of debut Anthony Naples album emerge
Body Pill will be issued via Kieran Hebden's Text label in February.
As is customary with Four Tet producer Kieran Hebden, the revelation that Anthony Naples was due to release his debut album through his Text label was made via an excitable tweet back in October. XLR8R has today come through with the scoop on further details, with Body Pill consisting of eight all-new Anthony Naples productions, set for release on Text in mid-February. Apparently taking its title from a "mangled" English translation in a Japanese vending machine, Body Pill is the result of Naples looking to make a "streetwise record that was also solid and simple, like a brick or those weird fluorescent light tubes in the subway".
The album finds Naples returning to Text after a remix of Four Tet's "128 Harps" back in 2012, which along with his Mad Disrespect 12″ on Mister Saturday Night helped to establish the Brooklyn-based artist. Since then, Naples has gone on to launch his own Proibito operation as well as become a mainstay of Will Bankhead's label The Trilogy Tapes. You can stream the frosty "Refugio" below for an idea of what to expect from Body Pill ahead of its release next year.
Text will release Body Pill by Anthony Naples on February 15.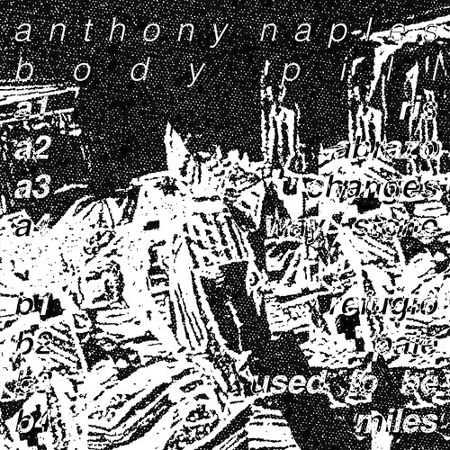 Tracklisting:
1. Ris
2. Abrazo
3. Changes
4. Way Stone
5. Refugio
6. Pale
7. Used to Be
8. Miles