RüF Dug meets Samrai – At The Dane Bank Observatory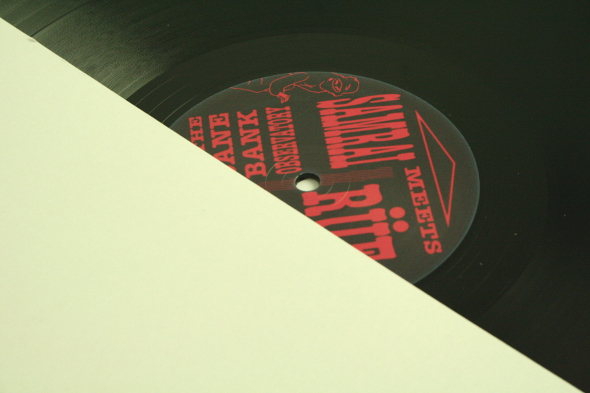 At the start of the year, we would probably have described RüF Dug as "fast-rising". These days, though, he's more of an established name – a maker of unusual, off-kilter electronic music that generally defies easy categorization. Since releasing the brilliant The Head Cleaner on Süd Electronic last autumn, he's pushed on impressively, with the Lectric Sands-released Magnetic Atmosphere being complimented by a sprinkling of superb remixes, most notably for Tusk Wax, Rhythm Section International and ISM.
Here, he rounds of a strong year by joining forces with fellow Manchester resident Samrai, a man who definitely fits the "fast rising" tag. The man behind the popular Swing Ting night, Samrai has enjoyed a sporadic production career to date, with occasional releases trickling out under a variety of pseudonyms. His strongest release to date, Riddim Trax, landed on Niche 'N' Bump earlier in the year. In many ways, it was an unusual concoction, sounding like pitched-down UK funky mixed with bruk. More impressively, it was particularly melodious, with Mr Fox's honeyed vocals giving the title track a deliciously soulful and otherworldly feel.
Given the impossible-to-pigeonhole nature of that release, it's no surprise that he feels a certain affinity to the similarly minded RüF Dug. Since meeting back in 2008, the pair have DJ'd together and collaborated in the studio on a number of occasions. Even so, At The Dane Bank Observatory – named, apparently, after RüF Dug's studio in East Manchester – is nevertheless their first collaborative release. Coming out on DJ Haus's impeccably unpredictable Unknown To The Unknown imprint, At The Dane Bank Observatory is an impressive affair. Aside from the two original tracks penned by the pair, there are also remixes from Mood Hut and Future Times regular Hashman Deejay, and Melbourne misfits Zanzibar Chanel, whose EPs on Ruff Records and Home Loan are arguably amongst the most slept-on of 2014.
With a name like At The Dane Bank Observatory, you'd expect Samrai and RüF Dug's tracks to be spacey affairs. "1st Observation" is certainly intergalactic, with blinking chords, electrofunk squiggles and vintage synthesizer melodies vying for attention with suitably rave-friendly vocal snippets (where the accapella comes from is uncertain, but it sounds like they found it in the bargain bin of some over-dusty record shop). Yet for all the melodious intent, the track's most startling feature is its' groove; an impossible-to-pigeonhole mixture of broken beat, pitched-down UK bass and sweaty, Dolo Percussion style drum machine jazz. Throw in the kind of weighty bassline that takes the breath away (despite refusing to draw attention away from the other elements), and you've got something rather special. With these elements you'd expect the track to feel cluttered; if anything, it sounds surprisingly sparse ­– a product, no doubt, of both producers' deft touch when it comes to mix-downs.
"2nd Observation" is an altogether deeper affair, but still hits home hard. It pits RüF Dug's playful irreverence and dusty production style against Samrai's love of synthesized marimba sounds and curiously difficult to define rhythms (for the record, these have a pitched-down dubstep feel, with a few African elements thrown in for good measure). The track has the same weight to the bass as it's' predecessor, but feels altogether looser and more spacious. It feels like the product of a long night laid on a hillside smoking high-grade and staring up at the stars. Regardless of the inspiration, it's certainly special – arguably the highlight of this 12".
Pleasingly, the chosen remixers have both turned in sublime versions that compliment the original material whilst taking it in new directions. Zanzibar Chanel's rework of "2nd Observation" re-casts the track as a toasty chunk of hazy deep house-boogie – all rubbery live bass, exotic synth melodies, rolling electric piano chords and cheap-but-heavy drum machine grooves. It has a strangely innocent feel that makes it particularly thrilling; there's no cynicism here, just a broad smile and a willingness to give a deep and spacey track a warm and immersive makeover. It's a superb remix.
As for Hashman Deejay's take on "1st Observation", it's as impressive as you'd expect. Unsurprisingly, he hones in on the fluidity of the original's tumbling chords, wrapping them tight around a deep house-meets-Detroit techno groove that slowly unfurls over ten heady minutes. While he sticks to a metronomic 4/4 tempo, there's plenty of swing in the beats, and a range of additional percussion hits that help the track build towards a particularly bumpin' climax. If anything, it feels even more spacious and intergalactic than the original – as if Hashman Deejay was looking down on Earth from above while he worked on the mix. Like Zanzibar Chanel's remix, it treats the original material with care, while taking it to another place altogether. That, in a nutshell, is the essence of a great remix.
Matt Anniss
Tracklisting:
A1. 1st Observation (Original Mix)
A2. 1st Observation (Hashman Deejay Remix)
B1. 2nd Observation (Original Mix)
B2. 2nd Observation (Zanzibar Chanel Remix