Win vinyl and tickets for Plex/BleeD/Them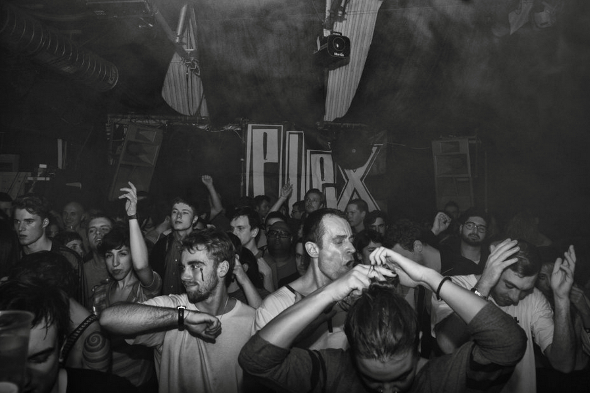 The annual techno throwdown at Corsica Studios is imminent and we have some prizes to give away.
Last year saw London promoters BleeD, Colony and Plex join forces for a "face-melting 12hr, three room rinse out" at Corsica Studios with Ancient Methods, D'Marc Cantu, Pangaea, Svreca and a whole load of other artists. Despite Colony calling time as a promotional entity (Max Bacharach's candid reasons behind the decision are worth a read if you've not already) the success of that night has persuaded BleeD and Plex to carry on with another like-minded promoter. Seeking out a new partner has lead them to London "bass-come-techno monsters" Them, who have recently expanded from a strong series of events to a record label with a debut release from Japanese artist Hiroaki Iizuka that recently caught the ear of Surgeon
Plex / Bleed / Them takes place on the first Friday of November and features an equally hefty line-up that will satisfy the needs of any self-respecting techno fan. The full line-up is listed below for your perusal, but the presence of Charles Manier, Hieroglyphic Being, Inigo Kennedy and Bintus across the three rooms should ensure it's a night worthy of attendance. The P/B/T organisers have offered up a pair of tickets and a copy of Hiroaki Iizuka's 12″ on Them as a prize for Juno Plus readers. For a chance to win, simply answer the below question; the competition will run until 2pm on Thursday November 6 with the winning entrant notified via email shortly afterwards.
[jp_comp question="Which label released the excellent debut LP by Charles Manier?"]
Details:
Details:
Friday, November 7, 2014
Corsica Studios, 5 Farrell Court
Elephant & Castle
London SE17 1LB
Tickets £15 + – more info here
Line-up:
Ancient Methods
Hieroglyphic Being
Randomer
Blacknecks (live)
Charles Manier
Inigo Kennedy
J. Tijn
Ekoplekz (live)
Donor
Tengui
Ansome
JoeFarr
Bintus
Volte-Face
Waterworks
Black Amiga (live)
Altar
Skunkrock
Luke Handsfree
James Tec