Different Foundations: Presenting Music the Meakusma Way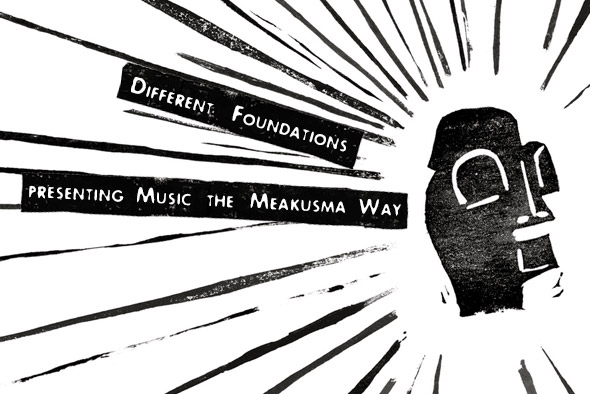 Oli Warwick sits down with the founders of Meakusma, a Brussels-based collective who continue to excel at blurring the lines between cerebral contemplation and rhythmic satisfaction.
Since the advent of electronic music as a means of powering a party, a fine line has been run between experimental sensibilities and more immediate satisfaction. A label such as Warp Records stands as a prime example of this concept, with its early representation of emergent UK techno naturally mutating to embrace ever-broader sounds and styles as they blossomed out of the formative rave culture. It's a principle that can be readily applied to Belgian outfit Meakusma, which has used a combination of events and releases to support both non-comformist techno and devoutly eclectic electronica. From early techno 12"s by Terrence Dixon and Madteo through to the madcap adventures of the more recent Georgia and Different Fountains LPs, the label has excelled itself in blurring the lines between cerebral contemplation and rhythmic satisfaction.
Michael and Christoph, who sit at the helm of the imprint, are probably best known outside Belgium for the records they have released since 2008, but their roots reach back into promoting live music as much if not more than their singles and LPs.
"Even when we started the label for us it was always very important to also do concerts and parties," says Michael, "cos without this live thing, it wouldn't make sense for us."
Between Brussels and their native Eupen, Michael and Christoph have dedicated themselves to giving a platform to the challenging and exciting in musical performance, whether it be a concert for wildly adventurous drummer Chris Corsano or a club night showcasing a selection of the Workshop Records roster. The latter event took place at Recyclart, the multi-faceted venue, gallery and social hub that stands as something of a spiritual home for the Meakusma nights in Brussels. That the space has a commitment to community-minded endeavours makes for a comfortable fit with the flexible social work that Michael and Christoph both hold down as their day jobs.
"Over the years I really learnt to appreciate the [Recyclart] project," explains Christoph, "because they are not only focused on doing parties. They are doing concerts, they are promoting young artists, involved in local projects with the surroundings, so in the mean time it makes more and more sense for us to be there."
"But the decision to work in social work was quite a simple decision," adds Michael, "because we used to work on different jobs and we were so fed up with the normal working environment, so for us to get out of the capitalism system, that was more the reason to work in the social environment."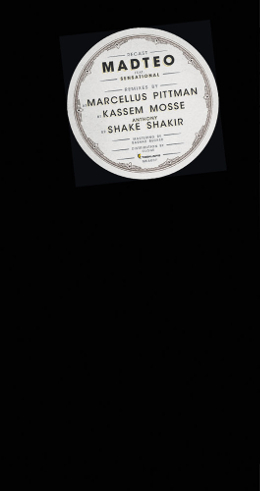 Alongside their long-standing involvement with events and releases, Meakusma has since its earliest days set about arranging workshops around Belgium from early Reaktor workshops concerned with physical modeling through to entry level electronic music production in youth centres, most notably in the German-speaking part of Belgium from which they hail. Following studies in Brussels that brought them together, Michael and Christoph worked with three others in forming Meakusma around this notion of workshops and parties before an amicable separation left the pair carrying on the name on their own.
Before the forming of their venture however, Michael and Christoph connected through the parties the former was organizing and the latter was attending in the late '90s, which tapped into the booming electronica scene that pivoted around the aforementioned Warp Records as well as then-like-minded labels Rephlex, Planet Mu et al. In particular Michael wound up curating the electronic arm of the Alive.BE festival, where he managed for three years to put together staggering line-ups including the likes of Cristian Vogel, Richard Devine, Robert Hood, Plaid, Andrea Parker and many more.
"It became bigger from year to year," Michael recalls of the event, "so then in 2002 we had two stages for three days. Then it didn't work out so well, because the promoter was much more into commercial music and so he had an idea that we would attract I don't know how many thousand people, but for us it was a good opportunity for us to invite artists we like."
This prioritising of creative over commercial concerns was foundational for the way in which Meakusma still operates today, and at that time Belgium was quite receptive to the fresh injection of electronic music that broke what they saw as the monotony of late '90s techno.
"In Brussels they have a history of experimental music in a club context so there was also an audience for it," says Michael. "It was a very interesting crowd and a very interesting party, and for us we had the impression it was more the same feeling that we had at the beginning of techno parties, at the beginning of the '90s."
That said, not even the vanguard of electronica artists of the era could solely hold enough interest for Michael and Christoph and with their first joint event at Recyclart they sought to break down the barrier between an electronica concert and a club night.
"For us it was very important to do a mixture," Michael explains, "because even if we were interested in this experimental scene we were also quite bored after a while because the focus became so much on the technical side, so at that moment the music was missing." It was here where the Meakusma parties were borne, with Michael admitting the first "was quite a confrontational party for many in Brussels". The line up consisted of a "noisy live set from Lithops, the guy from Mouse On Mars, and then afterwards there was Errorsmith live and DJ Elephant Power, this guy doing experimental scratching performances and then at the end we had this French guy Ark playing a pure house set. So many people there couldn't believe we put together a line-up like this but for us it was a conscious decision."
Winding back to 2005 when this pivotal Meakusma event took place, electronic music was still in a much more tribal headspace compared to the kitchen sink attitudes of DJs, promoters and partygoers of today. As such, the reaction amongst those present at the event makes for an interesting temperature reading for where open-minded approaches to music were at, as Michael and Christoph began to solidify their curatorial intentions.
"Maybe the crowd was responding individually on one set but not for the whole event," Christoph muses. "Nowadays it seems people know what to expect, in the sense that they know there will be a broad range of music, but back then they were expecting the same kind of music the whole night."
Aside from Recyclart, another notable location in the Meakusma story is an old farm building in the Belgian countryside, which Michael and Christoph hired for numerous parties over the years. Surrounded by woods and with only one road leading to it, it made for the perfect setting for a few nights of musical escapism that included the pairing of Tropic Of Cancer and Dynamo Dreesen in 2011.
"The place is amazing," insists Christoph. "It's not that far from the village where I grew up. It's a huge space and you have sleeping rooms, and nobody wants to leave the day after! Always the problem if you start it on Saturday, people want it to stay until Monday, and it has a real rave feel."
What is noticeable when looking over the line-ups of many of the old Meakusma parties is how many of the artists have appeared on the label in some fashion or other, whether it be Dresvn's appearance on the Lagensthal mini-compilation or Anno Stamm predating his 2013 My Peoples Head EP with a live set at Recyclart.
It's one of the ways in which the events and releases are intrinsically linked and it all stemmed from a friendship forged with the Scottish collective Ampoule, headed up by elusive deep techno and electronica artist Pub (otherwise known for his captivating Ann Aimee releases as Lucky & Easy). After being cajoled and encouraged by Pub to enter the label fray, in 2008 Meakusma and Ampoule released a joint multimedia project entitled Rüts.
"I wouldn't say we had any plan," Christoph says of the inception of Meakusma the record label. "It was more like we had a few people around us who were there giving advice, and music wise we had some idea like this person might have some tracks or whatever, but it was when we started talking with Thomas [Pub] as well that we came up with the idea for the Rüts project."
Comprised of 23 tracks with accompanying visual pieces and an additional five short films, the compilation drew on established names such as Move D & Benjamin Brunn, Peter Van Hoesen and Kate Simko alongside less familiar artists (including an emergent Vakula) to make up a DVD and three-part vinyl release that instantly spelt out a modus operandi for the label setting it apart from the average 'singles n' albums' operation.
This left-of-centre, somewhat critical stance worked in conjunction with Michael and Christoph's social concerns, and so they were able to successfully apply for cultural grants from such European bodies as the Goethe-Institut, helped by the fact they were also putting their efforts into organising the aforementioned workshops that they held to introduce kids in parts of German-speaking Belgium to electronic music production. It took some time to convince the powers that be that they were more than just electronic music chancers looking for a hand-out to fund hedonistic parties, but through their support of local talent and a committed educational slant to their work, they were successful.
"They take it more seriously than in the past," says Michael. "In the past they thought, 'yeah ok it's electronic dance music', but then we started the collaboration with Goethe-Institut which is a very popular institution so then I think they started to realise electronic music can also be something serious and not only about wasted people partying, so nowadays we have the impression they are more supportive."
From those auspicious beginnings the label reached out to the likes of Madteo and DJ Yoav B to spell out a defiantly unusual approach to dancefloor dynamics that, although experimental in nature, tapped into a consistent flow of like-minded sounds. As the label has matured, so the scope of the music has broadened as was notable with the broad-sweeping African-infused rhythms of the Harmonious Thelonious 12" from 2013.
"Nowadays we are not so focused on club nights and also club music any more," explains Michael, "so now it's a logical step that our releases are not so club based any more."
2014 has seen the label fully reach the esoteric intentions that have always inspired Michael and Christoph with the release of the first two albums on Meakusma. While sonically there may be a fair amount of distance between them, both Georgia's Like Comment and the Different Fountains LP Shrimp That Sleeps have a similar disregard for generic definition and so across the two albums a veritable feast of unclassifiable tracks call to mind the same spirit that embodied the electronica that was populating Michael's parties in the early '00s.
"It doesn't mean that we will not release more genre specific records in the future," Michael is quick to clarify, "but it felt so good with the Georgia release, because for us its not possible to pin it down to a genre."
Since those albums were released, Michael and Christoph's continued desire to stimulate interesting and meaningful creative moments led them to accompany Different Fountains on a trip to New York to perform with Georgia. As ever this was more than just an average gig though, with the respective duos jamming in a studio space accompanied by singing dancers and a word of mouth-sourced crowd.
"It felt a little bit like the first parties we did back in the days," Michael considers, "because we used to do the parties on the old farm in the middle of the woods, and that was also this same kind of attitude, half illegal."
It seems that this teetering-on-the-edge position is an essential facet in how Meakusma operates, keeping one foot on the dancefloor while appealing to cultural and social sensibilities, testing the legal limits of their events without becoming anarchistic ravers, dealing with serious music without labouring over lofty concepts and feigned pretension. Truthfully though, it's when you cut through those dressings and take the music at face value that the real worth of the label shines through, and it's remarkable how fresh and timeless the music on Meakusma feels. Without once resorting to tired old clichés and well-worn tropes Michael and Christoph have built the label up on a solid foundation of their own idiosyncratic design, and from here the doors have been flung open free of generic constraints, leaving the possibilities endless and entirely unpredictable.
Interview by Oli Warwick