Unsound 2014: Five must-see acts
We pick five of our must-see acts at this year's Unsound festival in Krakow.
If you've been to Unsound before then you'll be aware it offers one of the richest selections of music of any festival in the world, let alone Europe. Of course it's also one of the most densely packed; from low-key afternoon performances to artist talks, through the grand concert hall events and raves at the iconic Hotel Forum. It seems like there's always at least two things happening at any given time, and that's before you've found time to eat and sleep (we recommend making the best use of the Hotel Forum's canteen for maximum efficiency).
This year looks to be the most varied and packed schedule Unsound has ever seen, with almost every emerging genre of underground electronic music represented. The UK's instrumental grime scene is represented by Logos, the extended PC Music axis represented by SOPHIE and Felicita, footwork by Teklife DJs Spinn, Taso, Earl and Kaye and the grubbier side of experimental techno by the Diagonal label.
Of course Unsound is also a place to take in established veterans. This year features Robert Hood, Dopplereffekt, DJ Stingray, Willie Burns and Traxx, alongside emerging artists like Lena Willikens and Karen Gwyer. There are also performances from perennial favourites Swans and Grouper if techno isn't your thing. In short, almost too much choice. While the above artists are all worth your time, and the full schedule can be viewed here, we decided to dig into the Unsound programme and pick out five of the acts we're most looking forward to checking out, from vintage synth compositions to futuristic club music.
Janus ft. Kablam, Lotic, M.E.S.H., Amnesia Scanner and DJ HVAD
Friday, October 17
22.00 – Close, Hotel Forum
Unsound always has a way of showcasing labels or movements before they really hit it big. Last year it was White Material, in 2012 it was L.I.E.S., but this year it's Berlin's Janus crew who are given platform outside their home base. A collective who are kindred spirits with the likes of GHE20G0TH1K's Venus X and Fade To Mind's Total Freedom, their Berlin parties took a freeform approach to club music combining everything from R&B to hardstyle. Despite their regular parties now looking to have come to an end in Berlin, interest in Janus has never been higher, making their Unsound appearance very exciting.
Taking over Room 3 of the Hotel Forum on Friday Night, core Janus members Kablam, Lotic and M.E.S.H. will all be present to offer their own unique slant on the Janus experience. They will also be joined by Amnesia Scanner, a producer who conflates everything from trance to industrial sounds, and Copenhagen-based DJ HVAD, whose heavy-hitting new mixtape for Janus suggests a set rivalling that of the Diagonal showcase will be going on in Room 2 at the same time. The phrase "forward-thinking" is thrown about a lot when it comes to club music, but Janus are genuinely deserving of that accolade.
TCF
Saturday, October 18
3pm, ICE
Digging through the SoundCloud page of TCF can be a confusing experience and his track titles are meaningless alphanumeric strings that make it difficult to feel your way around his largely internet-based discography. It's even more daunting when you discover the Norwegian artist's music is an extension of his visual art, and the algorithms guiding his music's development. At least conceptually, he's not an artist that makes things easy for his audience. As he told The Fader earlier this month: "All my work has encryption in various layers. Maybe even the presentation is an encryption in itself."
If you can persevere with the layers of conceptual encryption behind TCF's work however, you'll find abstract electronic music whose complexity is matched only by its beauty. There are traces of Oneohtrix Point Never in its high-definition sheen and Fennesz in its cinematic scale; a recent mixtape combined Ennio Morricone with Evol, which is a pretty good summation of how he conflates the epic with the visceral. It's these conflicting sounds combined with an algorithmic approach to composition that make him such an intriguing proposition. His set is planned for the afternoon, but with the sounds of the club permeating much of his music, you shouldn't necessarily expect it to be a sedate one.
Pharmakon
Saturday, October 18
6.15pm, Teatr Łaźnia Nowa
Noise artist Margaret Chardiet was originally due to perform at last year's Unsound, but she had to pull out due to illness. We now know the reason behind her cancellation was because she had to undergo emergency surgery to have an organ removed, an experience that has inspired her forthcoming second album Bestial Burden. It's a record as harrowing to listen to as the circumstances surrounding it, and most specifically the about what she referred to Pitchfork recently as the "disconnect between mind and body" she experienced as she was recovering in hospital.
Chardiet's live sets already have a strong reputation, but the recent experience that went into creating Bestial Burden should make this a particularly powerful one. Although she's appearing at Unsound just before Swans, we'd expect the sonic force of Chardiet's performance to be more than a match for Michael Gira and co. Both acts are scheduled to play in what Unsound describes as "a post-industrial space" in Krakow's eastern Nowa Huta district – it's unlikely there's any more appropriate space to hear them.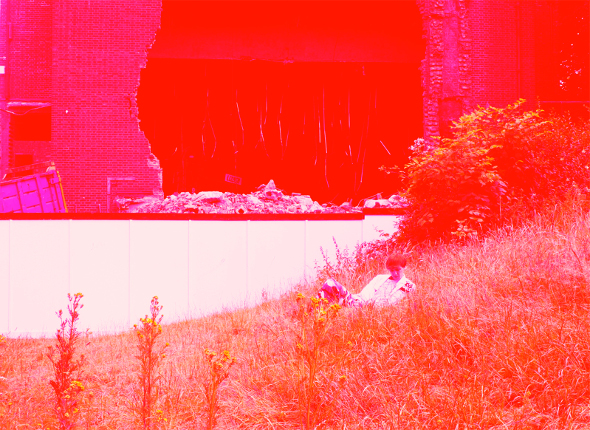 Jam City
Saturday, October 18
00.15, Hotel Forum
It seems fairly remarkable that in the two years or so since Jam City's Classical Curves was released, there's still not much that sounds anything like it. Night Slugs co-founder Bok Bok's recent My Charizmatic Self EP shared much of the stop-start rhythms, and the music from the Her Records crew has obviously taken inspiration from the high definition sheen of his music, but Classical Curves still evokes a virtual world of wireframes and texture maps like nothing else. Given the huge success of Classical Curves it seems strange that he's still a relatively low-key figure, and that his debut live show is due to happen at Unsound this year.
His series of Earthly mixes have only added to the mystery of what his future direction may be. Far from being DJ mixes filled with the fractured rhythms of his own material, they've looked to classic funk, '80s pop, R&B and other oddities both known and unknown. His management recently confirmed fresh material was on the way, and what form it might take is still unknown. Those looking for a glimpse into where this most enigmatic of artists is heading next should best find themselves a spot for his show.
Craig Leon
Sunday, October 19
7pm, ICE
Unsound generally pull something big for the festival's last night; last year it was Australian artist Oren Ambarchi performing a special version of his piece "Knots" with the 20-piece Sinfonietta Cracovia, and this year it looks to be Craig Leon performing his classic record Nommos live with the same ensemble. It's also a little unexpected. Originally released in 1981, the record was a synth-based concept piece revolving around extraterrestrial beings worshipped by the primitive Dogon tribe, with Leon's aim being to imagine what music would sound like if it were to come from aliens visiting us long ago.
An unauthorised reissue of the record spurred Leon into re-recording both Nommos and its companion piece Visiting for a definitive version on RVNG Intl earlier this year, and it seems to have inspired Leon into performing the record live as well. While Leon has already performed Nommos live at the recent edition of Moogfest, his collaboration with the Sinfonietta Cracovia in the brand new ICE venue's concert hall should be the grandest performance of the entire week. Despite the electronic backbone of Nommos, a concert hall seems like the most logical place to play what is essentially an intergalactic symphony from beyond.