Sustain-Release: In Review

Brendan Arnott reflects on the inaugural edition of Sustain-Release, and the powerful performances from Joey Anderson, FORMA, Ital, Rrose and more that complemented a seemingly unique experience.
Driving through New York's winding Catskill Mountains at dusk, it's hard not to think of monsters. Pulling onto a narrow gravel road, our car passes the placid water of Masten Lake, evoking childhood memories of freaking out to Jason Voorhees and images of blood-soaked Camp Crystal Lake counselors screeching as they fall over themselves, running through the night.
Fortunately, despite a lifetime of internalized horror movie tropes, Sustain-Release feels like anything but a nightmare – instead, Zara Wladawsky and Aurora Halal's techno retreat is more akin to a weekend-long lucid dream. Five years conceptually in the making, the Mutual Dreaming label boss has transformed a kid's summer camp into a weekend that's billed to be "strictly 4 the freaks", featuring performances by 30 artists involved in perpetually re-inventing what we call techno: Xosar, Joey Anderson, Rrose, FORMA, Jus-Ed, Huerco S, Patricia as well as a whole cast of misfits associated with New York's Bossa Nova Civic Club and the record label The Bunker New York.
Camp Lakota's jaw-dropping scenery was just as much part of the experience as the performances – a small refuge in the middle of the mountains, it'd take less than a three-minute walk in any direction to find oneself completely subsumed in mossy wilderness. All the childhood staples of camp were there, including a gigantic mess hall with hand-made banners and five basketball courts which served as the transient break period between the two stages (where friendships were formed and more than a few embarrassing three-pointer attempts were laughed off). Pouring in at a slow trickle, campers stashed their sleeping bags in the clean, brightly lit cabins, and then seemed to shoot each other an unspoken glance that said, "right then, time for some techno".

UMFANG, also known as Brooklyn's Emma Olsen, sated those urges near immediately, kicking off the main stage, located in the Lakota Social Club's gigantic, high-ceilinged rectangular hall. The complimentary earplugs received at entry were well-warranted, and from outside the venue, Tsunami Bass' intimidatingly large sound system seemed to actually cause the entire structure to vibrate ever so slightly. Playing to an ever growing trickle of arrivals, UMFANG's smooth-flowing set gave a good idea of what to expect over the weekend, incorporating obscure '90s acid cuts like Dream Frequency's "Live the Dream" as well as contemporary gems like the alternative mix of Voices from the Lake's "In Giova". I could've sworn I heard insects and ambient animal noises added into the mix, which had the hypnotic effect of scrubbing all smoggy big city stresses from my mind.
However, with Bossa Stage a simple five-minute walk away along a woodchip-adorned dirt path, it was hard to stay cemented in one place for too long during the first night. With two stages solidly booked throughout the weekend from 10pm – 6am, nearly every hour had to contain a sacrifice: Xosar or Patricia? Joey Anderson or The Bunker's Bryan Kasenic? It would be ridiculous to claim that Sustain-Release was being intentionally sadistic by having too stacked a line-up, but the weekend certainly held its share of tough decisions.
Giddiness and fear of missing out quickly directed many to the Bossa stage, where Louise De Lu's dubby set began packing the smoke-machine filled room. The feeling that you were entering another zone was tangible as soon as you set foot in the smaller venue. It might've been Nitemind's gasp-inducing light installations, or perhaps it was that the Bossa stage was actually a cleared-out gymnastics studio (with "Welcome to Lakota Gymnastics!" hanging on the wall behind performers, and several gym mats left at the back for burnt out campers to crash on). Between the laser show and industrious fog machine, close friends quickly became smoke-veiled strangers, and vice versa. Thankfully, both the main and Bossa stages were ample enough to ensure that you were never in someone else's personal space unless it was mutually agreed upon.
Back on the main stage, Manuel Gonzales drew a sizeable crowd by 11:30pm, beginning with housier vibes than his recent Berceuse Heroique output. He gradually descended into the minimalist acid patchwork of Robert Hood's "Ride", as well as a host of unidentifiable techno jams, sporting an unwavering confidence that slowly ratcheted up the energy of the room.

As soon as midnight struck, the promise of FORMA showcase dragged me back to the other side of Lakota to witness the improvisational synth trio collaborate, who were surrounded by a mountainous pile of equipment. At this point, the Bossa stage was packed with bodies, and between the pulsating laser show and the tangible excitement coursing through the room, FORMA's magnificent set seemed to tap into something spiritual – as if they'd conjured up some Lovecraftian techno spell over the room that kept mutating into increasingly frantic and danceable manifestations.
But even after an incredibly promising first few hours, nothing prepared the dancefloor for Joey Anderson's titanic 2am appearance on the main stage, hailed by many afterwards as the outstanding highlight of the night. Boasting a set as immersive and intricately woven as they come, Anderson worked his unique niche of leftfield house, overflowing with themes of lovesickness, separation and longing. You could hear trace fragments of the songs he used to dance to as a youth, with the desperate hopefulness of tracks like CeCe Roger's "Someday" and Fingers Inc's "Never No More Lonely" serving as formational tracks for his current style. In just two hours, effortless selections like Kosme's sub-rattling "Deep Function" and the deeply soulful wail of Kenlou's "Sensation" left a portion of the floor literally dancing with their hands over their hearts, as if their souls would slip out and start ascending otherwise.
Despite the near-impossible standard set by Anderson, Ital took hold of the night from 4am onwards, with an intricate live set that distilled all the energy of recent Endgame album into something that felt acutely aware of the audience's needs. I'm trying to capture what it is about Ital's set that grasps me, when I bump into my friend Angela. "Take a note, why dontcha!" she yells to me over the music, throws her hands above her head and closes her eyes, soaking up the warm, hazy wave of joy washing over the room as she dances. I shrug, put my phone away, and do likewise.

Waking up stuffed in my sleeping bag, hazy memories of the end of the night bounce around that seem half-possible, half-fantasy… Mike Servito serving an end-of-night analogue acid set to the endurance freaks at the Bossa Stage that literally made a hardwood floor bounce at 6am? Did that really happen? There might've also been an after-hours party on the basketball court at 7am? Was that just a raver dressed in a Jason mask hiding in the bushes, or was it the real thing?
However, one thing became clear as fellow campers slowly rose to the world – overnight, fall had asserted itself with a vengeance, and Saturday was characterized by bone-chilling wind and pissy downpour that would end up cancelling the outdoor pool party. Despite the kind of rain that soaks right into your bones, gathering in the mess hall gave an endearing portrait of the morning-after Sustain-Release community: You could spot Joey Anderson and Jus-Ed chatting over coffee and huevos rancheros, and while waiting in line for a shrimp po-boy to subdue the previous night's hangover, conversations drifted between the new Zemi17 record, hurfyd's YouTube channel, and little-known samples used in industrial music. It's here that the warmth of the festival's 500+ attendees deserves mention: From respecting the festival's designated smoking areas, to providing a hostility-free environment with a grand total of ZERO Native-appropriating headdresses, it was easy to feel comfortable enough to slip into conversation with a stranger and make new friends.
Saturday afternoon rolled on, and the Future Times crew took over the main stage at 4pm in lieu of a pool party, with a pleasing selection of out-there disco and noodling guitar solos that wiped any looks of exhaustion from the faces of entering dancers. Huerco S followed, and began his all-vinyl set with a few classic house staples – the kinetic piano tones of Karizma's "The Power" transformed sideline drink-sippers to active participants, and more contemporary offerings such as the chanting-heavy funk of Jackson Lee's "Sumba Togola" from Proibito's latest release also hit the mark.
Hopping on the mic as he began his set, Underground Quality boss Jus-Ed only lamented the weather for a minute, chuckling "they told me I was playing a motherfuckin' pool party" before launching into a three-hour set that melted away as if it was a single blink, beginning with infectious house basslines and moving into the hard-key thump of Levon Vincent's remix of Ed's own "I'm Comin'". Two hours in, he hops on the mic again and asks if he should "bring this thing home hard" or not. A wave of rapturous applause served as his answer.
As Jus-Ed sweatily stepped down, Earthen Sea's Jacob Long provided a re-invigorating palette cleanser, the first 10 minutes of his set forming melancholic ambient textures that seemed culled from different periods throughout the decade-long output of his solo project. Allowing dancers to catch their breath while remaining engrossed, his set was just as enjoyable as watching him smile sheepishly afterwards, when several wide-eyed fans came by to bestow praise on him and his huge Catskills-appropriate length beard.
Maybe it was the relative sleep-deprivation, but walking through the basketball courts to the Bossa Stage to catch Brooklyn-based duo Analog Soul, you could swear that the ground was thrumming with some kind of barely-buried energy. Or it could've been vibrations from sisters Kathryn and Jacky Smith's set, which hit all the milestones of a rowdy house party, from a room-rattling singalong to The Dirtbombs "Shari Vari" to ending the night with the slamming kinetic of Rheji Burrell's "How Do You Love A Black Woman", whose surging chorus sounded far too futuristic to be from 1992. Their set was met with a tidal wave of applause that matched the bewildered look that Analog Soul peered out into the crowd with; as if both parties couldn't believe the moment they just shared.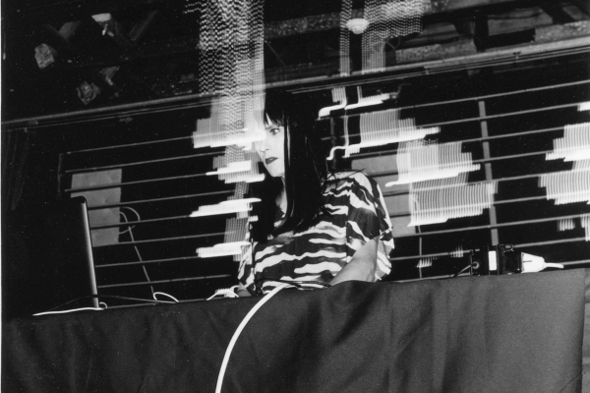 Let's talk a bit about gender. On first glance, Sustain-Release's line-up may seem perfectly normal, but look closer and you'll find that nine artists on the roster are female – a drastic step-up from even the most 'progressive' of techno festivals' male to female ratio, even in 2014. Whether or not this was a conscious choice by Halal and company or simply the result of an expanding scene that's shedding its boys' club status is anyone's guess, but it was amazing to be able to catch the inimitable combination of Xosar, Rrose and Aurora Halal as the culmination of Saturday's main stage and realize that they're all femme folks. Skewing expectations, Xosar began with a good 10 minutes of eardrum-puncturing pure noise, which eventually transformed from messy bubbling cauldron sound effects to a blistering techno workout.
Immaculately put-together Rrose transitioned from Xosar's industrious beats into an hour of music that seemed to embody all the transformative qualities that the tall, purple-haired artist plays around with in her gender-bending stage persona. Listening to "Merchant of Salt" and "Eating the Other", I've always been in awe of how Rrose sculpts disparate elements into a cohesive finished product, and hearing the live version of "Waterfall" reverberating through the room makes vinyl recordings pale in comparison, sending goosebumps rocketing through my body. The rising and falling drones of Rrose's performance were only made more potent by Nitemind's massive LED installation, transforming sounds into daunting red-lit electronic mountains.
By this point, the rain had stopped. The sky was dark and clear, the moon looming, imitating the dilated pupils of a lovesick raver. Aurora Halal took to the stage, and the room fills with the booming cavernous funk of Daywalker & CF's "Supersonic Transport". Everything is a blur of movement, and Halal is spinning the type of darkly cosmic techno that characterizes everything Sustain-Release represents – at one point the breakdown of a track sounds like a pelican has been sucked into an airplane engine, and the crowd reacts as if she's inside their minds, delivering the set telepathically. It's never spoken, but Halal's set serves as the one last spirited hurrah before the inevitable Sunday morning departure. Later on, Arthur Russell is played. There are embraces, closed eyes, literal tears on the dance floor.

A week later, and I haven't been able to stop thinking about Sustain-Release; new memories unfurl each time I check the Facebook event page, which has turned into an informal forum for memory-sharing, as well as a support group for re-integrating back into the real world. Comparing Sustain-Release to anything else feels incomplete – calling it "Dekmantel with one tenth of the audience" is just as insufficient as calling it "Burning Man without all the hippy bullshit". For a first year, DIY festival, Sustain-Release has achieved one of the most amazing milestones possible: The inability to be compared to anything but itself. Aurora Halal, Zara Wladawsky and company have touched on something that still feels very raw, intangible and special, and next year's cryptically hinted-at follow-up already seems an eternity away.
Brendan Arnott
Header image and Rrose shot used courtesy of Christopher Honeywell
Basketball court and Aurora Halal shots used courtesy of Raul Coto Batres