Separate Mind: What's In A Name?
Richard Brophy's column returns after a summer break and assesses new and forthcoming material from Cititrax, Signals, Tabernacle, Mannequin and Sex Tags UFO.
What's in a name? Quite a lot, it would seem. Names are important play a vital role, even for underground, anonymous acts and labels. They provide an identity, signify intent and give the audience an insight into what the music will sound like. Frozen Border suggests that releases on the label will be frosty and wintry, shot through with a sense of mystery and tension.
To the uninitiated, Silent Servant's moniker would suggest that the listener will be presented with something more cerebral than Pinky & Perky, Jive Bunny or even Eats Everything. Similarly, Mad Mike and Underground Resistance sound more appropriate for a Detroit techno collective than plain old Mike Banks and his mates. Names give the audience a guide and a reference, a way to explain what a piece of music means or what they associate it with.
How many times have you heard someone say 'that records sounds like Female's Red Light District on Downwards'? Arguably more times than 'that record sounds like Lino015'.
In some instances, the stage name assumes onomatopoeic qualities and sounds like the music itself. This is true of James Pennington's Suburban Knight Nom de plume – it feels like with these two words, Pennington has summed up the almost supernaturally malevolent power that tracks like "Nocturbulous Behavior" and "Art of Stalking" exude.
Of course, there's nothing wrong with daft names and funny puns, they have been an integral part of electronic music since the year dot – take your pick from Snowy Red, Altern-8 or Pragha Khan. That said, the trend of giving famous people's names the spoonerism treatment has to stop and this writer is unlikely to ever check Com Truise's music because of the ridiculous name.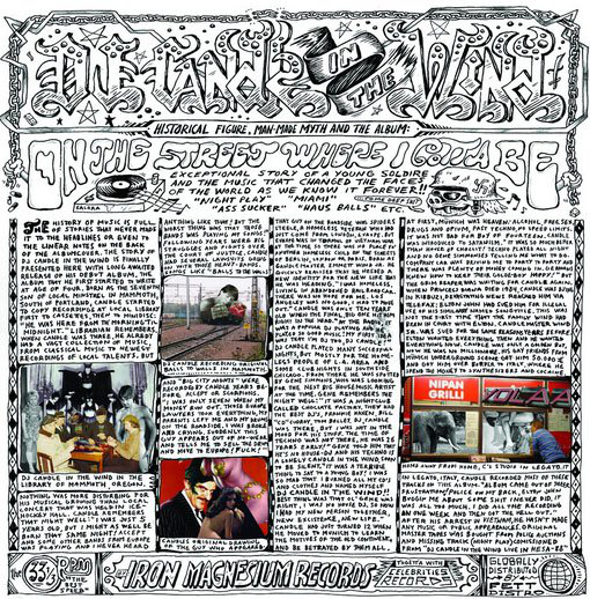 Worse still are bastardizations of celebrity names like Orson Wells, but thankfully, some producers have retained a sense of humour and the latest release on Iron Magnesium scoops the award for this year's greatest stage name. Step forward and accept your gong, DJ Candle In The Wind. Whatever about making a joke version of a well-known pop singer's name, it's another matter entirely to use a song that soundtracked the denouement in one of the most momentous events in a European country's modern history.
No matter what way you look at it, DJ Candle In The Wind is a brilliant but daft stage name. So what's the music like? Given that DJ Candle In The Wind has previously released on Sex Tags UFO, it's no real surprise that On The Streets Where I Gotta Be is a fun release. The Finnish producer behind the DJCITW project has concocted a really engaging series of tracks; "On The Street Theme" kick starts the release with crisp 808s and a central, gurgling acid hook, while "Haus Balls" is deeper and trippier, imbued with similar, albeit more frazzled melodic undercurrents as Casco's classic "Cybernetic Love".
Elsewhere "Night Play" features jazzy guitar licks and microscopic 303s licks while "Ass Sucker" sees the Finn go off message and drop a discordant beat track. Maintaining the unpredictable momentum, there's the soaring but queasy synths, tight claps and cowbells of the aptly named "Miami" and the freestyle house of "Latin Acid (Bonus Beats)" as a final track. It's one of this year's most colourful releases from a producer whose fertile imagination clearly doesn't shut down once he leaves the studio.
Remaining in Scandinavia, the latest release from the aforementioned Sex Tags UFO label comes from serial collaborator DJ Fett Burger, who teams up here with Luca Lozano for the Hands Of Doom 12". Like much that surfaces from the Norwegian Sex Tags community, this release is shot through with a kooky sensibility, from the garish inlays to the leftfield take on '90s sounds and weird names. "Totally Tangerine" is in a similar vein to "Serious Goodbye", Fett Burger's last Sex Tags UFO release with Stiletti Anna, except that the drums are harder and more steely and together with the robust bass underpins micro vocal snatches and ravey stabs. Despite this, there is still room for the kind of celebratory piano keys and balmy synth washes that defined "Serious Goodbye".
It's a different matter with "Electric Blue"; here the repetitive vocal samples are given greater prominence, delivered over tough break beats and a hacking riff. Meanwhile a gloomy synth riff, last heard on a '90s Network compilation, drones away in the background. Unlike the vast majority of retro-influenced releases, it's executed with bucketloads of style, and as is the case with most Sex Tags releases, Hand Of Doom is likely to sell out and then trade for silly prices online. Don't get caught out.
Max D sounds to this writer like a long-lost happy hardcore artist from back in the mid-90s, but in reality it's a truncated version of the Maxmillion Dunbar stage name. Following on from last year's acclaimed House of Woo, the US producer defied any expectations that might surround his shortened moniker on the Hot Haus single Highlife that appeared over the summer months.
The hazy stoner-friendly take on deep house from Dunbar, his Future Times label and their Canadian allies Mood Hut sounds at times like a continuation of the ethos that underpinned Dubtribe Soundsystem's grooves and before that the San Fran Hardkiss collective's trance-inspired breakbeat house. It's no surprise then that Highlife is a trippy, lazy affair and embodies the PLUR vibe.
Thankfully, Dunbar's version of the 'hail fellow well met' philosophy is a universe away from the mindless candy raver EDM crowd and if anything, it sounds like he had trouble getting off the couch to record the title track.  Live drums crash in and out over a lumbering breakbeat and are joined gradually by psychedelic keys and a warm, squelchy bass. Not much else happens for the remainder of the track, and it doesn't have to because Dunbar has hit on the elusive formula of achieving a lot by doing little.
It's the same situation on Willie Burns' remix. More direct and dance floor friendly, the drums swing and roll irresistibly, the bassline is leaner and tighter and the psychedelic elements take on a dreamier, spaced out feeling. It sounds like an update of the bumping, gushing techno-house that UK label Pacific released during the late '90s, which is not a bad thing.
Elec Pt 1 isn't a very memorable or suggestive stage name, but it won't get in Andreas Gehm's way or detract from his catalogue. Last seen collaborating with Helena Hauff for a crazed acid workout on the Exaltics Solar One label, Gehm now hooks up with Mick Wills for Bod​~​X on the Newcastle label Signals. Wills is one of the great underground DJs working on the European circuit, and his remix of Gehm's "Acidmark" is stunning. Clocking in at just under 10 minutes, it maintains a pulsing, acid groove throughout as Wills tinkers and tweaks with the arrangement like a particularly dextrous surgeon.
The percussive burst that drops in after two minutes is the first in a series of shocks to the system, followed by a woozy synth line that warbles and babbles hypnotically as it rides chain mail stabs. In short, Wills' version is as thrilling as taking a high-speed ride through the south German hinterland in a top of the range Porsche.
Gehm isn't found wanting either. Both "Acidmark" and the title track is full of pitched down vocal loops, muttering incoherently, insistent steely claps and the meanest, most tweaked acid line this side of DJ Skull. The 303 is probably the most overused trope in electronic music by now, but in Wills and Gehm's hands it assumes frighteningly new and dangerous dimensions.
Void Vision sounds like a project conceived during the '80s when our existence was threatened by cold war relations breaking down and an irate general or politician pushing the button. Apart from the paranoid, nihilistic name, the artwork is also redolent of another time and features a femme fatale from a black and white movie engulfed in a wash of pastel colours.
The reality is markedly different; Void Vision is the work of Shari Vari, a contemporary producer, and Sour, on Mannequin, is a taster for her debut album, due on the same label before the end of the year. In a year full of old and new Italo anthems, it would be reasonable to assume that Wallin would struggle to have her voice heard, but Sour is an extraordinarily catchy and memorable record that demands the attention of even the most jaded ears.
The vocals operate on the breathy but monotone scale, but it's really the fist-pumping melodies, the cold but atmospheric synth builds and purring electronic bass that will get spines tingling. Sure, there's nothing new or innovative on display here and despite that Sour still manages to sprinkle seductive magic all over the listener.
How do you make a diamond sparkle more brightly? That was the challenge facing Vanzetti & Sacco aka Jos Van Galen and Otto Kraanen, the owners of the Bordello A Parigi label, who were tasked with remixing "Sour". The duo's interpretation is straighter and more DJ friendly, built on a pulsing bass. However, they have the good sense to retain Vari's vocals, which trip and roll over the unforgettable synths. 'I love to love you'? Oh, yes please.
Remaining on the subject of '80s-themed releases, the latest release on Medical Records is the debut album from Tony Williams aka the unwieldy-sounding Kline Coma Xero. The artist name is derived from the work of JG Ballard, and as most of the music on labels like Medical and Dark Entries comprises reissues, it's interesting to hear what a modern interpretation sounds like.
Clearly inspired by acts like Fad Gadget, Suicide and John Foxx, Kline Coma Xero features the Gothic synth pop of "Rewind" and the doomy, droning "Silent Call". "The Fanatic" is a slower synth jam and sounds like an early Gary Numan or John Foxx track, "Photo Falling" is in a similar vein, albeit more melancholic and dramatic, as dramatic electronic hooks underpin Williams' deadpan vocal and "Mannequins" is built on a dead-paced groove that features doomy, swirling synths and nasal vocals.
If it was just those tracks on offer, the release would be a little bit too indebted to Frank Tovey and Gary Numan. Thankfully, Kline Coma Xero isn't just concerned with replicating leftfield '80s music. The album starts with the grungy, pacey electro of "Left Behind", boasts the buzzing EBM-meets-electro of "Darkroom" and the melodic, reflective electro of "Deep End".
Hopefully one of the positive developments arising from '80s reissues is that it will allow new artists who are inspired by that decade the opportunity to come into the spotlight. Like an electro cousin of Sumerian Fleet's recent debut album, Kline Coma Xero is a sign that the newcomers as well as the forgotten veterans are being given the chance to shine.
One of the most interesting transformations of recent years has been Juan 'Silent Servant' Mendez' transition from purist techno into a middle ground that coalesces new wave and post-punk. The US producer's work with Camella Lobo as Tropic of Cancer was as idiosyncratic as his involvement with techno collective Sandwell District and he brings both worlds together on Split EP. A shared release with Oliver Ho's Broken English Club for Minimal Wave offshoot Cititrax, Split is the second record in this column to use imagery related to Princess Diana.
Silent Servant's "Speed & Violence" is a murky affair, centred on an oppressively heavy bassline and featuring a cacophony of muffled vocals in the background. Mendez also manages to give a nod to his techno roots via a chilling synth line that rises through the arrangement. "Cut Unconscious" is heavier-sounding, the bass has a brutish, EBM feeling and wave upon wave of dub textures house the honking of car horns and other street sounds.
Ho's contributions veer more towards new wave than techno; "Divinity" is a low slung, droning groove littered with indistinct vocal outpourings, kettle drums and a grimy bass. "Delays" is more discordant, as screeching white noise is fused with flailing drums to provide a backdrop for more unintelligible vocal meanderings.
Split EP is one of the finest releases in the techno/new wave canon. The only issue this writer has with it is its price, with some stores looking for 23 EUR (approximately £20) for this release. Admittedly, shipping prices from the US have increased and the label always does a fine job with packaging each record, but it does seem on the expensive side.
Finally, there's a new release from John Heckle on Tabernacle, but with a twist. The Liverpool producer is best known for his raw and slamming interpretations of Chicago house and techno, but these remixes of tracks from last year's Desolate Figures album push him into different places.
Moon B's take on "Power of Two" is a psychedelic house jam, taking the dubby beats of '90s house and infusing them with tripped out blips and the kind of warbling, slightly out of tune synth lines that used to define Dan Curtin's Metamorphic releases.
Call Super's version of "Love Lies" is one of the finest pieces of music the Berlin-based producer has made to date, a powerful, surging bass and looped-up synth hooks providing the backdrop for clicking, jittery percussion, jazzy keys and dubby vibes. It sounds like Call Super has taken musical inspiration from the Deepest Shade of Techno compilations and combined it with his own studio wizardry.
Finally, "Inhuman Nature" is transformed by Giallo Disco producer Vercetti Technicolor. Sweeping, dramatic synths and cymbal crashes provide an over the top intro. From there on in, eerie chants, a pulsing bass and tough kick drums see Heckle's track turned into a hybrid of Carpenter soundtracks at their most dystopian and an oppressively heavy disco groove.
It's not what you might expect from John Heckle, but then again, what's in a name?
Richard Brophy