Best reissues and archival releases: August
Classic Drexciya, Italian improvisational music featuriung Ennio Morricone and the soundtrack from one of the greatest action movies ever made feature in August's best reissues.
Drexciya – Neptune's Lair (Tresor)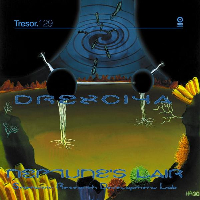 While Clone's recent Journey Of The Deep Sea Dweller series did a fairly exhaustive job of collating much of James Stinson and Gerald Donald's output, the manner in which they were compiled arguably didn't do justice to the chronological importance of Drexciya's catalogue. Given the deeply conceptual nature of Drexciya as a whole, it could be argued that their music should be enjoyed is it was originally released, rather than as part of a compilation. While the 1999 album Neptune's Lair was only reissued by Tresor back in 2010, the number of new Drexciya fans Clone must have generated with its vast reissue project makes a fresh vinyl reissue of the LP more than worth the wax it's pressed on.
While Drexciya had been releasing records since 1992, Neptune's Lair represented the first time the pair had expanded their undersea mythos to the album format. While Drexciya are rightly hailed as the masters of the electro genre, with tracks like "Andrean Sand Dunes", "Running Out Of Space", "Universal Element" and "Triangular Hydrogen Strain" all banging harder than anything their imitators could ever hope to make, it's the stranger, more reflective moments that make Neptune's Lair such a stellar album. The satanic chamber drone of the "Temple Dos De Agua" intro, the sonar bleep hip hop rhythms of "Habitat 'O' Negative" and squelchy ambient of "Draining Of The Tanks" all combine to create the sort of bizarre atmosphere that make their world one worth visiting on the duo's own terms.
Listen/buy vinyl
Gruppo di Improvvisazione di Nuova Consonanza – Gruppo di Improvvisazione di Nuova Consonanza (Superior Viaduct)
Most will know Ennio Morricone for his soundtrack work – most notably his scores for Sergio Leone's Man With No Name Trilogy – but this reissue from Superiro Viaduct shows that there's more to his musical history than just that. during the 1960s and 70s, Morricone was part of the Gruppo Di Improvvisazione Nuova Consonanza, a collective of experimental composers formed in Rome in 1964 by composer Franco Evangelisti. Despite instrumentation such as piano, trumpet, double-bass and assorted percussion creating the backbone of the collective's musical signature, they weren't afraid to experiment with electronic techniques and tape either.
Originally released in 1973 under the name Improvvisazioni a Formazioni Variate, and reissued by Superior Viaduct under the name Gruppo di Improvvisazione di Nuova Consonanza, this record will surprise those expecting the more emotive work of Morricone's more famous work. Despite this, it's a real gem of improvisational music for those interested in the genre, especially as this is the first time the record has ever been reissued. While the dramatic piano and tense string araangements of "Collage 5" are perhaps what you'd expect from this kind of music, the hushed textures of "Percussione Per Tutti" and breathy atmosphere of "Mirage" are quite unique in their understated composition.
Listen/buy vinyl
Harald Grosskopf – Oceanheart (Bureau B)
Formerly the drummer for Manuel Göttsching's Ashra project, Harald Grosskopf will be a name familiar to those fortunate enough to have heard RVNG Intl's stellar 2011 expanded reissue of his 1980 debut album Synthesist. Combining the classic kosmische sound with a considerably more driving rhythmic focus, the original version has also been reissued by Bureau B this month, and is a reasonable consolation of you didn't pick up RVNG Intl's version. However, it's not Bureau B's reissue of Synthesist that's of interest this month, but the label's reissue of Oceanheart, a slightly more accessible album from 1986.
Synthesist was originally a commercial failure, and as such, Sky, the label that released it, dragged their heels over the release of its follow-up, and even halved Grosskopf's advance. Grosskopf doesn't seem like the kind of person to care about changing his style to suit his label – Bureau B's release notes, for example the label explains that the title reflects Grosskopf's interest in transcendental meditation – but there's definitely something more accessible about Grosskopf's brand of kosmische on Oceanheart. "Eve On The Hill" for example is the kind of instrumental synthpop you'd expect to hear soundtracking the end credits to a Brat Pack movie, while the slow pace of "While I'm Walking" sounds like it could provide the backing for an '80s power ballad. While "Coming Out" and "Pondicherry Dream" are significantly more cosmic in tone, it's "Minimal Boogie" that strikes this balance best; a combination of Reichian minimalism and pure optimism, it perfectly encapsulates what makes Grosskopf's music such a joy.
Listen/buy vinyl
Holger Czukay – Der Osten Ist Rot/Rome Remains Rome (Groenland)
Holger Czukay will always be remembered as a key member of Can, but the amount of solo material he created after the band initially disbanded is equally as vast as their output. Much of it has already been reissued, but his body of work can be fairly impenetrable to newcomers, which makes this package from Groenland the perfect release for those who need an entry point.
Taking only selected tracks from 1984's Der Osten Ist Rot and 1987's Rome Remains Rome this version is by no means exhaustive reissue, but highlighting the strongest tracks from both is probably no bad thing. As well as cutting any filler, this version comes pressed on 2 x 10" records, and features three previously unreleased remix versions for true Czukay completists – the skewed funk of the version of "Sudentenland", otherworldly folk of "Music In The Air", and lurching percussive horn march of "Der Osten Ist Rot" will make this an intriguing proposition for Czukay completists as well. It's perhaps "Traum Mal Wieder" that provides the most unusual moment, a dark, drone-driven piece of vocal collage that shows there's more to Czukay than bright patchwork sounds and jaunty rhythms.
Listen/buy vinyl
Brad Fiedel – Terminator 2: Judgement Day (Silva Screen)
No matter what you might think of where the franchise has gone in recent years, there's no denying that Terminator 2: Judgement Day is arguably one of the greatest action movies ever made. Despite being some 23 years old, James Cameron's film still holds up today; thought CGI was in its nascent stages, the liquid metal appearance of the T-1000 still has the ability to chill, while it's hard to imagine anyone having the courage nowadays to film a scene in which a motorcycle is chased through the dried up waterways of Los Angeles by a truck. However, it's the looming apocalypse at the hands of Skynet that really defines the mood of the film, the ever-present fear in the previously incarcerated Linda Connor's mind that her nightmares will come true.
As impressive as the film is, it's Brad Fiedel's score that is perhaps the under-sung star of Terminator 2. His soundtrack may have its fair share of rousing orchestral moments recalling the likes of Hans Zimmer, but they always feel ever so slightly more subversive; while the iconic main title has the undercurrent of a military march, the industrial beat looming behind adds an element of panic that runs throughout the film. It's "Escape From The Hospital" that shows Fiedel's skill at creating tension through music; the anxious, droning motif that makes itself present as Sarah Connor tries to escape from the mental hospital and is confronted by the T-800 is so iconic it was even parodied in an episode of Spaced. The gothic terror of "Sarah's Dream (Nuclear Nightmare)" and suspenseful notes of "Attack On Dyson" show that although Terminator 2 is an action movie, Fiedel's score has all the claustrophobia of a horror movie.
Listen/buy vinyl
Scott Wilson