Warp confirms new Aphex Twin album

Richard D. James will make his long-awaited return with Syro next month.
Following the appearance of a blimp featuring the Aphex Twin logo over the skies of London this past weekend, and the discovery of what appeared to be the artwork and tracklisting for a new Aphex Twin album hidden in the deep web, Warp have today confirmed what everyone assumed. Richard D. James will make a return to the long player format with a new Aphex Twin album called Syro next month. Due for release on September 22, the announcement came in the form of a garbled press release from Warp, which describes James as a "celebrated and influential electronic fartist" who "can compete with the music flip to influence built."
Assuming the press release from Warp isn't the latest part in an ongoing augmented reality game designed solely to troll Reddit users, Syro will be the first Aphex Twin album since's 2001's Druqks. It also follows the successful Kickstarter campaign to digitise and release the lost Caustic Window album, originally slated for release on Rephlex in 1994, which survived only in test pressing form.
Warp will release Syro on 3LP, CD and digital formats on September 22.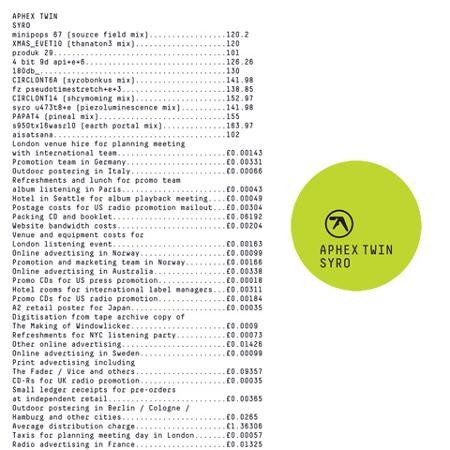 Tracklisting:
1. minipops 67 [120.2][source field mix] [aka the manchester track]
2. XMAS_EVET10 [120][thanaton3 mix]
3. produk 29 [101]
4. 4 bit 9d api+e+6 [126.26]
5. 180db_ [130]
6. CIRCLONT6A [141.98][syrobonkus mix]
7. fz pseudotimestretch+e+3 [138.85]
8. CIRCLONT14 [152.97][shrymoming mix]
9. syro u473t8+e [141.98][piezoluminescence mix]
10. PAPAT4 [155][pineal mix]
11. s950tx16wasr10 [163.97][earth portal mix]
12. aisatsana [102]