The Element Of Surprise: Introducing Herva
Italian producer Herva sits down with Oli Warwick to discuss Instant Broadcast, his playful and idiosyncratic new album for Delsin.
"In the rest of Italy it's really difficult, because here the promoters are always on big name strangers, because Italians don't make the hype."
So laments Hervè Atsè Corti as we catch up in the run-up to the release of his second album Instant Broadcast, due for release on Dutch techno bastion Delsin after the Florence-based artist made an EP for the label back in 2013. Hervè has a point; as a young artist with a precocious talent and a good few years of edgy, exciting releases behind him, it seems surprising that he isn't more of a household name. Until linking up with Delsin, he had been and continues to be nurtured by local label Bosconi, an imprint that sports a more worldly view than the status-driven club circuit so many Italian artists complain about. As such, this second album, which follows his 2012 debut LP Meanwhile In Madland on Bosconi Extra Virgin, holds the promise of strengthening a connection in the more fertile lands of Northwest Europe, and it was certainly a motivation for Hervè in signing up with Delsin.
"That's why we decided to do it!" he gleefully confirms, but Hervè is not simply happy to be with Delsin because they have a reach and influence across the Netherlands and Northern Europe. He's someone that values the symbiotic relationship between a receptive artist and a respectful label, and he made that clear from the first time we met at Edit Festival in Venice in 2010. At the tender age of 19 he was making one of his first appearances on stage with life-long friend Marco D'Aquino (also known as Dukwa) in their Life's Track partnership, having been swept up by the guiding hand of Bosconi label boss Fabio Della Torre, who instantly saw the creative spark in both the prodigious young talents. As he told me about his working relationship with Fabio then, he echoes the same sentiments about Marsel van der Wielen and the Delsin team now.
"The right relation between an artist and a label is that the artist gives the music to the label and then they decide together what to put out," Hervè states, "but not that the label forces the artist to make something."
Whether listening to the beat scene infusions of his debut album or the scratchy, soul-soaked house of his EPs, it's hard to envision any label commissioning the kind of singular twist that Hervè brings to his music. While they were bold beginnings though, the past year has seen a drastic ramp up in the experimental qualities in Hervè's music, whether in collaboration or most dramatically on his new album. Some criticism of his earlier output suggested that the inherent idiosyncrasies in his music were a sign of naivety, an easy statement to level against a young producer, but as he has grown so his releases have only become wilder, reveling in the erratic and delivering the unexpected with a balletic poise. To Hervè, Instant Broadcast feels like a pinnacle in his career thus far.
"It's the most important work I've done yet," Hervè says of his new album, "because it's nearly a year of music. I always produce a lot of tracks, but this was a year of work just for this album and so I'm happy about it. I'm proud."
Across the new album you can hear the feverish attention to detail that drives Hervè forwards, as sweet and surreal moments of calm collide with raw, malicious distortion and intensity. There are myriad layers of texture and rhythm in some places, and achingly simple tones in others, but never does the same mood linger for too long. It's no surprise that this album was a year in the making, lending credence to the idea that it was a purposeful project. As ever, it's a pleasure as a critic to be proved wrong by those you thought were questing on some highbrow intellectual odyssey through sound.
"I was just having fun," Hervè shrugs when asked what he was seeking to achieve in making Instant Broadcast. "I always try to make something different because I always try to enjoy myself. If you are always making the same tracks you always try to search for something, and I don't think that's the real point of making music. A concept is something introspective, or experimental. For now I just want to have fun making music."
After such an unpretentious explanation, the true spirit of Hervè's approach shines through when listening to the album, for it is undoubtedly a playful listen. From the rowdy, expressive bass swells of "Slam The Laptop" to the aqueous fluttering of "Spotlight (Music At Subway)" the only constant in the album is a gleeful delight in tinkering with sound. There can be an unexpected filter sweep that cuts a track in half or a handbrake turn of a pace change that shocks your ears, not to mention many a juxtaposition of unlikely sounds and samples. "Jointless" as an example sports wistful soul samples that hover over a decidedly crunchy techno rhythm section, and it's an unlikely combination that works marvelously while adding to the unique sonic identity Hervè is instinctively creating for himself. Although his productions on the album may seem somewhat removed from dancefloor concerns, his attitude as a DJ reflects and feeds into how his tracks come out.
"I like to change the mood and the situation in my music," he beams enthusiastically. "Also I think when you play these tracks in a DJ set, maybe you want to change the mood from playing something really heavy, so you can put on something with a really crazy vocal for a while and then it becomes more housey, more happy, and you can start playing new music."
This is about as close as Hervè comes to a guiding principle in his music. It might seem slightly absurd to consider the more energetic tracks on Instant Broadcast as being written for DJs, and there's certainly no whisper of a 'tool' to be found anywhere, but through his fearless filter of creativity a dangerous and unpredictable tune that switches the mood of the room is a far more useful device than a clean and concise drum track that mixes easily with other similar records. When examining his own attitudes to DJing, yet again Hervè shrugs off tired notions of perfection, control and flow and focuses on pleasure and instinct.
"I have to play music that I love and I love a lot of different things," he explains, "so I have to play a lot of different things. I hate when you hear two, three-hour DJ sets and the DJ plays always the same beat, always the same key, always the same bassline. It's really difficult playing freestyle, putting something really different together, but when it's the right night you can do anything, and that's when you come up with something really unique."
Like any self-respecting spinner, Hervè spends a lot of time digging for obscure treasures to give his selections an edge, and this in turn has fed back into the music that he makes. All over his productions you can hear a wealth of outsourced sounds, such as in the hazy tumble of "Holidays" with its yearning jazz inflections from skittish drum hits to loping piano. Although he considers his approach for sample searching more directly linked to his record buying in recent years, he also acknowledges that in the early days of his production adventures he took a less focused approach that involved sharing tips and ideas with friends.
"Since the last year when the album tracks came up I started working in a really focused way and found some really good samples," Hervè explains. "Also Rufus helping me a lot with starting this. He's a really good DJ and he has knowledge of so much music. He introduced me to this way of digging. He also passed me samples for the tracks I've made. I'm really thankful to him."
The Rufus that Hervè mentions is Rufus Niccoló, one of the lynchpins of the Bosconi family who left Florence for Berlin to explore new avenues in his own music, which has manifested itself in a number of different projects including the Tru West collective of which Hervè is a part. Including fellow Italian Martino Marini (better known as Mass_Prod) and clarinet player Raffaele Amenta, the project has thus far seen two releases on Marmo Music delve into a scary and exciting netherworld of sonic experimentation, channeling free jazz sensibilities and outboard noise-making with no discernible generic constrictions. Even by Hervè's standards, it's a decidedly out-there venture.
"It's the most random thing that ever lived!" Hervè laughs. "We started jamming, jamming, jamming, and it was pure magic. Don't know how, don't know why, don't know what we have done, magic! We had already made something cultural so we had to make something weird, and now I can't get enough!"
Off the back of these fruitful freeform sessions, Hervè and Martino also colluded on the edgy improvisations that eventually found form as the snappily titled Technology Fail As A Birth Control For Useless Recordings 12", which came out on Kontra-Musik in late 2013. While the Tru West project was actively encouraged by Marmo label boss Matteo Tagliavini, in the case of the Kontra release one had to wonder whether it felt worthwhile to pitch some completely self-indulgent sound studies to an external label. "Why not?" Hervè counters. "It's freaky, but maybe someone freakier than us will find something in it!"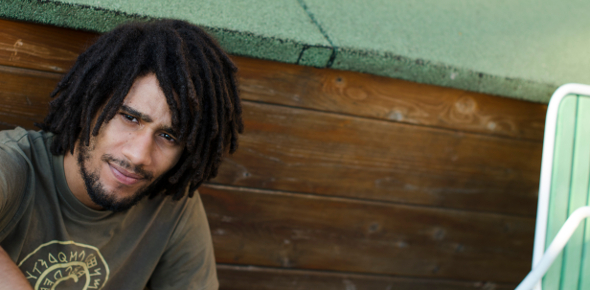 Aside from those fringe concerns, Hervè also has his aforementioned Life's Track partnership with Marco D'Aquino. While the style of the duo has ranged from melancholic, acidic box beats to more recent tough-but-soulful techno, it remains something of a more focused, club ready offering compared to the unfamiliar pastures in which most of Hervè's music resides. As if affirming the slippery nature of his work, imminent solo releases include a turn on Dublin beat institution All City, which has previously been home to such LA luminaries as Dâm Funk, Daedelus and Ras G. Especially on his debut album, but equally in parts of Instant Broadcast, it's easy to hear strong similarities that tie Hervè to that particular corner of experimental electronic music. I dare to suggest that he might be channeling a little of Sun Ra's energy as Ras G so proudly does.
"I would like to be a finger of Sun Ra!" he laughs. "For cosmic energy I'm the shit you know!"
While he may be making the statement tongue firmly in cheek, it's hard not to see at least some of that spirit emanating from Hervè's music. At this point in his career, with his creativity blooming in many pronounced, singular manifestations, it's interesting to wonder whether there might be any limits to how far out he would go in his explorations.
"No no no no, there's no limits!" he insists. "That's why I keep on making music. You can never have enough. You always want to make something new. Not always something better, but something new. Just to learn something, to hear something new. To surprise yourself!"
One gets the impression he won't be the only getting a surprise.
Interview by Oli Warwick
Delsin will release Instant Broadcast by Herva on September 8.