ImpLOG and Kirlian Camera reissues announced by Dark Entries

The San Francisco label dip into the New York No Wave and '80s Italian electronics scenes for their next batch of releases. 
With the dust settled on the glut of Stateside parties to celebrate Dark Entries' fifth anniversary, label boss Josh Cheon has wasted little time in preparing the next two releases of what's shaping up to be a most impressive year. First up is a timely reissue of one of only two records released by The Contortions band members Don Christensen and Jody Harris under the name ImpLOG, after the former left the iconic No Wave act in 1979. The story goes that Christensen's recorded experiments with found sounds, and an array of instruments such as a Univox drum machine and Casio keyboards impressed Lust/Unlust Records founder Charles Ball sufficiently enough to issue two tracks from the submitted demo tape, That Holland Tunnel Dive 12″ was released in 1980 and has remained a highly prized record ever since.
It's now due for reissue by Dark Entries next month with both the title track and B-side "On Broadway" given the full remaster treatment from the original tapes by the label's trusted engineer George Horn at Fantasy Studios in Berkeley. The artwork for this new edition is an exact replica from the original release, but now comes with a double-sided insert featuring unseen photography and sleeve notes from Don Christensen, who is now known for his work as a painter.
Due for release at the same time is Uno, a collection of early recordings from Italian primitive electronics group Kirlian Camera who emerged from the DIY scene of late '70s Parma and still remain active today. Founded by keyboardist and vocalist Angelo Bergamini in 1979 and orginally called Suicide Commando, the band took shape after a name change to Kirlian Camera and the addition of a singer, keyboardist and bass player.
The focus of this Dark Entries retrospective falls upon the band's original six-track demo tape and self-titled mini LP recorded in 1980 and 1981 respectively, with Uno also including the 1981 Kirlian Camera track "Minitech", presented for the first time on vinyl as a gold-stamped flexi-disc. As with the ImpLOG 12″, George Horn remastered all Kirlian Camera tracks for this LP, and previews for both releases can be heard on the below SoundCloud players.
Dark Entries will issue both Holland Tunnel Dive by ImpLOG and Uno by Kirlian Camera on September 17.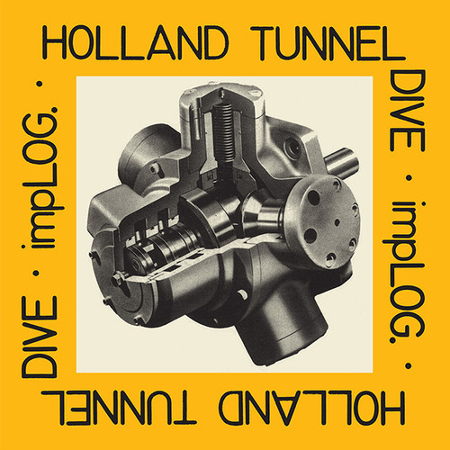 Holland Tunnel Dive tracklisting:
A1. Holland Tunnel Dive
B1. On B'Way
Uno tracklisting:
1. News
2. No One Notices Them
3. Rays
4. Autumn Room
5. Last Lights Near the Highway
6. News (Embryo)
7. Myths
8. Unknown
9. For A Different Moment
10. Observers
11. Minitech