Dusted Down: Revisiting The Wipe by Teste
James Manning retraces the origins of a techno production credited by many as one of the genre's most influential.
'How did you get into dance music?' is one of the more banal questions a techno producer can be asked. But it seems for many The Wipe by Canadian group Teste is a record regularly referenced when coming up with an answer. Released 22 years ago as a three-track 12" on Plus 8 sub-label Probe Records, the B-side's "The Wipe (5am Synaptic)" for many is regarded as a precursor to the deep and hypnotic techno that today is most commonly associated with the Prologue label.
Donato Dozzy, Mike Parker and Dino Sabatini, to Milton Bradley, Claudio PRC and Giorgio Gigli are all artists that have cultivated this variation of the genre. By and large it's a style of techno that's taken hold of continental Europe, but if Teste's The Wipe is used as a reference, pointing to where the seeds of proto bassline-driven techno were sewn, then it's the raves of early '90s Toronto.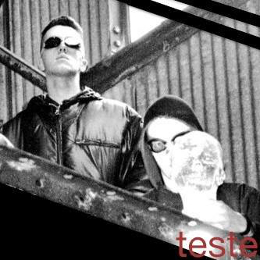 Between 1992 and 1993 Teste released two records and one remix EP, all of which were put out by Probe. Following the hardcore acid of the Sysex Remixes in '93, the group released their only other 12", Regions/Praecox. Delve into the cavernous loops and delay techniques of this release and compare it with the music of Mike Parker today and a paradigm of sonic continuity will reveal itself; a sound sustained en masse by Prologue artists since the turn of the decade. "After listening to it for the first time I immediately found that it had a lot of similarities to my own productions," Giorgio Gigli told this writer of "The Wipe" in a 2013 interview. "Amazing since it was first released back in '92."
Originally a three piece from Toronto made up of Dave Foster, Søren Browning and Himadri Ghosh, Teste was a short-lived project that on paper was active for just over 12 months. Legend has it a "shitty cassette tape" was handed to Richie Hawtin at a Toronto rave which, as the story goes, was played on repeat during his drive back to Windsor, Ontario. "As for whom handed it to him," says Foster, "myself and Søren."
Passing him the tape, Foster remembers Hawtin saying something like, "there better not be breakbeat on it." In 2000, a statement written by Hawtin was posted on the Plus 8 website with an extract reading: "I remember rewinding the tape multiple times: just listening over and over to this track that I knew instantly was going to be a very important record for us…. (was it a classic by then already?)"
Two years after Probe's repress of The Wipe in 2004, Detroit label Polarized issued a remix EP featuring Teste's "Love, War and Techno" remix of the track, and two others by Dustin Zahn and label owner Locutus that today would best be described as hard techno. Serendipitously, as this article was being researched, it transpired that Tony Scott, aka Edit Select, is readying the release of a 2014 edit of "The Wipe" on his own label with the addition of a collaborative production between Edit Select & Teste called "Ascend".
"It's probably every techno producer's track they wish they had made – the most imitated track – and easily in the top 10 best tracks ever made," Scott says of "The Wipe". His own refined, yet burly edit almost doubles the duration of the original, beating Giorgio Gigli to the punch who last year said: "It's a shame this track is as short as it is, I've always had the idea of making a 12-minute edit."
"The sound of Teste is still the sound of techno, especially today," Scott says. "The sound still comes through producers like Rrose, Claudio PRC, even Donato Dozzy," Scott feels, referencing the Italian's legendary remix of Mike Parker's "FWD". Thrilled at the reality of Teste's return, Scott believes, "they deserve to be involved in the current techno scene and I think they are a refreshing addition."
"In fairness, years ago," he adds, "I was playing at Space and Chris Liebing swapped some tracks with me and "The Wipe" was inside his folder of tracks for me… I remastered it, slowed it down and I've played it ever since." It comes as little surprise then that Edit Select has commissioned a profound cast of techno elite to 're-wipe' the original, with remixes coming from Function, Luke Slater and Shifted, to Prologue cohorts Dino Sabatini, Terence Fixmer and Lucy, all on top of those previously mentioned in Rrose, Claudio PRC and Mike Parker. Does techno get anymore monolithic?
Today, the newly reformed Teste is Foster and Browning. "We were all rather subversive and unruly early adults each in our own way, so there was by nature no future in that arrangement," Foster says of the trio. "Believe me, I couldn't stand to be in a room with my 20-year-old self these days!" Teste's first live performance since their reformation took place this year at Henning Baer's Grounded Theory party in Berlin. "Edit Select contacted me telling that he was going to meet with one guys from Teste in Berlin and asked if I want to meet him as well," Baer explains. "I said yes," he says, adding: "For me "The Wipe" is techno to the max, a timeless piece of musical history." Meeting up with Foster and Edit Select to discuss Scott's plans for Teste to "reform, re-release music and to perform live again," they were swiftly booked for GT28.
"To have it even last a couple of years was an accomplishment," Foster says of the original Teste formation. "After that period I regrouped to focus on my more challenging productions which were later to appear on the Zhark Berlin imprint in the late '90s, early '00s," he explains. "Then from there," Foster reveals, "I became ensconced in the touring life with the Junior Boys."
Foster was Junior Boys' live drummer between 2005 and 2009, and in the two decades since Teste's last two records, Foster explains, Browning relocated to Denmark to raise a family, released "some very challenging experimental electronic output" on a label called Organic Pipeline (among others), while apparently taking steps to open a modular synth shop in Copenhagen. Meanwhile Ghosh, a fledging stand-up comedian (whose material mocks the "A Night At The Roxbury" ravers he played to in Detroit and Germany), released a solo EP of spacey acid electro on Plus 8 in 1994, followed by two 12"s on Canadian label Switch Records. He too is still musically active today.
Patrick Stottrop, aka Kareem of Zhark Recordings (who released much of Foster's music under his Huren alias), is another producer of this vintage to throw themselves back into production and releasing music. Stottrop explains that what originally attracted him to techno was a darker sound. "These really dark moments of being out late; everyone's getting a bit tired in the club, things aren't so pretty and that's where things get interesting." Teste's "The Wipe" he says, "really defined those hypnotic movements of…being detached from something, and at the same time, this almost meditative group experience you can have when the sound is just right."
Surgeon agrees: "Like all of my favourite electronic music this track creates a really strong atmosphere, it creates its own universe." Both Surgeon and Marcel Dettmann include "The Wipe" as one of techno music's most definitive productions, holding it in equal regard to another 1992 classic, Maurizio's remix of Vainqueur's "Lyot". Over email Surgeon writes, "I don't remember exactly where I first heard Teste's "The Wipe" but it came out when we were first doing House Of God parties in Birmingham"
"I was always looking for the sickest music to play in my DJ sets and that track really stood out, it was a real heavy trip," he says. "Something about it reminded me of Coil," Surgeon adds, "the psychedelic intensity, especially the "Sonik Dub" version." The variant Surgeon speaks of is the record's A-side, and it's this, not the brooding minimal sound of the "5am Synaptic" version, which cross-pollinated rave with the deep, futuristic techno of now.
In the '90s "the Toronto raves were good," Foster remembers. "I emphasize good as there was a nice energy and a feeling of inspiration and newness," he says. "Highlights," he adds, "was seeing Jeff Mills and Joey Beltram in a Toronto warehouse playing to a very small crowd in 1992." It was The Wizard's first Canadian appearance. He also remembers visiting Juan Atkins at the UR Building in Detroit to hand him some material he'd been working on. "He was the consummate gentleman," Foster says. "They had the most pragmatic approach of anyone I met in the techno scene in that era," he tells of Detroit techno's progenitors. "As everyone knows they are the true underground and the conversations I had at various times with (Mike) Banks have definitely inspired the 'peripheral' direction we took."
A 90-minute drive from Toronto is the city of Hamilton (two and half hours from Mike Parker's home of Buffalo) and according to Foster, their underground party scene of the early '90s was solid. These were the days when Foster would sneak in to such events with Junior Boys members Jeremy Greenspan and Matthew Didemus (DIVA on New Kanada). Alphonse, aka Alixander III of Azari & III, and Rich Oddie and Christina Sealy of Orphx were there too he remembers, while back in Toronto there was Adrenaline. "We showed up to the Adrenaline party with two demos and we gave the first one to Chris Sheppard, a character of whom we had some regard for his contributions in the '80s," Foster says. "Never heard anything back…" The other demo of course, infamously, landed in the hands of Richie Hawtin – and the rest is history.
Interview by James Manning