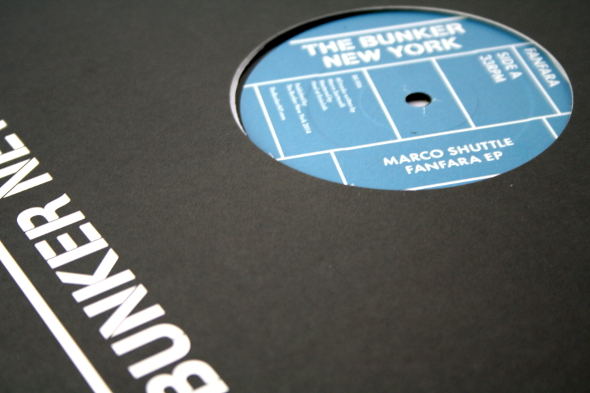 Total up the names of all the artists who've played at The Bunker parties, and you'll get a 3000+ word count – that's more than most academic essays (or Juno Plus features). Often splitting events between live up-and-coming NYC bands upstairs and late-running DJ sets downstairs (in keeping with the party's subterranean-referencing title), the last decade of Bunker parties has a history so exhaustive that even the label's website admits that it's hard to track all the permutations.
But throughout that whole decade, 2014 was the first year that a label blossomed out of the DJ nights, their inaugural release from Leisure Muffin causing equal difficulty for music journalists – sure, it drew inspiration from the early Warp catalogue, Drexciya and Autechre, but it also incorporated a live violin performance into the web of swelling, experimental modular synths. That thrilling instability continued throughout the rest of The Bunker's catalogue, with releases by Løt.te employing tactical, devastating Surgeon-esque boogie, or Voices from the Lake's fusion or murky underwater interpretations of African drumming patterns. While some labels are dubiously called 'experimental' if they noodle around with improvised analog synth patterns for 12 minutes or more, The Bunker's catalogue to date really exemplifies the instability that makes their night and tracks so gripping, as if each piece is only barely adhering to genre tags, with the potential to violently veer off into uncharted territory at a moment's notice.
Enter Marco Shuttle, whose multi-tasking life split between a fashion designer and techno producer makes him quite the versatile and natural choice for the label's sixth release this year – a quick Google search shows that the man can wear a turtleneck better than anyone else on The Bunker's catalogue thus far as well. Shuttle's strength has always been his tonal versatility – drawn-out ambient affairs such as "Sing Like a Bird" let ghostly vocals take control of the track while his brittle percussion keeps pace, but a quick run through "I Wanna Dance… In Outer Space" or "The Vox Attitude" reveals plenty of whiplash-inducing hard techno sentiment as well.
"Fanfara" finds Shuttle merging the pace of the former with the cold, brutalist dystopian feelings of the latter. It feels like waking up with a fever at the end of the world must – an air raid warning horn wails mercilessly in the distance and the subdued thump pulsing throughout the track sounds as if every security alarm in your house is intermittently sounding off, futilely trying to warn against some oncoming dancer. Dense, dubby and thoroughly hallucinatory, it's psychedelic space techno with a clear vision from its opening note.
The second unreleased track from Shuttle is "Marching on the Rings", and in the wake of Craig Leon's recently re-released Nommos / Visiting records, it's almost tempting to see the b-side as an answer to Leon's fantastic interplanetary folk track, "Ring With Concentric Discs". But while Leon's tracks look at the joyous possibilities of interplanetary life, Shuttle locks into a mechanical groove that seems to goose step unrelentingly towards somewhere dark and dingy. Whether that place is the entrance of Berghain or some interstellar gulag is anyone's guess. But for those who have followed The Bunker throughout the decade, descending into the unexpected caverns and crevices of sonic exploration has always been a worthwhile goal.
Brendan Arnott 
Tracklisting:
A. Fanfara
B. Marching On The Rings Of Saturn