Separate Mind: Disco Modernism
Richard Brophy assesses the enduring appeal of Italo disco in the face of newly reissued works on Dark Entries and Mannequin, and more contemporary iterations from Bordello A Parigi and Moustache Records.
Conceived during the late '70s, Italo disco can lay claim to being the longest-loved of all electronic music forms. If the current schedule of release activity is anything to go on, it continues to resonate with record buyers and DJs around the world. To define Italo in its most simplistic form, it is a camp, electronic take on disco, tethered by the insistent pulse of 4/4 drums. Created by obscure Italian producers – hence the name – and played in predominantly gay clubs during the tail end of the '70s and into the early '80s in Europe, it manages that rare feat of being both catchy and functional for DJ use.
In some ways though, this definition is to do the music a massive disservice, and Italo 'hammers' like Savage's "Don't Cry Tonight" or "When I Let You Down" by M&G and Decadence's "On and On (Fears Keep On)" – more of which later – are a mixture of kitchen sink dramatics and full-blown alternate pop symphonies, created using rudimentary studio equipment rather than the orchestras and lavish studios that US disco producers had at their disposal.
Speaking to this writer back in 2003 for DJ Mag, Danny Wolfers aka Legowelt explained that studio limitations actually benefited the music-making process. "The great thing about pre-1983 Italo is that it had raw production methods, lots of loose beats, beautiful synthesizer sounds and tear jerking melodies. All that knowledge seems to be lost and replaced by cleanly produced, lame stuff. Italo took a nosedive after 1983 because of the advent of MIDI," he said.
It would be easy to chalk any talk of an Italo resurgence down to a general tendency of classic records being reissued and obscure releases being 'rediscovered', but the reality is that this type of music has had a strong following for the past 20 years. One of the key figures in keeping the Italo flame alive is I-F. Through his labels, internet radio stations, peerless mix CDs and releasing occasional modern classics like 1999's Space Invaders Are Smoking Grass, Ferenc E. van der Sluijs has tirelessly championed electronic disco music. A less modest man might talk about devoting his life to one form of music, but Ferenc is far more pragmatic. Speaking to this writer in 2005 for DJ Mag, he explained: "I started doing what I'm doing out of frustration with people's musical ignorance. Not everybody has the energy to create their own movement, but, like Chicago house or Detroit techno, we realised that we are doing in Holland with our scene is unique."
Fast forward nine years and Italo remains relevant. Maybe it's a backlash against the pallor of doom that has enveloped techno thanks to the Berghain bots and assorted noiseniks or the plastic emotion of modern deep house, but whatever the explanation, Italo serves as a beautiful, human counterpoint to these dogmas. Its eternal relevance is also a welcome distraction from and disruption of narratives like the 'hardcore continuum' or the endless, tiresome debate about whether Detroit, London, Chicago or Berlin should take precedence as the 'home' of electronic music.
The music's life-affirming naivety and tragicomic tales, combined with properly human and inherently flawed production and sweet, spine-tingling melodies are irresistible. These elements also serve as a reminder that the music is from a true underground and was the soundtrack of the underdog. Italo was conceived for the gay community and was gaining traction in clubs just as HIV/AIDS started to ravage its fans, threatening to further isolate them from an ignorant mainstream. In that sense, Italo is a highly politicised style of music – even if its creators may feel uncomfortable with that description.
As the much anticipated reissue of Decadence's On and On (Fears Keep On) on Mannequin / Disco Modernism shows, personal politics are also at the heart of Italo. The work of Rago & Farina (whose 'Lectric Workers project was re-released on I-F's Viewlexx label in 2000), it starts with a simple but chilling synth line, joined in quick succession by Jan Hammer-style drums and an arpeggio bassline. Decadence introduces a doleful, muffled vocalist with a sad, but incoherent tale, but as the track progresses there is an upbeat, high-pitched vocal response. As it progresses, "On and On" becomes engulfed in a swathe of upbeat electronic melodies, not a million miles from early Ultravox. If you can find a reissue copy of this release snap it up as fast as you can as the original 1983 pressing sells for hundreds online.
One of the downsides of following Italo is that many of its best records are impossible to find or, if you do track a copy down, you can expect to part with half a month's salary for the pleasure. "They're available; digitally or on YouTube if people want to hear them and there's plenty of awesome cheap Italo records available too," says Simon Conway, one of the resident DJs at Dublin's Forza Italo night. "Some of the rare, expensive records were released on small independent labels with limited pressings or pressings that got thrown out because they didn't sell," he explains.
It's not just the original pressings that face this issue. The recent Mothball Dance Classics release on Bordello A Parigi was limited to a pressing of 250 and sold out almost immediately. It's a pity because most of us wallet-limited mortals will only be able to enjoy Flemming Dalum's edit of the electro funk-meets-sombre Italo pop of Flavia Fortunata's "Se Tu Vuoi' or the awesome low-slung Miami Vice groove of Taigher's "La Notte" – edited by Hysteric – in mixes or in online clips. If the label is reading this, please consider a repress.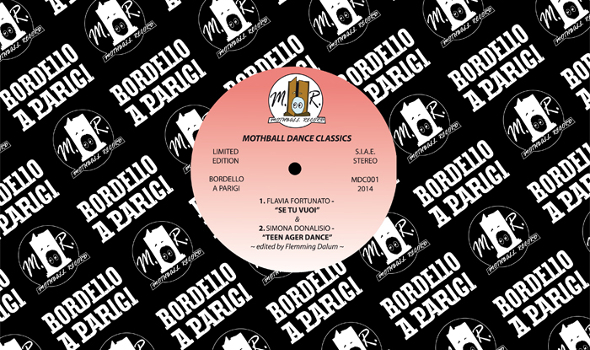 Peter Richard's 1985 Walking in the Neon can still be had for relatively reasonable prices if you are willing to opt for a morally questionable 'unofficial' copy. Thankfully, Dark Entries have stepped into the breach and hopefully will end this practice with a sanctioned re-release. Combining the drive of post-punk with dubbed out disco drums and Richard's high-pitched tones, "Neon" is a pre-techno beast, its cavernous bass providing the backdrop for frozen, chiming melodies.
If that doesn't tickle your fancy or tingle your spine, then Dark Entries is also about to put out Helen's Witch. Remaining true to the wilfully obscure approach that many Italo producers preferred, Helen was a studio project with a morphing line up. The title track on the reissue dates back to 1983 and was the work of Piero Cairo and Massimo Noe. Combining the percussive strut of New York post-punk with effortless Euro ice queen vocals from Elena Feretti, it sounds like a kooky, clubby alternative to the B-52s or a less confrontational Patti Smith. By the time "Zanzibar" – included on the flip side of the Dark Entries reissue – had been recorded in 1985, Helen's line-up had changed and so had their sound with Feretti's vocals funnelled through a sluggish, spacey groove and the 'Afro Mix' containing live drums from a Nigerian percussionist.
Completing Dark Entries trio of reissues is a new pressing of Art Fine's Dark Silence. Released in 1985, it's darker and more techno/electro-centric than the other represses by the label. Powerful drum machine patterns and robust claps sweep into action to underscore a menacing bass and an impossibly epic synth line that sounds like "Axel F" on a bad trip. However, this being an Italo release,
any sense of menace is tempered by trite lyrics from breathless young men who clearly have no idea about what they are singing about. One of the producers behind Art Fine, Rene D'Herin, went on to release more commercial, cheesy records like Fly to America and Hollywood, but Dark Silence is definitely his moment in the sun.
With no shortage of re-releases to keep the listener interested, what does modern Italo sound like and is it as naff as the contemporary Chicago house pastiches? Surprisingly, many of the modern iterations are quite decent and this has a lot to do with the fact that it's the work of two of its most skilful practitioners. Fred Ventura is a contemporary of Rago & Farina from the '80s. He recently featured on Alden Tyrell's A Visitor From Another Meaning project with "Neon Lights" on Bordello A Parigi and now the Italian singer/producer returns to his own Disco Modernism label with Don't Give Up. In contrast to the reissues from Decadence, Helen or even Art Fine, Ventura's sound was always clubbier and at times almost straying into the commercial, high energy realm.
As such, his music is more in keeping with latter period Italo disco. A lot of this has to do with Ventura's own persona; having had the pleasure of seeing him perform recently at the Forza Italo night in Dublin (other similar nights across Europe include the Bordello parties in Holland, Magic Waves in Berlin, Hypnotic Tango in London and Red Laser in Manchester) there is no doubt that he is a true entertainer and in a more just world should have become a global pop star.
Maybe "Don't Give Up" will finally give him the breakthrough he deserves. The lyrics are brilliantly meaningless ('you're walking like a shadow/we've nothing more to say') the chorus the kind that could be sung along to even by teary Italian football fans after their team crash out of the World Cup, and on the Italoconnection remix – a project from Ventura and Paolo Gozzetti – the only possible reaction to the synths can be unrestrained fist-pumping. By contrast, Ventura's original version is very much in keeping with an '80s classic like "The Years (Go By)" albeit with a leaner, smoother production finish.
Alden Tyrell is also set to resurface with a new record from The Hasbeens, his on/off project with DJ Overdose. Forthcoming on Bordello A Parigi, Maybe is the duo's first release together since I Fall to Pieces and You & Me from 2009. Unlike those releases, which alternated between considered restraint and cheesy organ solos, Maybe sees them pursuing a leaner, clubbier approach. Like a mutant hybrid of Ventura's NRG rush and the pulsating menace of Loneliness, I-F and Intergalactic Gary's 2003 release as The Conservatives on Viewlexx, Maybe is a headlong rush into a netherworld where an Italo influence like vocodered vocals – 'maybe if I cry every night, you'll came back to me/ and maybe if I cry every day you'll come back to stay' is the height of the wisdom provided – are carried along by a high-paced techno stomp and oppressive bass.
Does this signal a shift towards a darker sound? Yes and no. If you listen back to the start of Tyrell's solo catalogue – "Love Explosion", "Phaze Me" or the so-over-the-top-he's-in-freefall Superdunkel remix of "Disco Lunar Module" – it's clear that he has a penchant for menacing, bassy tracks. The only difference is that Maybe is leaner and more functional, its rhythm as suited to a blacked out bunker as a heaving discotheque. Simon Conway says: "It has been around for a while and the likes of Parallax Corporation would have picked up on it in early '00s, the Giallo influence has been around too on Viewlexx and Legowelt stuff like Squadra Blanco for quite a while. It's great to have more diverse records coming out with different influences from new wave, horror movies, synth-pop."
A similar throbbing bass is audible on Moustache Italo Anthem, the upcoming release from The Problems for David Vunk's Moustache label. Combined with eerie synths it makes for an ominous intro, but like someone in the audience at a Richard Pryor gig trying to keep a straight face all night, The Problems relent after about a minute and delve into brilliantly cheesy piano playing, the kind of airy melodies you might hear accompanying the La Liga highlights at the weekend. The improbably named Dick de Cock is put in charge of remix duties and he goes into a techno direction with tough beats and sharp claps ring-fencing the cheesy piano keys.
If you want to get a sense of where else contemporary Italo is headed, then the new Unit Black Flight release on Giallo Disco Records should be your next destination. Bryan Lane aka Unit Black Flight is from the States and derives his stage name from the special forces unit that Kurt Russell belonged to in the classic John Carpenter movie, Escape From New York. This provides a taste of what to expect on Tracks from the Trailer. Unlike the Problems or the Hasbeens, Tracks from the Trailer is proper paranoid disco music, a soundtrack from the edge of a crumbling city. On tracks like "Shortwave Radio Antenna Down", Lane doesn't just refer to scenes in the movie, he also emulates Carpenter's eerie synth sound. "One Hour Before Dawn" and "Shadow Scope" sees Lane move towards the dance floor, accompanied by gothic screeches, one-note keyboard solos and purring basslines. But the gloomy mood that envelopes this release is its most alluring characteristic and it is most powerful on the dark atmospherics of "Into The Zone".
Unit Black Flight is an effortless modern amalgamation of Italo's groove with John Carpenter's bleak soundtracks, but Sumerian Fleet's debut album, Just Pressure re-imagines electronic disco within a complex set of other '80s influences. Featuring vocalist Zarkoff, it is Alden Tyrell and Mr Pauli's most adventurous release to date. The title track is gloomy rock in the finest Goth tradition, full of tumbling drums, fractured guitar shards, rumbling bass and Zarkoff's doomy tones, "On to You" is a bruising ebm workout peppered with acid licks and "Nebelwerfer" takes the electronic body music approach to its logical conclusion with a pumping groove and jagged bass licks.
And yet for all the trio's attempts to move away from their artistic comfort zone – check the post-punk choppy guitar on "Dirty Water" – the most impressive tracks see Sumerian Fleet rooted in their guiding sound. "Orbiting", with its detuned riffs and ominous, ponderous vocal underpinned by powerful 808 drums, is the most off-centre expression of their Italo background, while "Unfulfilled Desire" is closest to what they are best known for. Although it is based on a sinewy bass and features Zarkoff's 'so gloomy he's having a laugh' vocals, the epic, swirling synths could have been lifted from Tyrell's solo catalogue. However, if you're looking for where Italo and its contemporary interpretation is headed, then the gloomy melodies, dead paced drums and teary lament by Zarkoff on "Gone for Good" suggests it could be headed into lighter-waving stadium territory.
After nearly 40 years bubbling beneath the surface, is it finally Italo's time? "It's become a generic term now like Chicago or Detroit – it's just shorthand to categorise a sound in the shops or online rather than having to be the hard-core definition of releases on Italian labels only," Simon Conway believes.  "You still get this mindset if you bury yourself deep enough in Discogs, but it's a dead argument for me – everyone knows what it means even if it was made in a garage in Manchester or a bunker in Rotterdam."
Richard Brophy
Header image adapted from artwork for the reissue of Helen's Witch/Zanzibar on Dark Entries.