OB Ignitt launches OBONIT Records

We speak to the Detroit-based producer about his new label endeavour.
To many fans of techno, OB Ignitt will be a somewhat mysterious individual most closely associated with the FXHE label run by Omar S. Having first been credited as contributing piano to an Omar S production from 2008, Ignitt was given a more formal introduction by the label in memorable style with Wayne County Hill Cop's (Part.2), a two-track 12″ that the pair recorded and released in early 2012. Two subsequent solo releases on FXHE from Ignitt proved to be just as popular with FXHE fans, and suggested the retiring producer was a dab hand at marrying deep, outer space atmospherics and rugged rhythms.
It's now been revealed that OB Ignitt is looking to break out on his own with the launch of OBONIT Records with the first release from the man himself a 12″ called I'm Here Now The Arrival due early next month. In order to get a better handle on what to expect from OBONIT, as well as gaining some information on his background in music and how he came to work with Omar S, we decided to get in touch to ask him a few questions.
Hi OB, can you let our readers know why you decided to start OBONIT Records?
I felt it was time to put my music out on my own label. I been producing for over 20 years on other labels.
I presume it's meant to be pronounced OB On It?
Yes, if you break it down it's O B ON IT (OBONIT RECORDS)
Will the label be an outlet for just your own work or will you be looking to help develop some other artists?
I have a new release called I'm Here Now The Arrival (catalog # Obonit 001) which should be released soon, late June or early July. I'm planning on releasing other artists I worked with in the past too, and release new up and coming artists from around the globe.
There's not much info out there regarding your background, but your bio states you've been involved in various aspects of music since the early '90s. Could you tell us some more?
I grew up in the church. I was and am the church drummer at my mother's church. My mother is a pastor and gospel singer, I co-produced gospel albums in the late '80s with her and other artists. In 1992 I branched off alongside with my brother and starting producing music with such artists as R Kelly, Gerald Levert, Jonny Gill, Salt & Pepper, Keith Sweat, Jodeci and a host of others.
How long have you known Omar S and how did you come to work with him?
I met Omar S 17 years ago street racing. My name is Omar also so we hit it off quickly with racing, having the same name and music in common. Me and Omar S started producing with each other back in 2000 but I left the music business to pursue fashion which was pretty successful until 2007. In 2008 I started back working with Omar S just producing until 2012 when we decided it was time for me to come out as an artist.
The artwork and track titles for your releases on FXHE hints at an appreciation of classic films. Is this a theme that will be explored further with OBONIT?
Yes, I'm a movie and TV buff – I seen over 30,000 films and TV shows. I plan on using a lot more song or album titles derived from TV and film like Bruce Lee's Enter the Game of Death, but Enter The Game Of House with my face on Bruce Lee's body like the Harrison Ford and Jabba The Hutt artwork for my OH JABBA record. My name is Omar Harper so the artwork is Omar Harper and Jabba (OH JABBA).
OBONIT Records will release I'm Here Now The Arrival by OB Ignitt in early July.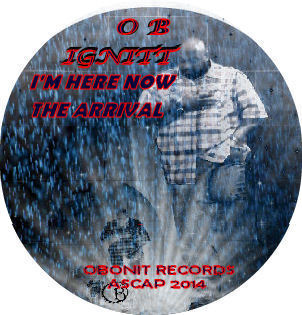 Tracklisting:
A1. Sweaty Dance Floor
B1. Ignitt Techno
B2. Chocolate City (Uncle James mix)