Minimal Wave present Guyer's Connection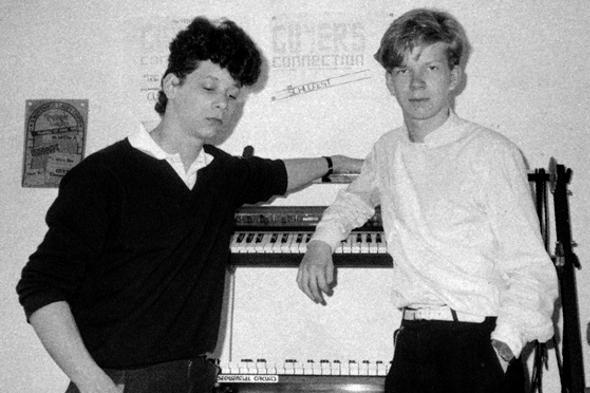 The Swiss duo's debut album Portrait is next up for reissue by Minimal Wave. 
After digging through the Sandra Electronics archives of Downwards pair Karl O'Connor and Juan Mendez, Minimal Wave's next release finds the label shifting focus to Basel-based duo Guyer's Connection and their debut album Portrait. Formed in 1982 by Swiss teenagers Tibor Csébits and Philippe Alioth (pictured above), Guyer's Connection saw the duo shift focus from their previous dabblings in new wave as Kurtzschluss to concentrate on a purely electronic approach armed with two synths, a drum machine, and a 4-track tape recorder.
These occasionally humorous experiments resulted in the 11-track debut album Portrait, self-released by Guyer's Connection in 1983. Regarded as a highly sought-after classic of '80s European minimal synth music, it's possibly the only example to originate from Basel. Whilst an eponymous 2005 collection of archival material issued in limited quantities by German label Kernkrach was given a wider reissue three years ago by Medical Records, Portrait has remained an elusive object of reissue desire for synth fans. It's been rumoured for a while that a label was planning a reissue, so it's little surprise to see Minimal Wave confirm they will release a newly remastered edition of Portrait in August replete with the original artwork.
Minimal Wave will release Portrait by Guyer's Connection on August 19.
Tracklisting:
A1. Pogo Of Techno
A2. Ballade Pour Nous
A3. Ein Glas Voll Gurken
A4. She's So Hot
A5. La Transformation
A6. Links & Lustig
B1. Die Grille
B2. Keep The City Clean
B3. Dallas
B4. Arabia
B5. National Und Ständerat