Martyn: You Find the Answers You Need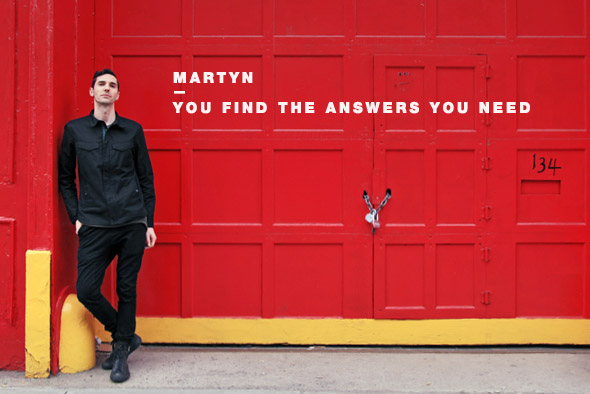 Brendan Arnott speaks with Martyn about the change in approach for his new album The Air Between Words, working with Inga Copeland and his recent return to school.
Martijn Deykers is running around his house in a frenzy. Or, that's what I imagine when I finally connect with him over Skype from his Washington, DC home, a note of shell-shocked exhaustion in his laugh when I ask him if he's having a busy day. I've caught Martyn in a brief blip of peace between a whirlwind tour that's accompanying his new album The Air Between Words. Over the next week he'll be playing a series of his favourite Detroit-inspired records for BBC Radio 1, jumping on NTS Radio to spin a marathon of Greek folk, techno and broken beat with Appleblim, dBridge and Berceuse Heroique's Gizmo for company and headlining a series of late nights alongside Steffi spread all over the continent.
The last time that Juno Plus spoke to the Eindhoven-born producer, the conversation was largely focused around location and psychogeography, and perhaps it's the frantic nature of Deykers life that's caused him to turn to the peace and relative anonymity of the DC suburbs. "I'm sorta on the outskirts of the city – I wouldn't say we live in a rural area, but it's definitely suburban. I don't really have that city stress, or hecticness of living in a large city, and that really helps for me. I kinda like being on the outskirts, I guess literally but also figuratively speaking" he admits, smile drawn across his face. "But once I'm home, I'm really home."
Martyn's process with The Air Between Words seemed to signify a different kind of search for home – disillusioned with the processes that his post-Ghost People album had found him wrapped up in, he decided a complete departure was necessary. "When you're making electronic music these days, there's sort of a career plan laid out for you" he tells me. "People that start making music, they usually start with a couple 12″s, then they do an album, then there's a DJ tour, then there's another album and they become a live artist, and every time they sorta reinvent themselves in a way that makes it marketable…." This he says is where he found himself post-Ghost People, "I did live shows and was working on a big visual project to accompany it, and I dunno, for some reason at one point I was really like 'this is really not my direction.' I felt like I had to quit everything and start over again, and I think that's what I did with this album. I dropped everything that was I doing and went back to the things that sorta made me happy, y'know? DJing with a bunch of vinyl in a dingy club somewhere."
His new album on Ninja Tune rings out with a rugged and unhinged club sensibility that sinks in much more quickly (and in this writer's opinion, satisfyingly) than the cerebral intensity of Ghost People. From the almost grime-like reverb laced stabs of "Fashion Skater" to the Autechre-esque 90s analogue cyclone of "Two Leads and a Computer", it's a release that seems aggressively intent on wiping the slate clean and undoing expectations. "This sorta high-tech sound that Ghost People had, I think that was the best I could do in that style" Deykers acknowledges, "so even in the studio I remodelled everything and went back to a more lo-fi, analogue approach as well. In a lot of ways, it's all about a sorta back-to-basics in my career."
Of course, that doesn't mean that Deykers just slammed the whole thing out on an MPC in one afternoon and called it a day. Martyn admits that this album took place over the longest period of time yet. While Ghost People was created in between live shows and touring, The Air Between Words was more of natural, singular process. "I think you can make music in a lot of different ways – some people go to the club and bike home and whistle a little melody and that becomes a song, and then it's obviously influenced by their club experience or by things they heard that night. And then sometimes you just experiment for 10 hours straight and as a result, something comes out of it. To me, 10 hours isn't very natural" he laughs. "So all those songs fall into the first category more than the latter."
Though tracks began as formless thoughts or sketches, Deykers admits that he's taken cues from live audiences on how to structure the pacing. "Some of the tracks I tried out numerous times at the club, and then there are several tracks that I've never played live" he tells me. "But that's the other cool thing about having a live set – I can take all the parts and all the loops from songs, and if you arrange them in a live setting, you kinda find the answers that you need for a good arrangement." This led into the recording process in the studio, with Deykers doing the majority of the album on live takes, "I'd just do all the filtering and the whole arrangement on the fly, and record a couple of takes like that and pick the best one. And I think that's also why a lot of parts on the album you can hear a lot of things happening that might not be very logical – some stuff happens by accident and some of the filtering is all done live, so sometimes it goes a bit over the top, but at least it sorta adds to the vibe or adds to the live feel of it."
This desire to give material room to breathe, flourish naturally, and even mess itself up seems integral to Deykers' process this time around. "Once you have an idea down, you just let it write itself. Instead of thinking oh, I need to make some post-garage future dubstep, once you let go of all those boundaries or limitations and just let the music do what it needs to do, maybe it becomes quiet, maybe it's loud, maybe long or short, but if you let the music do the talking, and consider yourself like a vessel making it, that feels like a natural process to me".
Such a philosophical take shouldn't be too surprising for Deykers – he admits that this album was at least partially conceptually inspired by Eastern philosophy and world travel. However, while you can hear jazz influences on the drumming of "Drones", echoes of afro-house on the deeply satisfying "Lullaby" and a nod of the head to early 90s Warp Records on "Two Leads and a Computer", the final product remains uncompromisingly unique; much more than a pastiche of nostalgic signifiers. Stepping back at the end of the process, Deykers concedes that he can pick out tiny pieces from sounds, areas and genres that influence him. "All those things happen afterwards though" he adds. "You just make the track around the idea that you have in the moment, and looking back at it, you can trace those influences, but I had no preconceptions when making any of it."

The Air Between Words is also Deykers' most blatantly collaborative endeavour yet, with Four Tet chipping in with a frantic kalimba solo during the thudding garage-leaning stomp of "Glassbeadgames", and post-pop star Inga Copeland contributing to "Love of Pleasure", a stormy, electrified piano-driven number that might be her most accessible and catchy work to date. Copeland actually contributed to several other cuts that didn't make the album – vocal versions of "Forgiveness Pt. 1" and "Forgiveness Pt. 2" have been created, and may leak out in the near future. "She's not just a singer who you send a finished track to and she comes back with the lyrics and the melodies" Deykers says, beaming with respect for his colleague. "There's also a lot of stuff that we've written together, or she writes the chords and I add some stuff to it and we bounce back and forth a lot, so it's really different." Though Martyn has contributed production chops for Copeland before on last year's "A&E", it's interesting to see a producer who's handled everything from drum & bass to house, dubstep and techno take on what sounds like an apocalyptic manifestation of pop music.
Writing alongside a vocalist changes Deykers' creative process notably, he tells me. Whereas house and techno productions usually come to Martyn in loop form, "other ideas come in a set of chords, and I guess if that's the case then you can easily turn that into a poppier song. Her album is very different," he states, speaking of Copeland's recent Because I'm Worth It LP, in which she takes glee in pushing her music to the limits of palatability, "but I think she's just very versatile in that sense. And working with a vocal line, you almost automatically start to write songs." This bleeds into how Martyn and Copeland approach performing live together too, "We're trying to do a live PA thing where we play a couple songs live and freak out on some equipment to make it more droney or make it more noisy than it is on the album. The album is kind of a neat representation of what we do – and then when you see it live it's a lot more raw."
The process of dialoguing with others is also a fairly new endeavour for Deykers. "I was usually a bit hesitant about collaborating with other people because if I was on my own, I was always in charge of my own stuff and never had to talk to other people about what to do with music. But once you find the people who you're opening up to and you really value for their music, you can let go and open up a bit."
Curious about where Deykers finds inspiration outside of music, I ask him about his other inspirations, and discover that he's gone back to school, taking classes in political science (a fitting profession for someone who has decided to live in the hornet's nest of American politics). "It's nice to take the attention off the music a little bit and focus on something else sometimes" Deykers admits. I don't know if it's really true that you have a left side and right side of the brain, and obviously if you have a career in music, it seems like one side is going to be stimulated a lot more than the other – I think that's why I enjoy doing something completely different that actually stimulates the other parts of me."
Sensing a transition could possibly be in the works, I ask if Martyn would ever get to a place where he'd step back from dance music and let another part of his life take over. "I dunno – maybe? It's…" he sighs contemplatively – "…it's hard to say. I guess music is just a manifestation of what you want to say – but it could be done through other formats; a painting, you could write a book, there are a lot of things that get your creativity and message out there. And I must say when I started, I obviously just thought about making tunes and having parties, and things were simple in that regard. But I guess the longer you're working on things, you can see that making electronic music is not necessarily the end of it all – there's so many other possibilities in life." Still, Deykers seems to catch himself hinting at the possibility of a life without dance music, at which he backtracks. "Maybe it's better to say this: I do like the idea of a renaissance man, sort of like Leonardo da Vinci, that person who was impossibly good at everything: a scientist, an artist, a doctor, an artist. That idea is quite cool – to try and be good at everything."
Martyn seems well on his way to enlightenment, borne of a passion to do everything and have it all – and not in a grab-what-I-want-and-split type of way either. Deykers seems equally dedicated to become a scholar of the world as well as music, to be grounded at home while still touring the globe, to reinventing his productions not because it's in style, but only when he deems it necessary. Thinking about these dualities brings to mind "Like That", a steamy Chicago sex track, orgiastic repetition of the track title that's sure to fog up laptop screens and recall nostalgic memories of Berghain makeout sessions. Martyn is a married man. Curious if there's a contradiction there, I ask whether one can still make salacious dance tracks and live in domestic bliss.
"Why not? Life doesn't end with marriage" he laughs, explaining how he admires Chicago artists like Blake Baxter and K. Alexi Shelby who can wind smutty narratives into their work, "even though some of them are really cheesy." "Like That" was an attempt to replicate the sensuality coursing through house music without actually getting too descriptive or explicit, he explains. "I think some of the most sexy tracks are the ones that don't talk about anything specific. That was the idea behind this one too: Not to name anything with words, but just impart a feeling." Sometimes there are better ways to say things than words.
Interview by Brendan Arnott
The Air Between Words is out now on Ninja Tune
Copeland and Martyn shot courtesy of Benjamin Eagles
All other photography courtesy of Mel D. Cole