Death Waltz to issue Godzilla OST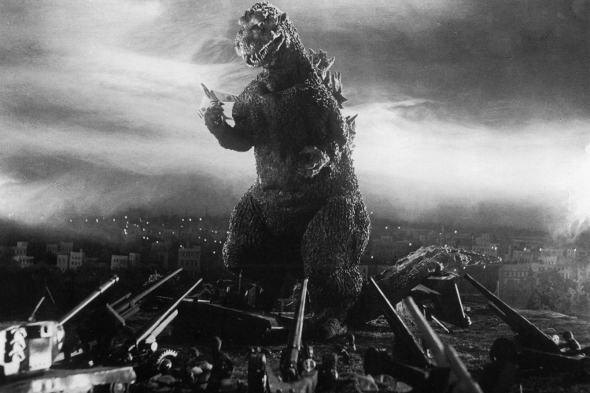 Akira Ifukube's score for the original 1954 version of Godzilla is set for the deluxe Death Waltz reissue treatment.
With sighs of disappointment over the latest Hollywood remake of Godzilla still sounding out in the Juno Plus office, it seems the perfect time for Spencer Hickman's Death Waltz label to reveal the focus of their next archival project, a reissue of the soundtrack to the original Japanese version. Released back in 1954, the Ishirō Honda-directed film was inspired by the success of monster films such as The Beast from 20,000 Fathoms and remains the definitive version of Godzilla despite some ham-fisted attempts from Hollywood in subsequent years (whoever commissioned Jamiroquai to contribute to the soundtrack for the 1998 film deserves imprisonment).
Akira Ifukube's score for the 1954 film will be made available for the first time ever on vinyl thanks to Death Waltz with the label granted access to remaster the music from the source material by the film's production company Toho. A press release on the Death Waltz site states the score is "starkly different to the usual view of The Big G as the ultimate monster wrestler, Ifukube's music is intense, dark, and reflects Ishirō Honda's film as a pure horror film" – interested parties can get an advance preview over on the Empire Magazine website.
As per usual, no expense has been spared to the presentation with the gatefold sleeve featuring a detailed cover illustration from Cheung Chung Tat depicting The Big G in all his reptillian glory, whilst Japanese cinema expert Jasper Sharpe & Film On Wax editor Charlie Bridgen have contributed liner notes.
Death Waltz Recording Company will release the Godzilla OST on June 21.
Tracklisting:
A1.Godzilla Approaches
A2. Godzilla Main Title
A3. Medley/ Ship Music / Sinking Of Eikou – Maru
A4. Sinking Of Bingou Maru
A5. Anxieties On Ootojima Island
A6. Ootojima Temple Festival
A7. Stormy Ootojima Island
A8. Theme For Ootojima Island
A9. Japanese Army March I
A10. Horror Of The Water Tank
A11.Godzilla Comes Ashore
B1. Godzilla's Rampage
B2. Desperate Broadcast
B3. Godzilla Comes To Tokyo Bay
B4. Intercept Godzilla
B5. Tragic Sight Of The Imperial Capital
B6. Oxygen Destroyer
B7. Prayer For Peace
B8. Japanese Army March II
B9. Godzilla At The Ocean Floor
B10. Ending
B11. Secret Hidden Track