Juno Plus Podcast 87: Bell Towers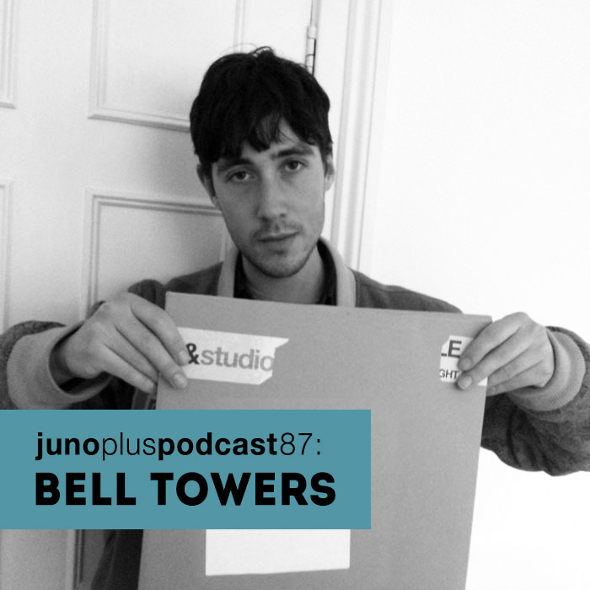 Off-kilter house and disco feature on a superb summer mix from the Australian producer and DJ.
"File under 12″ single". That's the way Rohan Bruce Bell-Towers prefers to describe the music he producers under his surname, and it's a neat way to encapsulate the manner in which the straight-faced Australian draws from various strands of music to form his own distinct productions. It's the pair of 12″ records from Bell Towers that have helped Munich label Public Possession to leave a mark on the collective affections of the Juno Plus editorial team, be it the 11 minutes of swelling dancefloor emotion that characterised his PP debut Lightrail or the more haphazard concoctions of his most recent release Territory.
Those five tracks saw Rohan Bruce Bell-Towers at his most intangible, throwing trace elements of obscure electro, rotted acid house and snapped post-punk into the mix, leaving us scratching for an easy way to describe the results. It's been nice to see the Bell Towers sound develop from his earlier releases for the self-professed "tiny record label from Australia" Hole In The Sky and Full Pupp's globally-focused Internasjonal operation, and even nicer that he's got a platform like Public Possession on which to do so.
We're pleased to report that Bell Towers is equally adept at mixing records together with interesting results, laying down an hour of lesser spotted house and disco that had us frantically updating our Discogs wishlists. There's also a sneak preview of Samo DJ's remix of "Territory" by Bell Towers which features on Rohan's next release for Public Possession. His future movements and how he's settling into life after trading Melbourne for London are just a few of the questions he was kind enough to answer.
Hi Rohan, how are things?
I'm good, thanks. No work today, I ate fish for lunch and it's sunny out.
I believe you made the move from Melbourne to London recently, what precipitated the upping of sticks?
I was looking for a change of scene and the things that can come with that: motivation, inspiration, perspective shift etc. That, and my Australian girlfriend (Jeanette plays keys on "Jungle of My Mind") was moving over so go figure.
Do you find there is a discernible change of pace in London in comparison to back in Australia?
Sort of. It seems that people here are more willing to "give it a shot", and if shit hits the fan just move on and try something else.
What's been the best thing about London so far?
I have enjoyed the disparity between the seasons, the central location in relation to Europe and the general feeling of living in a foreign place that's full of new things.
A lot of producers from Melbourne seem to be making the migration to London. Why do you think that is?
London is a big bad city. There's a certain energy here that can't be replicated in a relatively small (and isolated) city like Melbourne.
Many thanks for doing this mix, how was it put together?
With one 1200 (I only have one in London) , a shitty mixer, and a computer. Post-Production involved some editing of the source material, balancing of the levels and gentle application of effects.
Would you say it's a fair indication of the kind of music you'd drop in the club?
More or less. I do enjoy playing long sets which inevitably come with a wider dynamic range.
What came first, DJing or production?
For dance music they sort of came around the same time. I've messed around with computers and music since my early teens. However it was during my early 20s I became more and more interested in 12″s, and at this time I took out a big loan to buy decks and taught myself how to make beats.

In terms of your releases, it's clear you have a really strong working relationship with Marvin and Valentino from Public Possession. Given that you used to be based in Australia and they are set up in Munich, how did you came to work with them?
I met Valentino via a mutual friend while he was travelling in Australia a few years back and we've maintained some kind of contact ever since. Both of the guys are incredibly supportive and pretty open to anything I want to do. Valentino says things like, 'Well, give us the music and we will release it', which sounds pretty funny in his deadpan German accent. It was great visiting their HQ in Munich recently. Seeing the good shit they were doing first hand really made me happy to be a part of it all.
It's quite difficult to describe the music of Bell Towers in simple, genre-hugging terms as it seems to borrow from different elements without sounding overtly like house or disco. How do you describe it yourself?
File under: 12″ single.
What sort of set up do you have in your studio?
Not much in London. An iMac running Live, soundcard with lots of ins and outs, monitors, small MIDI keyboard, Yamaha digital effects, compact Akai sampler, Yamaha CS01, Yamaha RY30, Arturia Minibrute.
Public Possession have just revealed they are releasing a record of remixes from your Territory 12" – how much involvement did you have in this process?
It was the label's idea. Personally I thought it was a nice idea given that Territory isn't so "club" – always a good thing to expand your audience whenever possible. I helped by suggesting Ruf Dug and Samo get involved with the release.
Territory itself contained some old recordings, correct? Do you have a lot of music that you sit on?
Yeah, "Jungle of My Mind" in its original form is ancient. That's me as a Uni student singing vocals in a flatshare bathroom back in 2007. No amazing archive of unreleased material but I do have loads of unfinished bits like I'm sure most producers do.
What can we expect from Bell Towers in the coming months?
Output on Public Possession, Ruf Kutz, Born Free and Permanent Vacation. Gig wise not so much… interested promoters can email thomas@thepool-london.com ; )
Tracklisting:
1. Enchante – Pattern 3
2. ?? ?? ??
3. Baba Stiltz – Crypt
4. MRC – A Love You Can Feel (Instrumental)
5. Bell Towers – J.O.M.M.
6. PFO – Touch Me Don't Stop
7. Gemini – Native To America
8. Shining Star – The Stranger
9. Funky People – Nubia
10. Bell Towers – Scavengers
11. Bell Towers – Territory (Samo Remix)
12. Sanulim – Maybe It's Late Summer (Space Sound Disco Version)
13. Experimental Products – Glowing In The Dark