Mannequin present The Royal Family & The Poor and Information Society reissues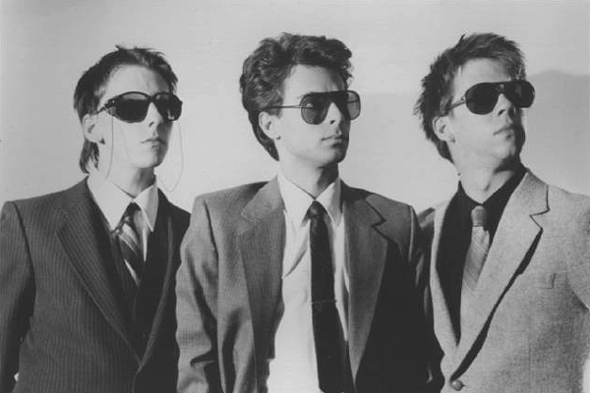 The debut album from "perhaps the most misunderstood band to record for Factory Records" is set for reappraisal by the Berlin-based label. 
Having most recently issued a second record from Bushwick techno collective Dust, Mannequin's finely trained eyes are focusing on archival matters next with forthcoming reissues from Liverpool band The Royal Family & The Poor and their debut album The Project Phase 1 – The Temple Of The 13th Tribe, first released on Factory Records in 1984, and Tommy Boy artists Information Society (pictured above( with their debut Insoc EP from 1983. Royal Family And The Poor enjoyed two albums and EPs on Factory Records and the LP in question was produced in Manchester by Joy Divison and New Order bassist Peter Hook, while the Insoc EP was Information Society's debut record, released on their own Information Records.
Mannequin have explained The Project Phase 1 – The Temple Of The 13th Tribe was inspired by founding member Mike Keane's interest in the occult, adding that "Hook's technological know-how adds a sharp rhythmic punch to tracks such as "Dark And Light", "Radio Egypt" and "Discipline". The reissue also celebrates the band's 30th anniversary, – legend has it that Tony Wilson gave them their name, taking it from Fred and Judy Vermorel's book Sex Pistols, the Inside Story – with the first 100 of 500 copies coming with a facsimile booklet.
Meanwhile the Insoc EP contains the first official recordings from the Minneapolis three-piece and this edition will include an unreleased bonus song "Charentiesm", reportedly the first track ever recorded by Information Society way back in '82. Information Society are best known for their 1988 number 1 hit, "What's on Your Mind (Pure Energy)".
Mannequin will release both reissues on May 26th.
The Project Phase 1 – The Temple Of The 13th Tribe Tracklisting: 
1. I Love You (Restrained In A Moment)
2. Voices
3. Moonfish Is Here
4. Dark And Light
5. Radio Egypt
6. Discipline
7. The Dawn Song
8. Ritual 1
9. Power Of Will
10.Motherland
Insoc EP Tracklisting: 
1. Bacchanale
2. Fall In Line
3. Growing Up With Shiva
4. Get Up (Away From That Thing)
5. Can You Live As Fast As Me?
6. Charentiesm