Astro:Dynamics: Community, fragility, personality
Scott Wilson speaks to Astro:Dynamics boss Luke Owen about the label's DIY approach and unique position in the current musical landscape.
"It was definitely a concerted effort to be around a community," Astro:Dynamics label owner Luke Owen tells me of the days when he had first moved to London in 2007, and would, like many other like-minded people, attend FWD at Plastic People on a regular basis. "When I first came to London, it was around the time when FWD would put on stuff that wasn't necessarily dubstep, like Spaceape or Flying Lotus every once in a while," Owen continues. "I didn't really socialise that much with people in uni, I just ended up going out to FWD and socialising in places like that." Those who went to London's famous club night when it first resided in Plastic People will be well familiar with that notion of community, and though plenty of labels and artists have been spawned from that fabled night, it's unlikely that hotbed of early dubstep, grime and funky gave birth to another label quite like Astro:Dynamics.
Across its four year lifespan, Astro:Dynamics has carved its own distinct niche in the world of experimental electronic music, moving from an early focus on instrumental hip hop inspired by the L.A. beat scene, towards a focus on cassette releases from a wide range of artists making loop pedal experiments, improvisational hardware techno and queasy, gelatinous synth experiments. Although its focus has shifted over the years, that early focus on community – something built up in his early days making instrumental hip hop-inspired music under the Rekordah name, making friends with people both on MySpace and in the subterranean confines of Plastic People – still holds true today.
The label's first release was a CD compilation comprised of music from like-minded producers Owen had close ties with. Lukid, Subeena, Tapes and BNJMN were some of the names featured, people who Owen would still consider himself friends with now, but though the inspiration for the direction of Astro:Dynamics may have stemmed from Owen's interest in instrumental hip hop, the reason for the label's birth with this compilation was more practical: it formed part of the degree in Commercial Music at the University of Westminster he was studying for in 2010. "It was part of the uni project to imagine how the label would work, so strictly speaking there was perhaps quite a naive and totally conjecture-fuelled plan completely on paper as part of that project, " Owen explains. "Whether it worked out that way or not I'm not sure, because when you first do a release like that, and there's quite a few known names on there, you kind of expect things to blow up – and then they don't necessarily." Despite the label's modest beginnings, it would set the label on a path it would follow for the next several years.
Shortly after the compilation was released however, Owen started working full time, and a short hiatus for the label followed. As he slowly returned to running Astro:Dynamics, Owen began to steadily put out releases, with 7" singles from Slow Hand Motem and Baron Zen & Tekblazer keeping the label's ties to instrumental hip hop alive. Owen admits however, that his interest in this European and UK-centric arm of the scene scene began to wane. "It's kind of a shame", Owen explains, "but that sound is probably the quickest scene – in terms of the UK/EU centric scene – to be started and over in the past decade or so. By about 2009/2010 it sort of dropped off a little bit I think, to the point where by the end of 2010 I was probably disinterested in the concept of a scene around it at least." This also coincided with the slowing down of Owen's own musical output as Rekordah. "To be honest, the disillusion and lack of interest in the music – and the scene around the music that I was associated with – kind of made it harder to make."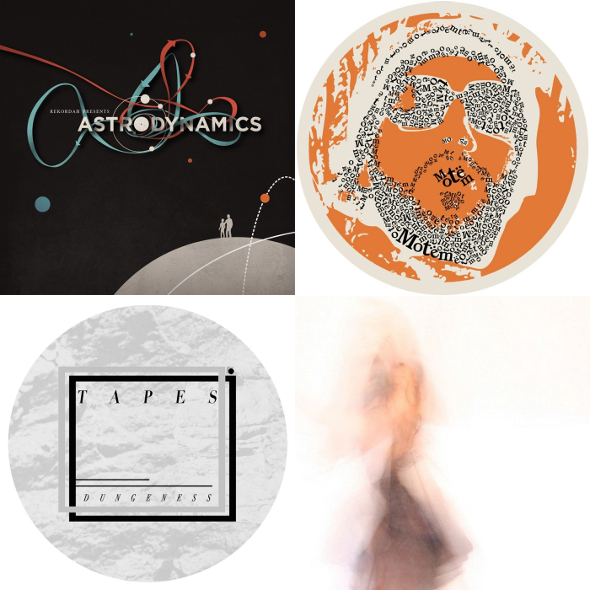 While most people would align Astro:Dynamics with a broader electronic sound now, the direction in which Owen would take the label would didn't come completely out of the blue. Nestled among these 7" singles were releases like Samoyed's Spit EP and the VeElSkSiEd cassette, an early collection of tracks from Young Echo artists Vessel and El Kid, both of which had hints of the more experimental approach the label would take in the future. "I think the turning point was working with Vessel and El Kid," Owen explains, "because what followed from there was a downtempo release with Vessel and Zhou which was a lot more atmospheric. Following through to Jabu's stuff it's more or less completely beatless, miniature loop-style things, so tracing the Young Echo releases of the label kind of illustrates the label's development".
This new-found breadth also seemed to tie in with Owen's movement from making his own music to taking more of a curatorial role, something he explains that he gets more satisfaction from. "I always saw myself as a fan of music first and foremost, and not a musician, so I think the music that I was making at that time was more or less a homage more than anything rather than an attempt at actual credibility outside of just making some tracks and having some people listen to them."
Despite broadening the label's horizons, which has led bringing new artists into the fold he had no prior contact with, such as 1991 who he originally speculatively messaged on SoundCloud, Owen has never sacrificed the sense of community that was obviously so important at the beginning. While growing up in Bristol, Owen attended the same school as some of the Young Echo members which led to him putting out some of their music, while the sense of community forged in FWD lives on in the irregular Pride of Gombe nights he runs with Mr Beatnick, BNJMN, Samoyed and Lukid. "I think it's probably the same thing that informed me in the first place, which is just community – a bunch of people making music that's quite disparate," Owen explains of his close musical associates. "They have all made 4/4 music over the past year or so, but their music is worlds apart from a structural or a melodic point of view. Those guys are probably the first to hear stuff that I'm putting out, they're probably the first to hear stuff that I'm considering releasing, and they're probably the main source of feedback on what I release and how I release it."
Towards the end of 2012 there was a very tangible shift in the way the label approached its releases, putting more of a focus on the cassette format. 1991's self-titled debut – a release whose strange tape warbled character sounded like the audible thinning of reality – seemed to crystallise the increasingly eclectic approach of the label, while subsequent tapes from Lotide and Jabu offered delicate autumnal sonics that were denser than the brief running times would have you believe. Although each tape is different, they all feel like a equal labour of love, with each release being limited to 100 cassettes and originally assembled by Owen himself.
The move to cassette has its origin in the artist Tapes, a close friend of Owen's who has featured on the label twice, and who uses cassettes almost exclusively – even when DJing. As well as bringing Owen round to the aesthetic qualities of the cassette, the financial benefits also attracted him. "It's a great way to put something physical out into the world and put some effort into physical presentation at the same time as not losing £500," he laughs. "I can't lie, it's definitely cost effective to do it." Compared to pressing vinyl putting releases in standard black disco bags, to get around the expense of printed sleeves there's no contest: "With tapes, you've got the spine, you can work different ways of cutting the J-card. I used to do it with just a Stanley knife, a ruler and a cutting mat, and I used to just print them on my inkjet printer." For Owen, the D.I.Y. vibe of cassette labels, something he traces back to original punk and noise cassettes, struck a chord: "I think that it's really exhilarating putting together a release in your living room," he tells me, something no doubt enhanced when online retailer Bleep agreed to take all 100 of the original VeElSkSiEd tapes from him back in 2011. Owen has handled the design of most of his releases, with photography from a revolving cast including Kate Sherman, Germana Frattini, Johan Ar, Lily Fannon among others.
While there has been an increased focus on cassette labels of late, and despite the slight artistic crossover with labels like Opal Tapes and Further Records, Astro:Dynamics occupies its own space in this increasingly crowded market, with his own feelings on the medium's appeal. "The sound of tapes is fragility I think", he explains, "if you want to sum up what ties this bunch of artists together, I think that's it. It's personality in electronic music, I know that's the old cliche with analogue stuff, but it provides a way of saying "this isn't just coming straight off my hard drive".
This idea of "fragility" is something common in the music he releases as well. Best Available Technology may fit comfortably within the prevailing narrative for hardware-based experimental techno, as does Daved Saved to a certain extent, but they also feel deeply organic and quite delicate, something also present in the resolutely synthetic sound of DYNOOO's Mesh N2 Air, and Vaghe Stelle's gelatinous soundscapes on Sweet Sixteen. In each one however, there's the sense that music is pleasingly off the grid – perhaps the one commonality between the recent material and the early instrumental hip hop.
"The sound of tapes is fragility I think. If you want to sum up what ties this bunch of artists together, I think that's it. It's personality in electronic music."
Despite this common feature, these artists also have their own very distinct personalities – so what exactly is going on in Owen's mind as he looks for potential releases? As far as he sees it, while some of the the music he puts out comes from a rhythmic approach, and some less so, it all seems to be informed by a love of musical elements that don't seem to sit right. "When I was originally making music, what I always tried to concentrate on was finding new rhythmic patterns, because that's the one thing that you can do when you're putting together music outside of the MIDI environment," he explains of his purely sampler-based approach. "When you're working with audio and a sampler you can place something precisely out of place. I enjoyed that aspect of it, and I think that probably informs the label a little bit." This kind of quality is as obvious in 2011's More Pregnancy release from Louis Johnstone's GSD and GG Alien monikers as it is on the comparatively recent Moonless cassette from Lotide, where each element feels just out of frequency with each other, forcing your ears to readjust like eyes struggling to focus on a distant signpost.
Some of the sonic character of the label is in no small part to Owen's preferred choice of mastering engineer – close friend Seb Gainsborough AKA Vessel. "I used to use a mastering engineer who was really good, but also very traditional with his approach, so if something sounded wrong – as in blown out, distorted and tape saturated, he'd be really shocked by it," Owen explains. "Finding somebody who was a friend, and who understood the sonic properties of that specific type of music was really what needed to happen. Seb's an audiophile at the same time as being someone who can really appreciate the beauty in faults as well." It's something clearly obvious in releases like Alis' Things Next Door, on which an imperfect type of ethereal mood seems to be a distinct part of the appeal of her dense loop-based productions, or Dave Saved's Prisoners of Gravity, which is imbued with an underlying hum of audio interference.
Some of the reason for Owen's increasingly broad taste no doubt stems from his day job at London-based Kudos, a distribution company for which he manages the release schedules of labels bleeding into his sphere of interest such as Editions Mego, Spectrum Spools, Touch, Sahko and Gang of Ducks. These are labels whose musical output is similarly difficult to define, often reduced to such simple tags as "experimental" or "electronica" – a term which Owen finds particularly problematic. "I find it to be a really dirty word. In terms of where the music on the label sits, it feels like it's almost a krautrock type thing – that music never really had a sound to me, apart from obviously the driving sense of repetition, but outside of that there wasn't really anything to tie it together apart from an environmental aspect," Owen explains. "And whilst there are people obviously across the world, on the label – they all sort of share the same environment now, which is the internet."
It's fair to say that the cassette period of the label's lifespan has produced some of its strongest material to date, something perhaps attached to Owen's philosophy that "eight tracks kind of feels like… it's that zone where it can be an EP or an album. In that kind of zone it's up to the artist I think to call it what it is." Freed from the excess bulk of an album, and more expansive than a simple EP, these releases allow more freedom outside of standard PR pressures and release schedules, allowing artists to experiment on their own terms. Despite this, Owen hasn't completely abandoned vinyl, accepting that some of the music he releases – notably the recent Vaghe Stelle LP – isn't necessarily suited to tape due to its sound. "I still think that the format influences the way something sounds, whether or not tape is actually involved in the production process. And when that aspect of it is missed out, it kind of feels wrong, " he tells me.
The future holds several more interesting releases for the label; as well as a vinyl release from Swedish musician Quiltland, herself closely associated with 1991, and a release from New York duo called Fossil, the next big release is a cassette from ex-Simian vocalist and Arclight member Simon Lord under his Lord Skywave alias. In addition, Owen has plans to release an LP in which BNJMN and Best Available Technology rework each other's material in a similar manner as to how BNJMN reworked Teebs' material when he was working as Jackhigh. As well as this, Owen is planning to start up another label with BNJMN later in the year, primarily for the artist to release his own material. "I like the idea of being able to provide an outlet for people to just release whatever they want," Owen tells me, "because I don't think there's enough of that these days." Astro:Dynamics' notion of community may have become less localised now, with a collection of artists spread across the world from the USA to Russia, but the links which Owen affords his artists – and the opportunity to develop their musical personality on their own terms, often outside of their main projects – is even stronger now than it was when the label started.
Interview by Scott Wilson
Header image by Ilaria Pace, from an original image by Louis Johnstone